By Gloria Lloyd
News Editor
glorialloyd@callnewspapers.com
Metro St. Louis had a record ridership day and no security incidents Saturday during the St. Louis Blues' Stanley Cup parade, with an unprecedented 100,000 extra boardings on a single summer Saturday.
MetroLink had 100,000 more boardings than the 25,000 it sees on a typical Saturday in June, Metro Transit Executive Director Jessica Mefford-Miller told the St. Louis County Council in a budget hearing Tuesday.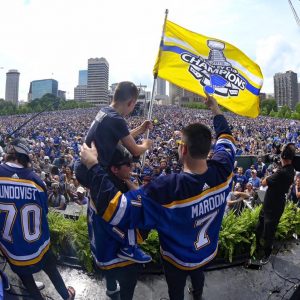 The Blues parade was held at noon Saturday in downtown St. Louis along Market Street to a rally at the Arch, with riders able to get off at stations from Laclede's Landing to Union Station.
Metro is a two-state light rail system that spans three counties, one in Illinois and two in Missouri. The mania surrounding the Blues' first Stanley Cup win encompassed the entire region it serves along with its parent agency, Bi-State Development.
"We were at capacity for much of the day," Mefford-Miller said.
All available trains were put on tracks to take riders downtown.
Early that morning before the noon parade, the park-and-ride lot at the Shrewsbury Station, the closest one to South County, was the first to fill up. Metro started recommending that riders park in the Brentwood Station parking garage, but that also filled up. In Illinois, parking lots at the Casino Queen and Fairview Heights stations were at capacity, with transit riders devising their own makeshift parking spaces in many cases.
To make up for the wave of riders trying to get to the parade, Metro sent buses to pick up riders at the Shrewsbury, Hanley and Brentwood stations. With not as many actual drivers available as Metro needed to drive that day, the agency sent its supervisors who are also certified to drive buses to work shifts and pick up riders.
Ridership on Metro has gone down more than 20 percent in recent years after a series of security incidents at stations and on trains, including a few killings.
Most recently, a man was charged May 31 for killing another man on the platform of the St. Charles Rock Road Station in broad daylight May 22.
The size of the crowd contributed to the lack of security incidents, Mefford-Miller believed.
"There's a critical difference that additional people make," the executive director said. "When you have that many people, there is greater pressure to comply with social norms."
But although the transit agency is trying to increase ridership, the Metro official said she is not sure she'd want to handle crowds like that every week.
"Quite simply, the crowds that day were fantastic," she said. "But it's more than we were really built for."