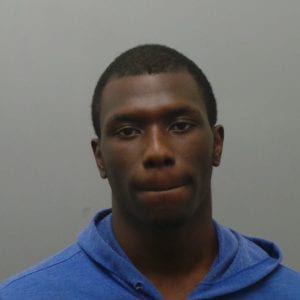 A Maplewood man was charged last week after he confessed to flourishing a rifle at a woman in broad daylight near Ronnie's Cinema, police said.
St. Louis County prosecutors charged Marquis Harris, 18, of the 2400 block of Laclede Station Road, 63143, with unlawful use of a weapon April 28 for an alleged April 22 incident. He is being held on $30,000 bond.
The probable-cause statement alleges that Harris "from inside a vehicle knowingly exhibited a long rifle at the victim in an angry manner."
No shots were fired during the incident, police said.
Police say the man displayed the gun around 4:35 p.m. April 22, near the intersection of Baptist Church Road and Kingsmere Drive. That's roughly a block from Ronnie's 20 Cinema and two shopping centers, Ronnie's Plaza and the Southfield Shopping Center where Schnucks is located.
The victim, a 36-year-old woman, said she was driving south on Baptist Church Road when the suspect's car approached her from behind. Although they were headed the same direction, he started driving next to her in the wrong lane. He displayed an assault rifle, pointed it at her and yelled, she said. He wore a black jacket and black skull cap.
The woman slowed down, and the car passed her and headed to South Lindbergh Boulevard. She drove to the Schnucks parking lot at 5434 Southfield Center and called 911. The Affton Southwest Precinct responded to the scene.
The suspect's car was last seen in the 5300 block of South Lindbergh Boulevard, in front of Schnucks and Ronnie's. The victim described the car as a blue passenger car, possibly a Hyundai, with temporary license plates.
Harris was later found after a similar incident and admitted flourishing the gun in south county.
"Defendant admitted the rifle was in working (condition) and capable of lethal use," police said.