Governor charged with second felony in St. Louis
This is a developing story, check back for updates.
Gloria Lloyd
News Editor
glorialloyd@callnewspapers.com
and Columbia Missourian Staff
Gov. Eric Greitens faces a second felony charge in the city of St. Louis after St. Louis Circuit Attorney Kim Gardner charged him Friday with computer tampering in connection with a donor list his campaign obtained from the charity he ran before taking office.
The governor's trial in an existing felony invasion of privacy case, also in St. Louis, is set to start May 14. Greitens is the first sitting Missouri governor to be indicted.
The three-year statute of limitations on the latest charge would have run out Sunday since the alleged computer tampering took place "on or around" April 22, 2015, in St. Louis, the St. Louis Circuit Attorney's Office said in a news release late Friday afternoon.
"By now, everyone knows what this is: this prosecutor will use any charge she can to smear me," Greitens said in a statement. "Thank goodness for the Constitution and our court system. In the United States of America, you're innocent until proven guilty. In the United States of America, you get your day in court. And when I have my day in court, I will clear my name. People will know the truth."
The governor defended his work at The Mission Continues, the nonprofit organization he started and ran for seven years after returning from his military service overseas as a Navy SEAL.
"I stand by that work," Greitens said. "I will have my day in court. I will clear my name. This prosecutor can come after me with everything she's got, but as all faithful people know: in time comes the truth. And the time for truth is coming."
The latest charge "makes no sense at all," Greitens' attorney Ed Dowd said in a statement.
"Now he's being accused of stealing an email list from an organization he built?" Dowd said. "Give me a break. Not only did he create this list donor by donor, friend by friend, but The Mission Continues still has the list. The idea that this is a crime is absurd. How convenient that he's being charged just two days before the statute of limitations runs out on a so-called crime that's three years old.
"The court will find Eric innocent of yet another absurd charge, and the people of Missouri will learn the true motives behind this action soon enough. This allegation is absurd, and Eric will be found innocent of this accusation in court."
The charges were recommended to Gardner by Attorney General Josh Hawley, who said in a press conference Tuesday that his office uncovered evidence that Greitens obtained and transmitted the donor list of his nonprofit charity The Mission Continues to raise funds for his 2016 gubernatorial race.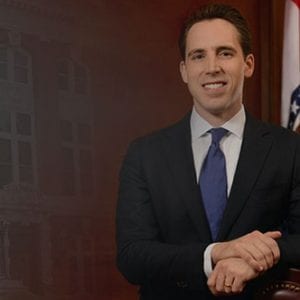 "These are serious charges — and an important reminder that no one is above the law in Missouri," Hawley said in a statement after Greitens was charged. "Like all criminal defendants, Governor Greitens is presumed innocent under the law until proven guilty."
Gardner's office did not specify what evidence she had to charge Greitens, and said additional information would not be immediately provided.
"Prosecutors found probable cause to believe that Governor Greitens violated Missouri State Statute 569.095 that was in place at the time of the incident," the office said in the release.
However, given the existing felony charge of invasion of privacy pending against the governor, also in the city of St. Louis, Gardner said she would not hold a press conference or provide any additional information on the latest charge.
Hawley, who is running for the U.S. Senate this year, handed over the information to the St. Louis Circuit Attorney's office because only a local prosecutor has jurisdiction to bring charges.
Greitens and Hawley are Republicans, and Gardner is a Democrat.
"We have uncovered evidence of wrongdoing" by the governor, Hawley said in his April 17 press conference.
Greitens responded with a written statement about an hour after Hawley's announcement.
"Fortunately for Josh, he's better at press conferences than the law," Greitens said. "Anyone who has set foot in a Missouri courtroom knows these allegations are ridiculous."
Jim Martin, Greitens' attorney, said in a later statement, "We've done a thorough review of this matter, and we know that there's no wrongdoing here. In fact, there's nothing close to wrongdoing."
BREAKING: Missouri Gov. Eric Greitens charged with felony for use of charity donor list for political campaign.

— The Associated Press (@AP) April 20, 2018
"Eric built The Mission Continues from scratch, and he helped thousands of veterans by doing so," Martin said. "The Attorney General held a completely frivolous and inappropriate press conference on a non-issue."
Hawley said time is of the essence because the statute of limitations on a possible crime was fast approaching. The crime would be a felony violation of Missouri's computer tampering statutes because the value exceeds $500.
Hawley said at the time that his office was ready to assist the St. Louis circuit attorney if she chose to pursue the case.
He also said the information his office has uncovered will be turned over to a House committee investigating Greitens.
On Monday, Greitens' attorneys filed a motion in a separate criminal case involving charges surrounding the governor's relationship with a woman with whom he was having an affair in 2015. Greitens' attorneys said Hawley should recuse himself from the charity investigation because the attorney general has said the governor should resign.
Hawley called that motion frivolous.
"This office will not be intimidated, and we will not be deterred," he said.
Missourian reporter Kristoffer Tigue and KBIA reporter Sarah Kellogg contributed to this report.