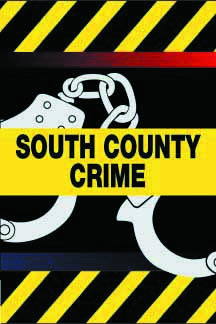 The St. Louis County Prosecuting Attorney's Office issued charges last week against a Georgia man for one count of felony stealing after allegedly stealing more than $30,000 using an altered $100 bill. 
Tio Robinson, 29, of Conyers, Georgia, was charged June 15 with one count of stealing $25,000 or more, a class C felony.
According to a probable cause statement from the St. Louis County Police Department, in May 2023, Robinson and others went to convenience stores in Affton and South County where "electronic no chance amusement devices," similar to video slot machines and other gaming devices, were located. During this time, the suspects altered a $100 bill so that it could be reused, and continuously replayed the game without any money being retained by the machine. 
The devices paid out in the form of vouchers for cash payment, which were either cashed out at another machine in the same store or given to a store clerk for payment from the store's cash register in the absence of payout machines. 
Through this, Robinson and the other men — who were not named in the probable cause statement — were able to obtain $30,416. 
The activity was captured on surveillance video, and a suspect vehicle, rented by Robinson under his own name in his home state of Georgia, was identified. Robinson and the others were later arrested in St. Charles County during an alleged similar incident while using the same rented vehicle from Georgia. 
The arresting officer on the case identified Robinson from photos taken from the incidents in St. Louis County. 
During an interview following his arrest, Robinson admitted to police that while he and his companions had taken the money, the machines themselves were illegal.
St. Louis County Police Crimes Against Property detectives are leading this investigation.
Contact the St. Louis County Police Department at 636-529-8210 to speak with investigators if you have any information regarding this incident. To remain anonymous or potentially receive a reward, contact CrimeStoppers at 1-866-371-TIPS (8477).