Officer Snyder's widow forgives husband's killer at sentencing; Forster gets life without parole
By Gloria Lloyd, News Editor
glorialloyd@callnewspapers.com
During the formal sentencing Thursday that sent Trenton Forster, 20, to prison for the rest of his life for killing St. Louis County Police Officer Blake Snyder, Elizabeth Snyder said she forgave the man who killed her husband.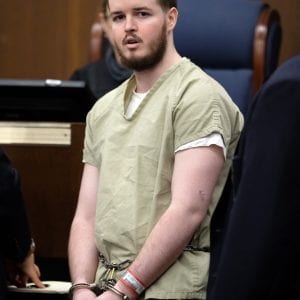 Forster in turn apologized to Elizabeth Snyder and to the rest of Snyder's family, who sat across the aisle from Forster's family Thursday at the court proceedings that, barring appeals, will end the formal court case in Forster's trial and the killing of Snyder.
A jury convicted Forster in February of first-degree murder. In Missouri that automatically carries a sentence of life without parole.
Forster was a teenager living in South County when he shot Snyder on a street in Green Park Oct. 6, 2016, after Snyder voluntarily responded to a disturbance call.
Elizabeth Snyder's words marked the most emotional moment in a series of victim impact statements given by Snyder's family, including his mother Peggy, brother Adam and Elizabeth's brother Justin Sparks, also a St. Louis County police officer.
"I want Trenton to know that I forgive him and that Blake forgives him, and most importantly God forgives him for what he has done," Elizabeth Snyder said through tears. "As Christians we are called to forgive in order to be forgiven… But because I have forgiven him, that doesn't mean I forget.  I will never forget what he has done and what he has taken from me and my son. I want him to remember Blake's face every single day of his life. I hope every day that he sits in that prison cell, every time that he sees the scars on his own body, that he remembers the life that he took, the future that he yanked away from the life of a little boy."
The Snyders' son Malachi was 2 years old when his father was killed.
St. Louis County Circuit Court Judge Kristine Kerr had little leeway in sentencing Forster on the murder conviction, but she added on 27 years for the other charges he was convicted of, including armed criminal action and assault on a police officer for attempting to shoot Snyder's partner Officer John Becker. Those convictions could have been served concurrently with the murder sentence, but she sentenced him to serve them out consecutively.
The life sentence doesn't bring Snyder back to his family, however, his mother said.
"Justice?… A murderer is alive while I visit my son at his grave," she said. "I'm shattered to the core. Our lives will never be the same knowing that Blake did not deserve to die and that his murder was senseless."
Kerr read a statement at the beginning of the hearing noting that all the families involved were brought to her courtroom unwillingly, by a uniquely shared tragedy.
"It would do us well to remember that every criminal case bears the face of a defendant, and many cases are scarred with the faces of victims," she said. "All who come, victims and defendants alike, along with their families, have suffered losses and traumas that have marked their path to the courthouse on that day. As Mark Twain once said about history, 'The past does not repeat itself, but it rhymes.' The same is true for those who appear before the court in criminal cases. The faces change, the facts vary, but the rhythm of harm, loss and sorrow repeats itself, over and over and over. It does so again today."
Standing in front of the judge after his sentencing in shackles and a tan jumpsuit from the county jail, Forster turned to Snyder's family to apologize. He said he hadn't planned to speak, but was motivated by their statements.
"I do want to apologize to Mr. Snyder's family… I just want to apologize to y'all," he said. "I'm sorry for what I did, I can't take it back. If I could, I would. I don't enjoy standing in front of y'all having pictures (expletive) taken," referring to the pool photographers in the courtroom.
He said he was sorry that "I'm not crying right now and I don't appear very emotional," before adding he would like to "apologize to anyone who didn't get up here and call me a drug addict because unfortunately I do have family too you know — I'm not just some piece of (expletive)."
That was a reference to Becker, who pulled up behind Snyder that night. After Forster shot Snyder and reached for his gun again, Becker shot Forster five times. Forster's father Bill testified that Becker had tried to help his son after previously arresting him.
In Becker's victim impact statement Thursday, he called Forster a "selfish drug addict who would have never contributed to society in any positive way" who "will now spend the rest of his worthless existence exactly where he needs to be — behind bars."
Forster also said he'd been wronged by the prosecutors in the case, Alan Key and Jason Denney: "I'd like to say to the prosecutors I think y'all are wrong for what you're doing to me, and I'd like to say you brought a bunch of evidence forward that was really not consistent and tried to say this is what happened."
Kerr denied a motion that Forster's public defender, Stephen Reynolds, made to dismiss the conviction on various grounds. She also denied a motion filed Wednesday to take into account Forster's age at the time of the crime in sentencing. He was just four months past his 18th birthday the night he shot Snyder Oct. 16, 2016.
Witnesses testified during the trial that he'd been on a monthlong drug bender and downward spiral after coming into $9,000 from an insurance settlement. He was virtually homeless after wearing out his welcome with various family members and friends and had bipolar disorder, suicidal thoughts, addictions and a single-minded determination to get his hands on a gun, supposedly for self-defense. On his social media, he threatened multiple times to kill a police officer.
The hardest thing about sitting in a courtroom during the trial and sentencing for the family was realizing that there was no real reason why Snyder was killed, his mother Peggy said. Although Forster needed help, Snyder had gone above and beyond for other people he had arrested, visiting their houses and checking in with their families.
A person Snyder once arrested even showed up at his visitation to tell Dick and Peggy Snyder how much he appreciated the officer intervening to help him get his life back together.
In her statement, Peggy Snyder drew a direct connection between Snyder's last words, which were spoken to Forster, and the words he often spoke to his son Malachi: "Hey buddy."
As Snyder walked up to Forster's car on Arno Drive in Green Park, prosecutors said he called out, "Hey buddy," before asking Forster to put his hands up when he saw a suspicious movement.
Those two fateful words were something Snyder had often said to Malachi. If "Chi" was in timeout, Snyder would explain what he did to get there and, as the little boy looked up through a "quivering lip and a few tears," Snyder would say, "Hey buddy, hey buddy, give Daddy a hug. I love you." And he'd greet his son with an "I love you, buddy" after getting home from a shift at work and changing out of his uniform.
Malachi still remembers those exchanges. When he leaves his grandparents' house, he kisses a photograph of his father. His grandmother once heard him say, "I love you, buddy," to the photo.
"My heart breaks for Blake," Peggy Snyder said. "He wore a badge with pride, with dignity, with respect and with compassion. 'Hey buddy — Daddy loves you.' 'Hey buddy — show me your hands.'"
County Prosecuting Attorney Wesley Bell was in the courtroom for the sentencing. Both he and county Police Chief Jon Belmar declined to address Forster's statements, choosing to focus on the Snyders.
Belmar said Elizabeth Snyder's words on forgiveness were some of the "most powerful comments I ever heard."
Bell said, "We will not forget Officer Snyder, and he gave his life doing his job in what was a senseless act. All of St. Louis County residents owe him a debt of gratitude."
As for Forster, Bell said he appreciated the message Kerr sent by sentencing him to consecutive years in prison instead of concurrent terms, even though he would have served life without parole regardless.
"He's never going to get out, but I think there's a message sent to let everyone know this type of behavior will not be condoned or tolerated," Bell said. "I believe justice was served."
Forster will be transferred from the St. Louis County Justice Center to a state prison to serve his sentence.
Although Elizabeth Snyder agreed that there is no closure in such a devastating loss, she said, "As much earthly justice that could be done was done in that he will spend the rest of his life in a prison cell, which is what I believe he deserves."
But the Snyders also pondered Forster's life beyond those bars.
"I hope he comes to have a relationship with Christ because if he doesn't, he will go to hell for what he has done," Elizabeth Snyder said during the hearing. "I hope he has repented for what he has done and regrets what he has taken."
Snyder's father Dick said that when Forster stands before God in the afterlife, there will be someone else right beside him still looking to help him: Blake Snyder.
It is "one thing I know for sure," the father said. "When the day comes that Trenton Forster stands before God in judgment, there'll be someone right there beside him saying I missed my chance the first time to help this guy, how about a second chance? I believe that because I know my son… That's where I take my comfort."