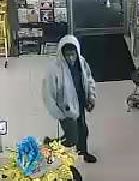 Police are looking for a man who went on a Dollar General crime spree in South County, robbing two of the stores along Lemay Ferry Road at gunpoint.
The robbery and another attempted robbery started at 10 a.m. May 23, when a man entered the Dollar General at 1060 Lemay Ferry Road. He approached the counter, showed a handgun and demanded money from the cashier. After he got the money, he fled.
Police released video of that robbery and posted it on YouTube:
The man soon tried again at another Dollar General. At 10:23 a.m., he entered the store at 4488 Lemay Ferry Road and tried it again — approached the counter, flourished the handgun and demanded money. But before he received any money, the suspect fled the store.
Police described the suspect as a black man, late teens to early 20s, who is tall, between six feet and six feet, three inches, with a thin build.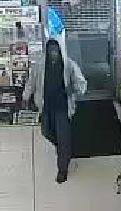 His hair is a natural style, medium in length and clean shaven. He was last seen wearing a gray zip-up hooded sweatshirt with a dark blue shirt underneath and dark pants.
He was armed with a handgun.
Police released still shots of the suspect, but noted that the quality is poor.
Investigators believe the man fled in a black Chevrolet four-door sedan.
The investigations are being led by the St. Louis County Police Department's Bureau of Crimes Against Persons. Detectives ask anyone with information to contact them at 314-615-5400 if you have any information regarding the incident.
To remain anonymous or potentially receive a reward, please contact CrimeStoppers at 1-866-371-TIPS(8477) if you have any information regarding the incident.