Jeff Jensen, U.S. Attorney for Missouri Eastern District, resigns ahead of Biden administration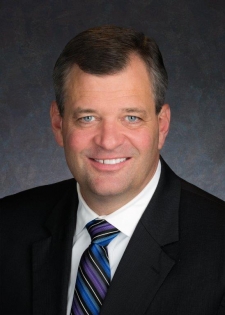 U.S. Attorney Jeff Jensen, 54, of St. Louis, Missouri, announced Thursday that he will resign effective midnight Dec. 30. After his resignation, he plans on joining a private law firm in the St. Louis area.
Jensen, a graduate of St. Louis University School of Law and Indiana University's Kelley School of Business who was appointed to the post by President Donald Trump, had previously served as Executive Assistant United States Attorney and as an FBI agent. During his tenure as U.S. Attorney, he served on the Attorney General's Advisory Committee.
"Jeff Jensen brought unparalleled experience to the position of United States Attorney as a former FBI Special Agent, Assistant United States Attorney, and private attorney. Since his first day in office, Jeff's mission has always been the same: to save lives. The extraordinary number of federal prosecutions initiated during his tenure are a testament to that mission. But, Jeff's efforts were not only limited to the Eastern District of Missouri. Whatever requested of him by the Department of Justice, no matter how big or small, Jeff was always willing to serve. He did so admirably and was the epitome of professionalism. The Department benefited greatly from his sound judgment and broad perspective. It is my pleasure to call him my colleague and friend. I wish him the best moving forward," said Attorney General William Barr in a news release.
While on the job in the Eastern District, Jensen oversaw the prosecution and guilty plea of then-St. Louis County Executive Steve Stenger and three others involved in that corruption scandal, along with inviting Barr and federal agents to oversee prosecutions as part of Operation Legend this year.
Barr will also be leaving his post next week. Both Barr and Jensen are appointees of Trump, a Republican who will be leaving office next month to make way for the new Democratic administration of Joe Biden. U.S. Attorneys are typically one of the offices that presidents turn over to new leadership, although Democratic President Barack Obama kept many Republican U.S. attorneys in office. Trump replaced all of Obama's U.S. attorneys, however.
The Eastern District of Missouri covers 49 counties with staffed offices in St. Louis and Cape Girardeau. The office has 76 attorneys and is responsible for conducting all criminal and civil litigation in the district involving the United States government.