Bell unveils 'Bell Plan' for expansion of drug courts
By Gloria Lloyd
News Editor
glorialloyd@callnewspapers.com
New St. Louis County Prosecuting Attorney Wesley Bell announced what he said will be a far-reaching plan to tackle the opioid epidemic and decrease crime in the county last week, while dodging a question on whether he would reopen the Ferguson investigation.
Surrounded by supporters and elected officials in his first press conference as prosecutor Jan. 8 after taking over from seven-term incumbent Robert McCulloch Jan. 1, Bell unveiled the "Bell Plan," an outline to increase enrollment in the county's drug treatment courts, which had originally been started by McCulloch.
So far, the Bell Plan is short on specifics like cost and court logistics. It follows the general idea of the existing drug court, which is to redirect low-level offenders out of the criminal system to treatment programs. If they successfully complete treatment, their charges can be dropped.
Without providing any cost estimate for the drug-court expansion, Bell emphasized, "This is the announcement, this is the beginning."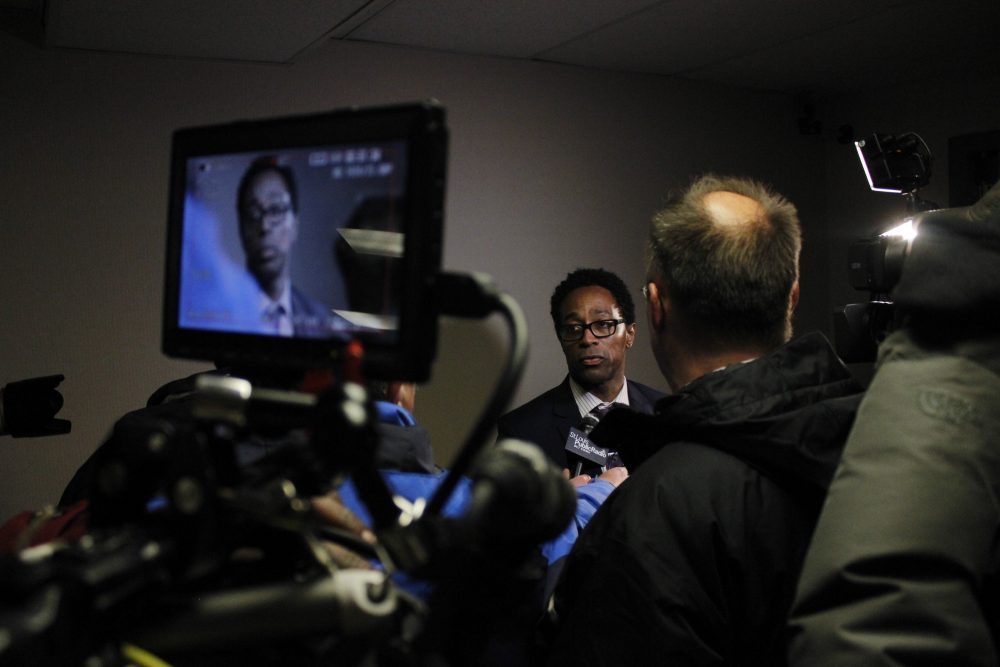 The plan continues key treatment with organizations the drug court already partners with like Affinia Healthcare and Mallinckrodt Pharmaceuticals, but it links them with community partners like Beyond Housing to find housing and the Urban League to find jobs. Affinia also focuses on mental-health treatment.
Bell hopes to add more partners.
"I'm excited to bring you all together to talk about something positive," Bell said, in one of only a few nods to the backlash from some residents and the St. Louis County Police Association on the changes he made in his first few days in office.
"The premise behind this program is simple: That if nonviolent offenders receive treatment they are less likely to reoffend, which can help break the cycle of escalation that so often starts in addiction or mental illness and ends in violent crime or death by drug overdose," Bell said. "By turning these lives around, we will make St. Louis County safer for everyone."
He projected that the Bell Plan would also reduce the county prison population, which would help the county redirect resources toward violent crimes.
Currently, drug court offenders will go into a 10-day outpatient medication-assisted treatment program that serves as a detox, with treatment continuing for a year.
In the campaign, Bell compared statistics that indicated that St. Louis County sent less than 1 percent of eligible offenders to drug court compared to more than 10 percent in Jackson County.
When Bell opened up the press conference to questions, a reporter asked him how he would respond to criticism over his decision on his second day on the job to institute new policies that warrants and bail would not be issued for D and E felonies without special permission.
"By focusing less resources, less man and woman hours, on nonviolent and low-level offenses, we can reallocate more of our resources to the serious and violent crimes," he said. "So we intend to aggressively prosecute serious and violent crimes, and those of low-level nonviolent offenders, we'll give them a tool in the toolbox so that they don't become violent offenders. So this is how we're going to make this region safer."
The new prosecutor sidestepped a question about whether he would reopen the Michael Brown case and the investigation into Darren Wilson, the police officer who shot Brown in Ferguson and sparked protests seen around the world.
"I don't have any comments on anything else at this point," Bell said.