Another view: Resident offers Crestwood officials truth, dare over mall property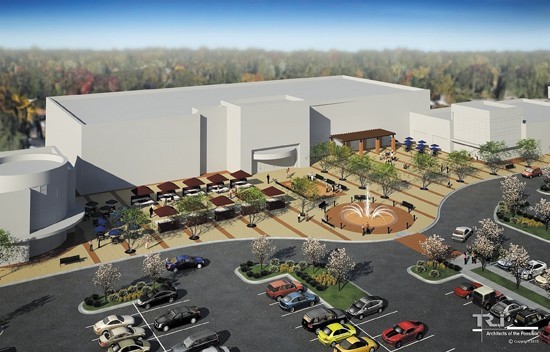 By John O'Fallon Bell
The original Crestwood Plaza mall property at Watson and Sappington roads remains undeveloped.
The city of Crestwood entered a redevelopment agreement with UrbanStreet Group of Chicago, doing business as Crestwood Missouri Partners, in March 2016.
This agreement has a term of 36 months. It is currently at 22 months: tick, tock, tick, tock. The city of Crestwood has employed canned responses when offering updates and any performance assessments. The developer has gone radio silent. To date, the elected officials who approved this agreement have been bamboozled, hoodwinked and played.
Truth
When the developer purchased the property at auction for $2.265 million in May 2014, the city had two options: one preferred and the other permitted.
The preferred option would have been to thank Crestwood Missouri Partners for buying the property.
Our elected officials should have spoken to them, adult to adult. The mayor and the Board of Aldermen should have urged them to do their job. Our elected officials should have told the developer that they were committed to protecting the public health, safety and welfare of the community as required by Crestwood's Charter.
Furthermore, the mayor and the Board of Aldermen should have emphasized public administration, police, fire and public works are first-order issues, with parks and recreation a trailing second- or third-order issue.
Economic development is a tangential issue. This is an issue within their civic peripheral vision, but one not in their hands. Our elected officials should have asserted that they would not actively or passively be an investor in the redevelopment of the Crestwood Plaza.
No tax incentives would be entertained. No lawyers, no consultants, no Tax-Increment Financing Commission would be needed. Instead, zoning and code enforcement would be implemented. And any actions on the part of the city would survive any legal challenges.
The developer would be expected to bring the property up to code with an existing site-improvement plan. If not, Crestwood Missouri Partners would be expected to present a demolition plan with a proposed new site plan.
In either case, one of these two plans would need to be submitted by a negotiated date. Crestwood is a thriving community. The local government, the taxing districts, especially Lindbergh Schools, account for our success. Some meet their responsibilities. Some live within their financial means. The mayor and the Board of Aldermen should have argued that they would not make their partners' task any harder. This includes the business community. To do otherwise would be to play favorites and place a thumb on the scale that makes up the marketplace.
The mayor and the Board of Aldermen should have stated that local government should be limited, selective and efficient in its duties and obligations. Our elected officials should have spoken confidently with an accurate read of our history and deference for the passage of time.
Instead, the mayor and the Board of Aldermen implemented the permitted option. They succumbed to the base instincts of desperation and fear, creating a toxic environment where tax incentives flourish. These statutory work-arounds may answer the legal and political requirements of a development, but they never answer the most important one; namely, the economic one.
The consumer, patron and future landowners will vote with their dollars. Crestwood has supported four developments with a mix of tax incentives. None has performed as promised; specifically, an increase in employment and tax revenues.
Crestwood Missouri Partners is the fifth beneficiary of Crestwood's misguided generosity. Because of the potential and actual loss in tax revenues, the city came forward and placed a tax-rate increase on the April 2017 ballot, broadening the desperation and fear. With a 38.49-percent turnout, citizens voted for an increase in taxes of 181 percent on residential property, 162 percent on personal property and 109 percent on commercial property.
Our elected officials continue to zig and zag to a balanced budget by taking more money out of the pockets of the residents, businesses and taxing districts. Any notion of curbing spending is met with polite indifference.
The value of zero-based budgeting periodically over annual baseline budgeting is met with deafening silence. We have union members of the Police Department working without a contract, while the union members of the Fire Department have a memorandum of understanding with the city that runs through Dec. 31, 2019.
Each department at least deserves a good-faith negotiation. This is not how you engender high morale among first responders. We have streets and curbs, plus sidewalks that are a mix of good, fair and poor. These are outcomes realized when permitted options are made over preferred options.
Crestwood Missouri Partners have advanced "The Crest" as a development in three rounds. First round, they bought the property at an auction, protested the assessed value of the site and successfully had the property lowered in value from $3.5 million to $1.1 million, a 68.5-percent reduction.
Second round, Crestwood Missouri Partners secured a suite of tax incentives. The development agreement provides $15 million as tax-increment financing or Chapter 353 incentives or abatements, respectively; $5 million from a Community Improvement District; and $5 million from a Transportation Development District.
This is a public sector stake of 23.9 percent in a private-sector enterprise of roughly $104.3 million. It's all about opportunity cost, potential or actual. The city of Crestwood has forfeited what it is statutorily entitled to because it gave up its inherent leverage.
The managing partner with Crestwood Missouri Partners asserted that there would be no development without incentives. Only after such commitments by the city would he have the ability to secure leases on a proposed development. To date, there are no leases that have been publicly disclosed.
I would argue any future lessee or owner is indifferent to the transaction cost of the final development; a lessee is not going to commit to a space subject to uncompetitive sales taxes. Furthermore, they want space to present a good or service that is accessible and safe. A business person with any economic and financial acumen is not going to buy a beat-down property unless they are a bottom feeder in what otherwise is a prosperous community.
Hence, a first-tier developer won't even consider the property due to a perception of blight, while a bottom feeder, a lower-tier developer which we may now have, would only put an additional drag on a business community that is already overbuilt.
Actually tax incentives are disincentives for anyone even considering being an owner/occupier of the property. In kindergarten one plays musical chairs. In the development world, making a play for tax incentives is materially no different. In either case, when the music stops there are losers.
Third round, Crestwood Missouri Partners has undergone a metamorphosis from developer to land speculator. This developer is of two minds. First, he has rhetorically filled the airways with promises of a development that will be an asset to the community.
Second, Crestwood Missouri Partners has put the 47 acres up for sale with the Sansone Group. There is little doubt that Crestwood Missouri Partners would settle for a smaller margin of profit on the property. This developer's conduct and performance is similar to that of a house flipper.
Fool me once, shame on you. Fool me twice, shame on me. Fool us all, shame on us.
The citizens and taxpayers of Crestwood need to be put on notice about the dysfunctional mix of political, legal and economic tests. Politically, our mayor and Board of Aldermen need to open their shoulders and stiffen their backs in a manner that protects the residents, the existing business community and our institutions, in particular Lindbergh Schools.
Legally, City Attorney Lisa Stump needs to narrow, not broaden, the veil of confidentiality. Darkness where light is needed only causes rot at the center of our civic lives.
Economically, we need Crestwood Missouri Partners to pitch the merits of this property to local marquee, legacy businesses. They need to sell a vision for the property that will spur relocation or a second location of those businesses that have proven track records.
Going to Las Vegas or Los Angeles to a national convention pitching The Crest as just one of your holdings to national retailers is missing the target by a wide margin. This dissolution of time, energy and resources simply doesn't meet the demands of the problem, the proposed development. This is a fool's errand.
The task is harder and requires more focus and discipline. Shoe leather comes to mind and getting out into the community selling, selling and selling. Office space will fill organically if the development is planned thoughtfully. Apartments on a commercial corridor have been tried — Forest View — and have failed.
Condominiums, on the other hand, would work if marketed thoughtfully. These owner-occupied dwellings would serve as points of rotation. Young adults move initially into the community only later to move into existing and new homes in Crestwood. Older citizens move out of their homes, downsizing, but still craving an energetic lifestyle.
It is all about proportion and balance within a housing stock.
Dare
I dare the city of Crestwood to reset a culture for success.
For the mayor and Board of Aldermen, they need to adopt the preferred scenario outlined previously. Our elected officials need to reject a grading plan that relies on the amount of fill currently on site.
Who takes up a finger package of mustard, tears it open, squeezes it and then spreads with a finger the condiment on a raw, uncooked hot dog? This is what Crestwood Missouri Partners has done.
There is a natural order to cooking. There is a natural order to construction, too. The sequence of events implemented thus far fly in the face of a credible critical path. This is an embarrassment.
Furthermore, I challenge the city of Crestwood to reject the past and present site plans because the building scheme is scattered and fragmented in purpose and use. Most of the site is surface parking lots. The programmed open space is akin to the description typically given in the literature for professional designers: "Parsley around the roast pig."
I dare Crestwood Missouri Partners to commit to a course correction. Any sustainable, plausible development satisfies these three tests: 1) Meet the full responsibility of the work committed to, 2) Meet the true cost of the work agreed to, and 3) Execute the work in a timely fashion.
In embracing this challenge, the developer has the best chance to reset the culture for problem-solving for current and future needs, plus desires. There are tangible ways to achieve the preceding.
Consider the following options: 1) An AIA (American Institute of Architects)-ASLA (American Society of Landscape Architects) sponsored charrette that brings architects and landscape architects, among other professional designers, together with the public to brainstorm and sort out alternatives, saving some and rejecting others; 2) A design studio conducted at Washington University's Sam Fox School of Design where students of architecture, landscape architecture and planning, among others, take a bite at this site, program and design; and 3) A national design competition with prize money awarded to the winners of designs that look around the corners and see the future, for example, values for green building design, site sustainability and thoughtful stormwater management.
To the citizens and taxpayers of Crestwood, I dare you to acknowledge where we are as a community. In 1947, we were a village in an introductory phase, pointing to a robust growth phase. In 2018, we are a charter city in a mature phase at an inflection point of either reinvigoration or decline. The prospect of either reinvigoration or decline in our future remains an open question. The challenge is for the city of Crestwood to ensure a development that is consistent with the reinvigoration of the housing market.
Conclusion
The Crest is being promoted with the following marketing tag: "The Crest is for how we live now."
Is it? How do we live now? And how will we be living 23 years from now?
The Crest is an abbreviation of Crestwood. Ironically, every action taken by Crestwood Missouri Partners is an abbreviation, words and deeds expressed in a short form. The Crest is a Potemkin village in the making.
For starters, consider the activities on site. Clayton has insisted on underground parking for a new development. This excavated soil is now at The Crest. Granted, the density in Clayton does not exist in Crestwood. However, with the introduction of the mounds of soil from Clayton at The Crest, the former is enhancing and adding value while the latter is degrading and losing value for its adopted community. This is unconscionable.
Consider the following thoughts as a means of changing the trajectory of this development. The fact that the existing grades at The Crest are below the street level is an opportunity not to be squandered. Underground parking is expensive to construct in large part due to the excavation cost.
With the existing grades below street level, now those expenses need not be met. Providing underground parking acknowledges future consumers, patrons and landowners. Underground parking protects the user from sun, rain, sleet and snow.
Most importantly, it creates market separation from any other development along Watson Road. Where else is there underground parking along Watson Road? Acknowledging the user with respect and providing protection from the elements is a strong starting point.
If The Crest is filled and graded as one or two terraces to support scattered buildings and fragmented surface parking areas, it will be a wholesale failure.
No one from the east is going to travel west past Shrewsbury and Webster Groves to patronize The Crest. Moreover, no one is going to travel from the north or south on Lindbergh Boulevard to Watson Road leading to The Crest. This includes people from the west originating from Interstate 270 or Interstate 44. The two iterations of a site plan by Crestwood Missouri Partners are placeholders, and not anything close to enticing consumers, patrons or landowners.
Every dollar spent on fill soil and retaining walls is a dollar not spent on architecture, landscape architecture and civil engineering. Either the site features will fit the existing site in a unique and special way or they will be presented as unremarkable, banal features on an altered site that is fragmented.
The remedy is a comprehensive, well-integrated development. A development smaller in configuration and area provides a chance for a unique and special place.
A stacked development is in order. Two levels of underground parking, elevating the buildings to street level, can make a presentation to Watson Road that is appealing. Three to four stories of buildings can stratify use accordingly: First story — restaurants, entertainment venues, retail and small offices; Second story — restaurants and entertainment venues; and Third to fourth stories — condominiums.
Just to jog your thinking, consider a building footprint configured as a "U." This "U" would be aligned on a north-to-south axis centered between the intersection at Crestwood Commons to the east and Old Sappington Road to the west. The closed south edge would be parallel with Watson Road.
The interior open space created by this "U" would be concealed from Watson Road, accentuating a sense of arrival for the patrons. This open space would be programmed as a grand basin with a formal, mixed plant community closing and screening the north open edge.
In the summer, the basin's open water would bring families together through entertainment in the form of radio-controlled small speed and sail boats. In the winter, the basin would be used as an ice skating rink. An on-site concession would provide, for a fee, boats in the summer and ice skates in the winter.
This seasonal programming would offer families an alternative to walking and strolling neighborhood streets. It would offer couples a place to meet in a safe, open venue. This mix would include patrons in restaurants. Others could sit or browse along elevated promenades. These promenades would be attached and cantilevered at the second story, providing attractive views over the grand basin.
Residents would have captivating views as well from their private balconies. Think Copenhagen, Paris, Seville or the Inner Harbor in Baltimore. These cities provide at the district level sublime, attractive places where people actually want to be.
The eastern edge at Watson Industrial Park and the western edge at New Sappington Road would remain undeveloped. These areas would be returned to prairie, open woods and forest. As plant communities serving as bookends, the eastern and western edges would draw attention and commitment to the developed center.
Only after the excess capacity along the Watson Road Corridor is filled or trimmed in response to the market would development be permitted.
Crestwood, truth and dare — what is your vision for The Crest?
Crestwood resident John O'Fallon Bell earned a master's degree in landscape architecture from the University of Pennsylvania in 1988, a bachelor of arts degree in sculpture from the Kansas City Art Institute in 1984 and a bachelor of arts degree in economics from Rockhurst University in 1971. He has relished his successes and learned from his failures.