'St. Louis city will not control Proposition A tax funds.' – Milford

This is a "blast from South County's past" from the past 30 years of the Call's archives. It was originally published in the March 22, 1990 edition of The Call ahead of the April 3 vote on Proposition A in St. Louis County, which created a hotel-motel tax to fund bonds to pay for a new football stadium in downtown St. Louis, The Dome at America's Center. Stay tuned throughout our 30th anniversary year for more glimpses into the area's history.
By Bill Milligan
Editor
wmilligan@callnewspapers.com
St. Louis city officials will not control money from a 3.5-cent sales tax on hotel and motel rooms, said St. Louis County Executive Henry C. "H.C." Milford.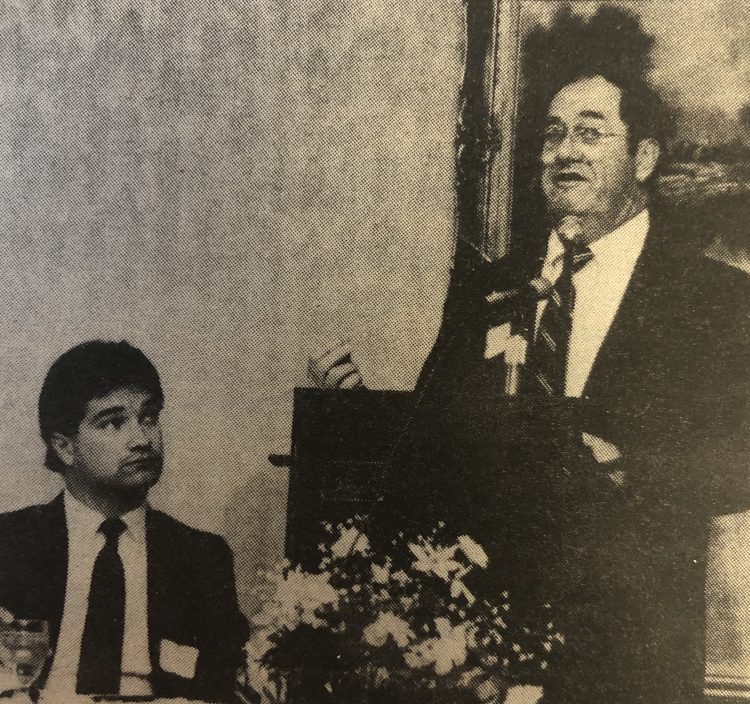 Milford spoke Friday morning before a crowd of more than 120 at an Oakville, Mehlville, Concord Village Chamber of Commerce breakfast. He called the plan to tax motel visitors to pay for a regional convention and sports complex in downtown St. Louis a "win-win situation."
"The funds raised by Proposition A will not be controlled by a convention commission," Milford said. "It will not be a department of city government."
Milford said passage of the tax April 3 is crucial to the success of a plan expand the area's convention trade and possibly lure an NFL expansion franchise to the region.
He emphasized that the tax will be paid by visitors to St. Louis and not residents.
"Not many people who live in St. Louis County are sleeping in motels – at least they won't admit it," Milford said. "Visitors are paying for the new convention center.
"The contract we signed designates revenue from this tax for the convention center," Milford said. "Any excess will be used to promote tourism."
He said St. Louis County will not be asked to compensate for revenue shortfalls should the tax fail to produce revenues necessary to support the convention center. The center will need $5 million annually to pay its debt and $4 million in annual operations funds, Milford said.
The first phase of the project will create an estimated 4,000 construction jobs and bring an estimated $225 million to the area economy, Milford said. Once the center is completed, it will inject an estimated $581 million to the St. Louis area economy.
Half the money necessary to build the new center will come from the state, the other half will be shared equally by the city and county.