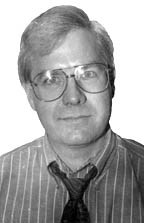 Editor's note: As part of our "Blast from South County's Past" series, here's a look at how difficult getting basic public records was in St. Louis County in 1994. Sometimes it's just as difficult now. Some things never change. 
Call the Tune
By Mike Anthony
Originally published Dec. 8, 1994 
I'm new at the Call.
I became executive editor at the Call less than a month ago. For the past six years I've worked as a regional editor at a newspaper in Daytona Beach, Fla.
For the most part, I enjoyed living in Florida, but as a journalist what I really enjoyed was that state's enlightened position on open government meetings and access to public records.
In Florida, the access is guaranteed by the state's "Sunshine-in-the-Government Law."
Here in Missouri, there also is a "Sunshine Law," but it appears I'm a little bit in the dark about how it operates.
I've been a journalist for nearly 13 years now with jobs in three different states and I thought I had a clear understanding about how access to public records, especially police records, worked.
Case in point — the Call's news editor, Andrea Leak, was working on a story about a fight at Oakville High School in which a 17-year-old student was arrested and charged as an adult with second-degree assault.
Our readers are interested in this story because it happened in a public school attended by their children and operated with their tax dollars.
It's our duty to accurately report what happened. In discussing how we would cover this story, I believed – and Andrew believed – there would be no problem in obtaining a copy of the police report — a public record — of the incident.
Wrong. For some reason, it took more than a half dozen telephone calls, a trip to Clayton and a visit to the County Police Department's South County Precinct before we were able to see the report (it should be noted that we never were able to obtain a copy of it).
Along the way, we encountered some less-than-tactful police officials. In denying us access to the report, one of these officials said, "I suppose you're going to write an article now saying how I'm not doing my job, just like last time."
Well, excuse us, but we're trying to do our job of accurately reporting the news.
Over the telephone, we could not even obtain the name of the person who was arrested and charged.
But what really concerns me is the question that was posed to us by the majority of the police officials we talked to — "Why do you want the report?"
Why should they be concerned about the reason we want a report?
The mere fact that it's a public record should guarantee us access to it.
To be fair, we also met some police and prosecuting attorney officials who were extremely accommodating and went the extra mile to help us. We do appreciate their cooperation.
But the bottom line is this: Why did we have to go to so much trouble to see this report — a public record — so we could do our job of accurately reporting the news.
Our understanding of the Missouri law is that an investigative report such as the one we requested is closed to the public until an arrest is made. In this particular incident at Oakville High School, an arrest was made almost immediately afterward.
So, I'm just a little confused about why we had to go to so much trouble to see a report that should have been made available to us when we requested it.
I'm also just a tad hazy about what the official policy is regarding access to public records by the press and the public.
Ironically, our quest to see the report ended where it began — at the South County Precinct.
Apparently, the only official at the precinct who had the authority to grant us access to the report had been unavailable earlier in the day.
The point of this column is not to give police officials a hard time, but just to suggest they re-examine their guidelines and procedures to ensure access to public records so that neither the press nor the public is kept in the dark.