Six businesses burglarized overnight in South County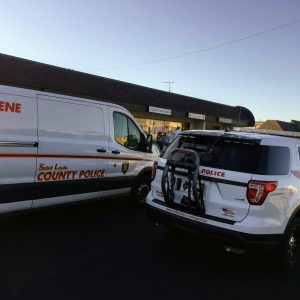 Six businesses in the South Lindbergh and Lin Ferry business corridor were burglarized overnight Tuesday.
The six smash-and-grab burglaries appear to be related, St. Louis County Police Department spokeswoman Officer Tracy Panus said.
The break-ins happened between 12:30 a.m. and 3 a.m. Tuesday, all with forced entry.
Various amounts of money were stolen from each business.
The department was unable to provide a list of all the businesses broken into, but one of the businesses was the Tailor Boutique at 9951 Lin Ferry in Green Park.
The sewing and alterations shop is in the middle of a strip mall across from the Fresh Thyme Farmers Market grocery store.
Detectives were at the shop with the Crime Scene Unit at 7:30 a.m. Tuesday. The glass front door was completely broken.
Detectives are still busy working the scenes, and that is as much information as is available right now, Panus added.
Police are not yet sure if they are looking for one person or multiple suspects.
The nearby Heyde Sewing Machine Company was burglarized in June, with an expensive sewing machine taken.