Man sitting outside during officer's killing is also charged with murder
A second man faces a murder charge for the killing of North County Police Cooperative Officer Michael Langsdorf, St. Louis County Prosecuting Attorney Wesley Bell said Tuesday.
Kawyn Smith, 58, of the 4500 block of Red Bud in St. Louis, is charged with second-degree murder because he gave two bad checks to Bonette Meeks, who faces a charge of first-degree murder for what prosecutors called an "execution" of Langsdorf after trying to pass the checks.
Langsdorf, 40, a South County native, was called to the scene by a cashier at the Wellston Food Market June 23, where he met Meeks, who was armed and, prosecutors say, resisted arrest and then shot and killed Langsdorf while the officer was on his knees on the ground. Meeks is being held without bail at the St. Louis County Justice Center.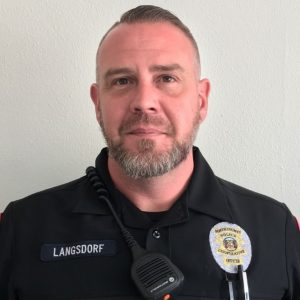 Smith's charge comes from a Missouri law that says that someone can also be charged with murder if they were committing a felony at the time the murder happened, even if they had no direct involvement in the murder itself.
Police say that Smith gave Meeks two checks that were made out to someone else, not him or Meeks. One was for about $500 and another was for more than $6,000. Smith rode with Meeks to the Wellston Food Market at 6250 Page Ave., "knowing that Bonette Meeks intended to cash the checks."
In an interview with KMOV Channel 4 as Smith was being taken into custody as a person of interest, he said that he found the checks and gave them to Meeks to cash.
Meeks went inside the market and attempted to cash the $6,000 check, leading to the call to police.
"I was in the car but I didn't know what was going on on the inside, no," Smith said in the KMOV interview. "I didn't know that the guy was going to go in there and shoot somebody."
Asked what his message would be to the officer's family, Smith said, "I'm sorry, I apologize. I didn't know that that was going to happen. I give you my condolence, I'm sorry, if I could trade places with the guy I would."
St. Ann Police Department Officer Ellis Brown recommended that no bail be granted, noting that Smith had previously been convicted of second-degree murder in 1998 and had been sentenced to 20 years in prison.
He also pleaded guilty to first-degree sexual abuse in 1985 and also has a prior forgery conviction.
"I believe this defendant is a flight risk because while interviewing him regarding this incident, he told me that he was not going back to prison," Brown wrote in his probable-cause statement.
If convicted, Smith would not be eligible for parole until 85 percent of his sentence is served.