In its 20th year, JB Blast is now under new leadership in Trakas
By Gloria Lloyd
News Editor
glorialloyd@callnewspapers.com
The 20th edition of the JB Blast in Jefferson Barracks Park, South County's annual fireworks display, went off without a hitch July 3.
Any other year, that wouldn't be news. But this year, the man who headlined the event for a decade, former County Executive Steve Stenger, resigned in disgrace and now awaits sentencing Aug. 9 after pleading guilty to three federal corruption charges. In past years, Stenger sang the national anthem to kick off the festivities, emceed the event and handed out VIP passes to a restricted area with the best viewing.
Although the fireworks display is an official county event, it uses no tax dollars and is privately funded. In recent years, the event was spearheaded by Stenger's longtime executive assistant Linda Henry, who was asked by new County Executive Sam Page to resign April 30, the day after Stenger resigned, rather than retire as scheduled June 30.
To make sure the July 3 event happened without Stenger and Henry leading the way, County Council Presiding Officer Ernie Trakas, R-Oakville, took over Blast management with a month to go. He credited the successful celebration to the behind-the-scenes work by his wife, former Mehlville Board of Education member Lori Trakas, and his assistant, Annette Read, along with the county Department of Parks and Recreation and police.
"We all worked together in a pretty intense fashion the last month," Trakas said. "It was really a collaborative effort with everybody stepping up to the plate on short notice, when you think about it…. It was handed off to us 30 days before the event to try to make sure it happened, and it buttoned up late."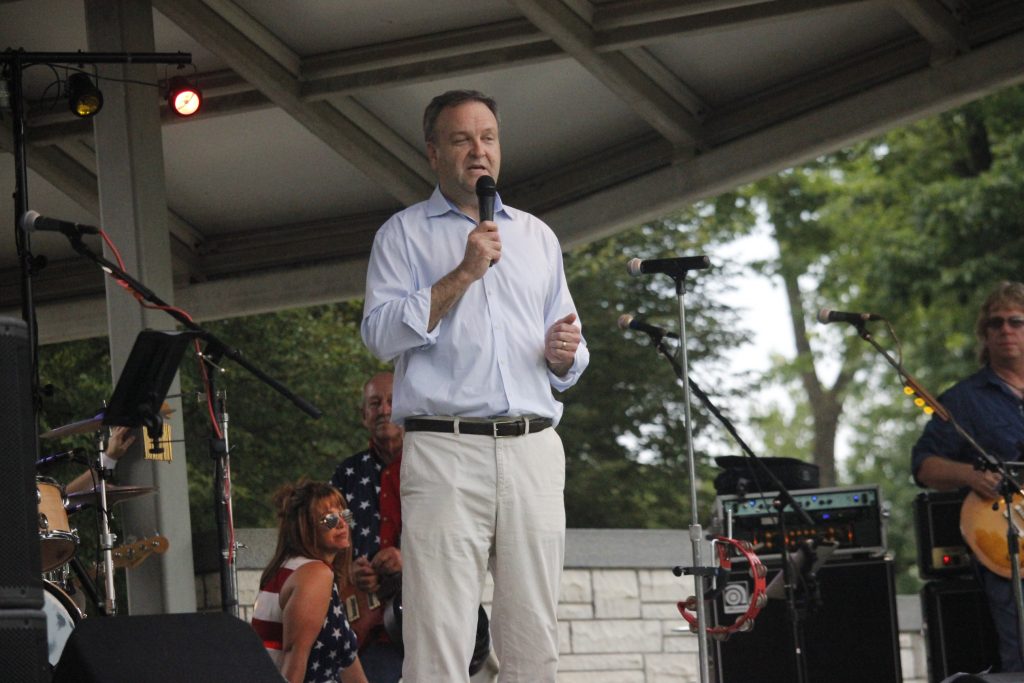 Henry had already done the heavy lifting of booking this year's entertainment, the South Side Johnny Band, and lined up initial preparations.
Like many aspects of county government, Stenger had long controlled the event. It had traditionally been hosted by the 6th District council member, but Stenger kept it under his purview even after he graduated to county executive in 2015. He famously sang the national anthem to kick the event off for a decade, always doing interviews with television stations the day of the event from the park.
But that was all just another "manipulation" of Stenger to consolidate power, Trakas said. He said the county executive would control access to the event, granting favoritism to certain people in parking and VIP passes over the average citizen, and used it as a political forum to bring his political allies on stage with him.
"That event has been effectively usurped and owned by Steve Stenger" for a decade, Trakas said. "From my perspective, it shouldn't be the property of a district councilman. It belongs to the county, and so my effort was to depoliticize it and make sure all county residents would know about it and have the ability to attend if they want.
"It has no place being a political event," he added. "It needs to be a celebration of the independence of this country."
He said going forward, the JB Blast should be as non-political as the Christmas Winter Wonderland display at Tilles Park.
The transition to Trakas is not the first handoff of power in the event's 20-year history. St. Louis County won a legal battle to keep the JB Blast as a county event after Stenger took office as 6th District councilman, defeating former Councilman John Campisi.
Campisi attempted to keep control of the privately funded fireworks display he was going to call the "South County JB Blast" through an independent nonprofit while publicly saying the county's event was canceled. But he lost the court case, and the county kept the name and the event.
The celebration was originally started in 2000 by then-6th District Councilman Jeff Wagener, D-Oakville, who later served as Stenger's policy adviser and likely wore a wire to take down his boss.
Since Trakas and Page are close, they collaborated on the communications and other aspects to publicize the fireworks.
"I've never been, but apparently it's a pretty big deal," county Communications Director Doug Moore said in advance of the JB Blast.
It's early in the game for next year, but Moore said it's possible that the county executive's office could take over planning for the event again, or it could potentially stay with the 6th District.
But that would be up to Trakas. He said that he has "no problem" with the 6th District office planning or even managing the event, "but there's a difference between managing and coordinating and trying to usurp the event for my own political gain. I have no intention of doing the latter."
After Trakas took office in 2017, he wasn't invited to the JB Blast that year by Stenger. He was going to attend last year, but the event was canceled due to rain and postponed to August, just days ahead of Stenger's re-election in the Democratic primary for county executive.
The Call received a letter to the editor accusing Stenger of moving the event for political purposes. He brought his allies also up for re-election, 5th District Councilman Pat Dolan, D-Richmond Heights, and county Prosecuting Attorney Robert McCulloch, also a Democrat, on stage with him.
"I doubt that was accidental," Trakas said of the postponement due to rain. He said he worked with police to move parking so that this year's event wouldn't have to be postponed.
Page and Trakas welcomed the crowd, but they didn't delve into politics.
"The idea that we're celebrating tonight is the United States of America, so thank you and to all of you, have a happy Independence Day," Page said to kick off the event.
Trakas struck a patriotic tone in his comments to welcome the crowd to the event.
"I see a lot of red white and blue and kids having a great time, and this is a snapshot of America," he said. "We're all here today to celebrate the birth of this place we call home, America. That birth started with the signing of the Declaration of Independence 243 years ago, tomorrow, July 4, 1776. So each year we gather at big events like this one or small ones at our homes, we barbecue and celebrate … Sometimes in all of that we forget the reason for our celebration."
During the anthem, he urged listeners to imagine they were Francis Scott Key being held prisoner on a British warship in the Baltimore harbor during the War of 1812, as the British attacked America.
"The battle rages all day and all night, so there is no sleeping," Trakas said. "As day breaks across the harbor, what you see and have experienced inspires you, so you write a poem you call 'Defense of Fort McHenry,' which we know as 'The Star-Spangled Banner.'… God bless you all, have a great time."
Click here to view a gallery of photos from this year's JB Blast.