The Sons of Union Veterans honors the 56th Colored Infantry in a May 5 ceremony, above. Photo by Bill Milligan.
By Bill Milligan
For the Call
Nearly two dozen people attended an event at Jefferson Barracks National Cemetery last week to remember the Union's 56th Regiment of the Colored Infantry, who are buried at the cemetery.
The 175 men died of cholera in 1866 on "Quarantine Island" near Oakville's Robert Koch Hospital. They were the focus of a May 5 event sponsored by the Sons of Union Veterans in remembrance of their sacrifice in honor of their country.
The men had enlisted in the Union Army and were traveling to Fort Leavenworth, Kansas, to muster out of the army when cholera swept the steamboat Continental, making them too ill to continue their journey home.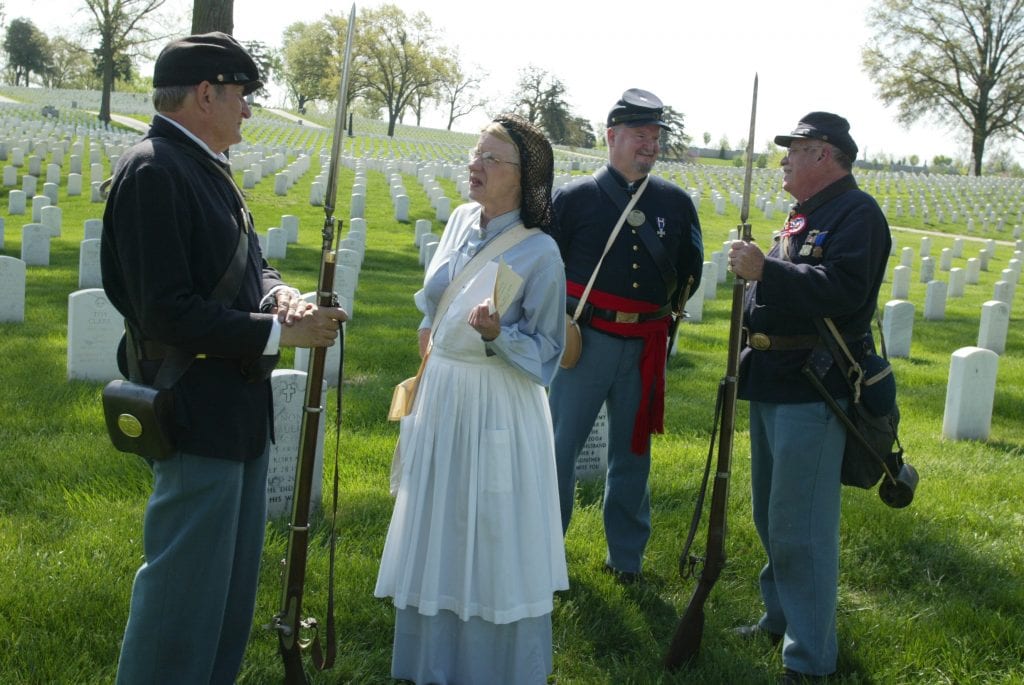 Quarantine Island was located in the Mississippi River, near the current location of the western pier of the Jefferson Barracks Bridge. Aside from New York's Ellis Island, it was the most common point of arrival for individuals emigrating from Europe to the United States. The men of the 56th Regiment came into contact with cholera aboard the Continental, which was bound for Fort Leavenworth. When many of them became too ill to travel, they were forced to stop at Quarantine Island.
Thanks to modern sewage and water treatment, cholera is unheard of today in the United States. The last recorded outbreak in the U.S. occurred in 1911. But there were few options for treatment in 1866.
The 56th Colored Infantry was stationed in Helena, Arkansas, during the Civil War, where they garrisoned and fought the battle of Wallace Ferry. In that battle, they held out against superior numbers for four hours.
After Gen. Robert E. Lee's surrender in 1865, the Colored Infantry was involved with Quaker missionaries in the construction of Southland College and helped meet the needs of freed men and women who sought shelter near their camp. Southland College is now a satellite campus of the University of Arkansas.
"They were federal troops and they were held in service until their enlistment ran out," said Denise Lincoln of Cape Girardeau.
"The men of the 56th knew what they were fighting for," said project organizer Sara Cato. "They were fighting for themselves, their families. These men, who were on their way to be mustered out (of the Army), gave their all."