Puff pastry puts this Greek salad on a roll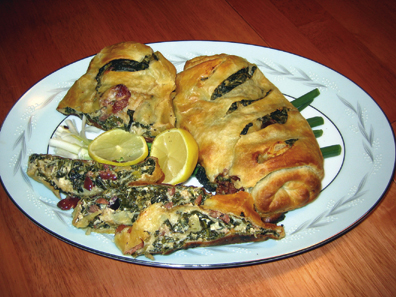 This Greek-inspired sandwich elevates salad into a meal. 
By Bill Milligan
For the Call
Since I'm the laziest guy in town, I rejoiced over puff pastry and have invented numerous ways to enjoy this time-saving product.
Phyllo layers slathered in butter make a wonderful crust but are extremely labor-intensive.
Once I got used to cooking with puff pastry, I reworked my spanakopita recipe. Spanakopita is a Greek finger food based on Greek salad that resembles this sandwich.
It worked, and now I'm experimenting with Italian and German-style sandwiches. Stay tuned.
Greek Salad Sandwiches
1 tablespoon olive oil
3⁄4 cup green onions, sliced
1 cup kalamata olives
10 ounces fresh spinach
11⁄4 cups crumbled feta cheese
Juice of one lemon
1⁄4 teaspoon nutmeg
1 large egg yolk
1 sheet frozen puff pastry
Milk
Salt to taste
Pepper to taste
Heat oil in a medium skillet over medium heat. Saute green onions for a minute. Transfer to bowl.
Stir in spinach, olives, cheese, lemon juice and nutmeg. Season with salt and pepper and add the egg yolk.Butter a baking sheet.
Roll out pastry on a floured surface into a 13-inch square. Cut pastry into two 13×61⁄2-inch strips. Divide filling equally between strips. Spread filling evenly over pastry, leaving 1-inch border around edges. Brush those edges with milk.
Starting from the long edge, roll up pastry jelly-roll style. Press edges to seal and then place on sheet pan seam down.
Score tops of rolls with a sharp knife, spacing cuts about an inch apart. Brush pastries with remaining milk and bake for 25 minutes or until golden.
Cool slightly, then transfer pastry to cutting board. Cut into slices along score lines and serve.