Public weighs in on masking, critical race theory and equity at Lindbergh Board of Education meeting
Equity and diversity was the second hot topic of the Aug. 19 meeting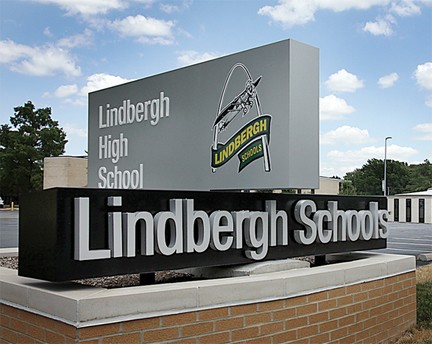 An emotionally-charged crowd showed out for the Lindbergh Board of Education meeting Aug. 19 to speak about hot button cultural issues like masks and critical race theory. 
The main topics under discussion by speakers were the district's new mask mandate and its efforts to promote equity and diversity in its schools. Nearly every speaker was met with cheers or jeers after their three minutes were up.
The board allowed 30 minutes for public comment on agenda items and 30 minutes for non-agenda items. 
The first two speakers of the night, Stephanie Gurley-Thomas and Justin Hill, set the tone early for the ongoing mask debate.
Gurley-Thomas is in support of the district's mask mandate despite her hearing impairment. She presented to the board a "letter of support" signed by over 1,000 people in the community, thanking the board for making such a difficult decision. 
"I don't like to wear masks and I find them a great hindrance. I'm severely hearing impaired and read lips to communicate. Masking has been isolating for me and the impact is frustrating and maddening," Gurley-Thomas said. "I'm masked for myself, for my unvaccinated son and for my community."
She said in June she answered "no masks" to the district's survey of parents, students and faculty, but the rise of the Delta variant has since caused her to change her mind.
Hill was not in agreement with Gurley-Thomas, saying not only do masks not work, but they can be harmful when worn for extended periods of time.
"I'm going to say the exact opposite of what (Gurley-Thomas) just said. As it stands right now, there is no data that supports mask wearing to stop any type of viral illness," Hill said. "The next question we should ask is 'Are masks harmful?'"
Hill cited a 2008 study that showed an increase in pulse rate and a decrease in oxygen saturation. 
"I really don't see a purpose in requiring masks for anybody and knowing there is harm involved we should really rethink it," he said. 
Several other speakers cited health concerns due to masking. Sixth grader Poppy Gardner, who spoke at the board's last meeting against masks, said the only health issue she has is a rash from wearing masks for so long.
"Here in my fifth-grade education belief, I'm young and healthy except for the mask face rash," Gardner said. "In young and healthy people, this infection causes mild cold-like symptoms — there's an advantage for these people to be exposed to COVID-19, build up their antibodies and have their immune system clear the virus."
In the public's second comment opportunity, this time on non-agenda items, the main point of contention was the board's recent endeavor to focus on diversity and equity in the classroom. More speakers were in support of the board's new policies and stance than at the July 13 meeting.
Melissa Shelton, mother of three Black children and one white, thanked the board for their work in the face of scrutiny.
"As I look at this board in front of me, and I look around this room, I see no other explanation for the efforts this district is making to prioritize the essential work of equity, diversity and inclusion, except that the hard truth is racism in our community and the world around us is an issue that has to be addressed," Shelton said.
She said people who are against equity and diversity use critical race theory as a buzzword to cause "distraction and chaos" to halt change, and it is not being taught in Lindbergh schools.
Jason Fry, who spoke later in the meeting, agreed with Shelton's sentiment, calling critical race theory a "boogeyman" used to distract from the real argument.
"(Critical race theory) is being used as a blanket term for any kind of equity in education, especially in history curriculum," Fry said. "There are going to be people who speak against equity, they're going to use a strawman argument where they say 'Equity means equal outcomes.'"
Fry said no one who is promoting equity believes it means equal outcomes. He said equity in schools means giving every student the opportunity to be successful, using the example of building an elevator for a wheelchair-bound student versus having them figure out a way up the steps. 
"If you have students in your classroom who are of different backgrounds, they get to learn about their history as well as the history of the dominant group in the classroom," Fry said.
Marilee Sauer said the concept of equity is subjective, and this is the reason the district has not defined the term.
"Equity is a perception. Give two kids a piece of cake and ask them to share it — does one kid get more because he's bigger? Do they get the same size piece? Does one kid accept a smaller half with lots of icing?" Sauer asked. "You see there's no universal, rational application to equity because it's a subjective evaluation. Equity at Lindbergh is applied by the perception of those in charge."
Sauer said grading for equity is simply a way to "ensure a racially-proportional equitable outcome is achieved."