By Gloria Lloyd
News Editor
glorialloyd@callnewspapers.com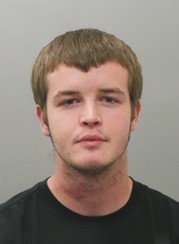 After four hours of deliberation Friday, a St. Louis County jury convicted Trenton Forster of first-degree murder with an automatic sentence of life without parole for shooting and killing Officer Blake Snyder in 2016.
Unusually for a murder trial, the five days of arguments in the trial didn't center on Forster's guilt or innocence. He admits he shot Snyder, 33, on a street in Green Park on Oct. 6, 2016. But his attorney argued that he was not able to make the conscious choice to pull the trigger because he was in the throes of a manic episode of bipolar disorder combined with a haze from multiple drugs. Prosecutors argued that he threatened to kill police many times, then followed through with "cool deliberation."
With that in mind, the jurors had to make the decision whether to convict Forster, now 20 and 18 at the time of the shooting, of first-degree murder or second-degree. First-degree required cool deliberation and meant an automatic sentence of life without parole. Second-degree would have meant that Forster could be paroled in a few decades.
The verdict was unanimous, and each juror was polled to see if guilty was their verdict.
Like it was all week, the courtroom during the verdict was packed with Snyder's family and police officers on one side and Forster's family on the other. Forster's mother Christina Forster started crying softly even before the jury came back out with its verdict, and when County Circuit Judge Kristine Kerr delivered the news that her son was convicted of first-degree murder, she started inconsolably sobbing, clinging to another relative.
Forster himself had little reaction to the news, but he looked over at his mother before the jury came back.
He declined Friday to testify in his own defense, but in an unusual move, he made that declaration in the judge's chambers rather than in public in the courtroom.
Kerr outlined a series of 18 instructions to the jury, noting the four counts Forster was charged with, for which he was all convicted: first-degree murder and armed criminal action in the shooting death of Snyder, and assault on a law enforcement officer and armed criminal action for pointing a gun at Officer John Becker, who arrived at the scene about the same time as Snyder and shot Forster five times after Forster killed Snyder.
The jury also had the option to choose involuntary manslaughter, but Forster's defense attorneys didn't argue for it. 
The Snyder family was less demonstrative inside the courtroom, but hugged dozens of police officers outside, smiles on their faces. A gauntlet of police officers formed on each side of the hallway leading to the courthouse stairs, and Snyder's mother Peggy, father Dick, widow Elizabeth and other relatives shook hands, hugged and thanked every officer. As the family left the building, a whoop of joy went up in the stairwell.
"Thank you for your service," Peggy Snyder said down the line to each officer. Among the many officers present were Chief Jon Belmar, Deputy Chief Kenneth Gregory, Sgt. Ray Absalon, St. Louis County Police Association Business Manager Matt Crecelius and President Joe Patterson. Two rows in an overflow room were reserved all week for officers from the Affton Southwest Precinct to view the trial.
Belmar said he was "grateful" for the verdict and thought it would bring some relief to the Snyders and "validate part of his life," along with allowing the Police Department and family to continue their healing process. He commended the county detectives who thoroughly investigated the case, despite it being the murder of a friend or co-worker.
"Listen, this man killed a cop, and we pay our police officers in this country to represent us and to do things that for whatever reason we wouldn't ask other people to do," Belmar said. "And I think when you murder a policeman, that is in many ways an indictment on our entire community, our county, our country or however you want to describe that."
County Prosecuting Attorney Wesley Bell sat in the front row of the courtroom for closing arguments Friday, after shaking hands with an entire row of members of the Snyder family and hugging Peggy Snyder.
Later, Bell said it was important for justice that the jury return a verdict of first-degree murder.
"The jury followed the law," Bell said. "The defendant said he was going to do it and he did it, and he needs to be held accountable. We are happy that the jury reached their verdict."
He also thanked Snyder for "his service and giving his life in the line of duty."
Although Bell has said he wants to focus on drug treatment for nonviolent or mentally ill offenders, he said that was not applicable to this case once Forster crossed the line to violence.
At issue: Whether Forster showed 'cool reflection' in killing
Closing arguments in the case started Friday morning and lasted several hours.
Prosecutors pushed for a first-degree murder conviction, claiming Forster wanted to die through "suicide by cop" and had said so on social media for more than a year along with statements the day of the murder.
But Forster's public defender, Stephen Reynolds, argued that Forster was incapable of deliberate thought, in a haze of drugs and in the throes of a manic episode from bipolar depression. 
That kept Forster from the "cool reflection" required under Missouri law for first-degree murder, Reynolds said.
But county Assistant Prosecuting Attorney Alan Key said simply, "He deliberated. That's why it's Murder 1."
Key again presented the jury evidence they had already seen earlier in the week that showed a pattern of threatening messages against police.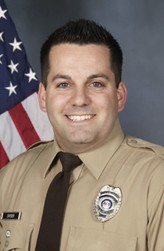 In a Facebook message to a friend Sept. 26, 2016, days before the murder, Forster wrote, "I'm legit about to pull a .9 on a cop."
The night of the murder, his friend's mother testified that she told him, "You'll either end up dead or in prison."
She testified he responded, "I'll (expletive) kill a cop before I go back to jail."
In a Twitter message from May 2016, he wrote, "I want (expletive) the police carved into my grave."
If prosecutors listed all the threatening messages Forster made against police, "we could have been here four weeks," Key said.
'Downward spiral' ended in a 'hail of bullets'
Under Missouri law, drug use without the presence of psychosis cannot be used as a defense. A forensic psychologist hired by Forster testified that he is not psychotic, but has bipolar disorder.
Everyone involved in the case agrees that Forster was in a downward spiral the month before the murder, a virtually homeless drug addict bouncing from house to house who suddenly had $9,000 cash due to an insurance settlement and desperately wanted a gun, supposedly for self-defense.
Forster made 10 separate attempts to buy a gun, showing that he could make decisions and choices, Key argued.
When Forster knocked on his friend's door that night, his friend's mother said she was calling the police. Forster went back to his car for the four minutes until Snyder arrived, but he left what Key called his three favorite things — his Xanax pills, his cell phone and his cigarettes — on the back patio.
Key speculated that the teenager smoked one last cigarette in the car, since one was found on the ground nearby.
"He knows the cops are coming and he's going to die in a hail of bullets," Key told the jury.
He reminded jurors that to be chosen to serve on the jury, they had promised they would be willing to give life without parole to Forster, even though he was only 18 at the time of the murder.
"You're the voice of St. Louis County, and we're not going to allow attacks on our police officers," Key said.
But Reynolds emphasized in his closing statement that Forster had been in and out of various psychiatric institutions, and allowed to leave by his family.
"If we're talking suicide by cop, we're talking about mental illness," Reynolds said.
And just as Key said Forster's obsession with buying a gun showed intent and choice, Reynolds said it only showed mental illness.
"Would a mentally stable teenager who happens to be homeless, would they prioritize getting a gun over a place to stay?" he asked. "Would someone who's just high make all this effort over and over to get a gun? He says over and over 'people are out to get him.'"
Reynolds also played the jury a video originally submitted into evidence by prosecutors that Forster's friend took the night of the shooting of him obviously on drugs, severely slurring his words. 
"I can hear the Percys calling, I can hear the Xanies calling," Forster slurs in the video, referring to prescription drugs Percocet and Xanax.
The video showed that Forster was in no shape to make decisions that night, Reynolds argued.
His attorney said, "Certainly he could make choices, but one of the choices he couldn't make was to have bipolar disorder. And nobody in his family was willing to help."