Major League Soccer expected to announce today that St. Louis gets a team
The word on the street is that St. Louis is going to get a Major League Soccer team.
MLS Commissioner Don Garber is appearing in St. Louis today to announce that St. Louis has been selected as the site of the league's 28th team, according to reports.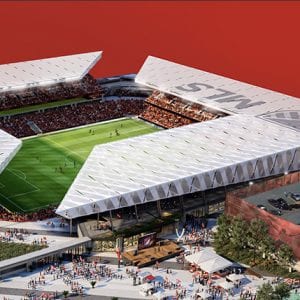 The team will play in a mostly privately financed $250 million stadium near Union Station, currently the site of Missouri Department of Transportation right-of-way near Interstate 64.
The first game for the new MLS team would be in 2022.
Neither MLS nor the organizers behind the ownership team in St. Louis, dubbed #MLS4TheLou, were officially talking about why Garber will be in St. Louis or what he could have to say.
But the @MLS4TheLou Twitter account and website cryptically previewed the press conference and said it could be livestreamed on MLS4TheLou.com.
The announcement will take place at 11:30 a.m. at The Palladium in the city of St. Louis, with owners Carolyn Kindle Betz, Jim Kavanaugh, Mayor Lyda Krewson and Board of Aldermen President Lewis Reed expected to be on hand.
We have received confirmation that @MLS Commissioner @thesoccerdon will be coming to #StLouis on Tuesday, August 20th for a press conference. Will the #STL bid to become the 28th club in #MLS turn into a reality? We know we can't wait for tomorrow! #MLS4THELOU pic.twitter.com/pI6R2Y0FNK

— MLS4TheLou (@MLS4theLou) August 19, 2019