Major League Soccer team could come to St. Louis through privately backed stadium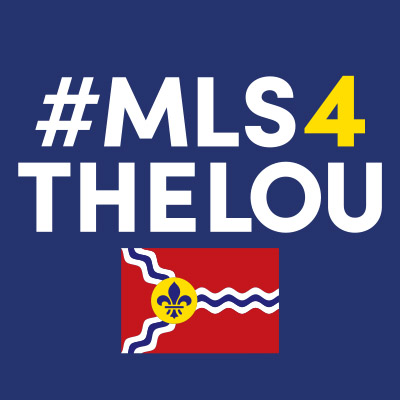 By Gloria Lloyd
News Editor
glorialloyd@callnewspapers.com
Hopes were revived this week for a Major League Soccer team coming to St. Louis as two local families announced an effort officially branded "#MLS4TheLou" that would include a mostly privately funded stadium near Union Station.
Some soccer fans' hopes for professional soccer in St. Louis died when St. Louis city taxpayers rejected a plan last year that involved public financing of a soccer stadium. County voters were never asked to provide funding.
But the new plans would involve hundreds of millions of dollars in private backing from the Taylor family of Enterprise Car Rental and the Kavanaugh family of World Wide Technology. Both companies are based in St. Louis.
One of the potential owners, Worldwide Technology CEO Jim Kavanaugh, said he hopes the team could come to St. Louis by 2022, which would give the owners time to get through the MLS application process and city and state negotiations.
"Your private funding makes this a great business deal for St. Louis," St. Louis Mayor Lyda Krewson said at a press conference Tuesday in St. Louis.
In a promotional video for the effort, a narrator says, "No one loves soccer like our city… Let's bring soccer home."
The ownership group is entirely based in St. Louis and has deep business and philanthropic ties to the city, which could head off a repeat of Stan Kroenke and the Rams taking off for Los Angeles.
With seven female members of the Taylor family leading the effort, the majority-female ownership group could make history as the first ownership group of women in the MLS and one of few in all of sports. Led by Enterprise Holdings Senior Vice President Carolyn Kindle Betz, the group also includes Kavanaugh, Enterprise Executive Chairman Andy Taylor, Jo Ann Taylor Kindle, Christine B. Taylor, Alison Kindle Hogan, Kelly C. Taylor, Patricia A. Taylor and Barbara Taylor.
The combination of two of the most well-known and business-oriented families in St. Louis with Kavanaugh, a former professional soccer player, "merges a love for St. Louis and soccer," according to the official announcement of the team.
"St. Louis is a storied soccer city and has a rich past, present and future in the sport. St. Louis belongs in the MLS," Kavanaugh said in a news release. "Our goal is to ensure St. Louis' rich soccer tradition not only continues, but flourishes for years to come."
Several of the speakers at the announcement event noted St. Louis' storied soccer history, which dates back to the 1950s.
"St. Louis is a soccer town," Krewson said. "We play it, we watch it. Now let's score a franchise."
St. Louis County Executive Steve Stenger was not at the announcement, but he said he supports the effort and would welcome a new professional team.
"I support the plan to bring an MLS team to St. Louis, and I commend the Taylor family and Jim Kavanaugh for leading this effort," Stenger said in a statement. "The St. Louis region has a proud soccer tradition, and it is fitting that we should have a major league team here."
With memories of Kroenke, the Rams and the NFL still fresh in many St. Louisans' minds, St. Louis Board of Aldermen President Lewis Reed couldn't help but allude to that ordeal by getting a dig in at the Rams, saying it is time for "real football" to come to St. Louis.
And unlike the years of the Kroenke saga, this ownership group is emphasizing its love for St. Louis.
Kindle Betz called it a "fabulous city" in her remarks at the press conference.
The effort could "bring together the many different segments of the St. Louis community, uniting people in their passion for a global sport," Kindle Betz said, adding it would be "further proof of a renaissance taking shape in the city we love."
The open-air stadium could be built on the same land suggested in last year's proposal, across Interstate 64 from Union Station in downtown St. Louis, south of Market Street and west of 20th Street. The area is currently undergoing an $8 billion redevelopment resurgence, according to the effort's website, mls4thelou.com.
Like Busch Stadium, the stadium could also be used for concerts and other events.
The state currently owns the land the stadium would be built on and the owners are asking the state to "deliver a clean, buildable site" on the land and for certain tax credits, the group said.
The owners do not plan to request either city taxes or tax-increment financing, or TIF. They might ask for a break on the city's amusement tax. The city could take in an extra $1.5 million a year from the proposal, Krewson said. The owners might ask for a special sales tax that would be charged on concessions and other items at the stadium.
"If you don't go to the game, you don't pay for the game," Reed said. "That's a very important piece. And it could not be done without the major private investment that we see up on this stage today."
A soccer team is just a great thing for the whole city, Reed said.
"For me it's not just about soccer, I love soccer, but it's not just about what happens on the field," he said. "This is what it does for our economy. This is what it does for our schools. This is what it does for education and helping our young people get involved in something other than what they're involved in today."
The MLS seemed positive in its statement on the announcement.
"We recently met with the Taylor family and Jim Kavanaugh regarding their new vision for Major League Soccer in St. Louis and are impressed by their commitment to the MLS effort," said Dan Courtemanche, Major League Soccer executive vice president of communications, in a news release. "We look forward to spending time with them during the coming months to learn more about their plan."