I like to keep tapenade on tap in summertime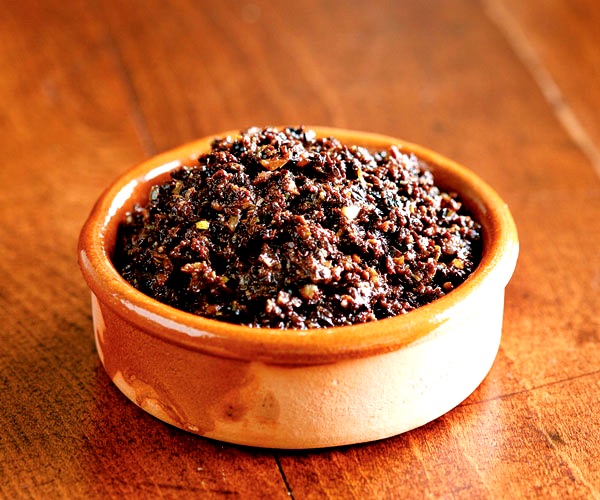 By Bill Milligan
For the Call 
One of the best things about the food at tapas bars in Spain was the tapenade.
Tapenades came in a number of different varieties, and my favorites all involve olives. Those olive spreads in Andalucia were so good they could make a simple crust of bread seem like a delicious foreign feast.
When I got home and made it, adding my own touches like sun-dried tomatoes, people loved the stuff.
And maybe you will too.
As far as preparing tapenade, I have some advice. Don't set your blender on constantly when you're chopping the ingredients or else it will become a paste.
That paste won't have a very appealing color and no one will know what's in it. You can turn a room full of starving adults into a room of 4-year-old picky eaters if you're not careful.
The best use of your blender would be on the pulse mode. That way, it won't be ground into that paste I mentioned above and the mixture won't lose its appeal.
Real Spanish tapenades, at least the ones I saw in Andalucia, had black or green olives, garlic, olive oil, lemon zest or juice and pepper.
Maybe you'll want to add a touch of thyme, or basil, oregano, anchovies, cilantro, chipotle peppers, vinegar or mustard to your tapenade.
Why not experiment like I did?
Tapenade
½ cup kalamata olives
½ cup green olives
¼ cup capers
¼ cup sun-dried tomatoes
1 large shallot,
quartered 2 cloves garlic
¼ cup extra-virgin olive oil
Crushed black pepper to taste
When it comes to measuring out a half cup of olives, I confess I don't measure. I don't take the time. I've said it before, I'm the laziest man in town.
Mix all ingredients in the blender and then pulse until the mixture looks finely chopped.
If you don't have a blender, mince all the ingredients.