Historic NASA/SpaceX flight will launch St. Louis County astronaut to space this weekend
Update: The launch Wednesday was scrubbed due to weather, with the next attempt at 2:22 p.m. Central time Saturday, then another launch window Sunday. 
For the first time since 2011, American astronauts are launching into space on an American rocket from American soil, and one of the historic mission's two astronauts is a St. Louis County native.
The first private spaceship to carry astronauts to space is set to launch into orbit from Kennedy Space Center this weekend, with veteran astronauts Bob Behnken, a St. Louis County native, and Doug Hurley piloting the craft to the International Space Station.
The first attempt Wednesday was scrubbed. If weather cooperates, the flight could take off at 2:22 p.m. Central time Saturday, May 30, from Launchpad 39A at Kennedy Space Center, which has launched numerous historic Apollo and space shuttle missions. Television networks will be carrying the launch live, and you can also watch online on NASA TV, YouTube, Twitter, Facebook or LinkedIn.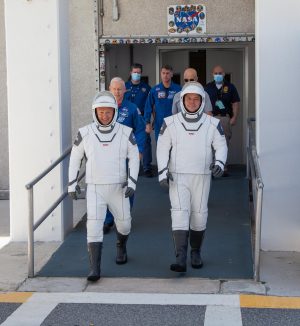 Behnken is from St. Ann and graduated from Pattonville High School. He is now a colonel in the U.S. Air Force and a veteran of NASA missions to space. Chosen as an astronaut in 2000, he flew two space shuttle missions on STS-123 in March 2008 and STS-130 in February 2010.
The "Demo-2" launch into space on a SpaceX Dragon capsule and Falcon 9 rocket will be the final test flight — and the first flight with humans — of NASA's Commercial Crew program, in which private companies will take over launching astronauts into low earth orbit to the International Space Station while NASA focuses on future missions to the moon and Mars.
The launch is also historic because it's the first launch from American soil of astronauts since 2011, when the last flight of the space shuttle program flew and that program was shut down. Since then, NASA has been paying Russia $80 million per passenger to ferry American astronauts to the space station.
The Commercial Crew program is the fifth generation of NASA's space program, after Mercury, Gemini, Apollo and the space shuttle. It's also the latest chapter in the long history linking space and St. Louis.
Behnken and Hurley will be the first astronauts to fly in the next-generation spacecraft, the Dragon. The change in the program comes with an upgrade in technology with new state-of-the-art spacesuits and touchscreens, although the exterior design of the capsule spaceship itself is more of a throwback to the Apollo program than the space shuttles.   
SpaceX is not the only company ready to fly astronauts in the Commercial Crew program. Boeing — which has its space and defense divisions headquartered in St. Louis — is also participating in Commercial Crew with its Starliner capsule, but SpaceX got the first mission.
Behnken has logged more than 708 hours in space, and it's uncertain how much he'll add to that during this mission because the astronauts don't yet know when they'll return. The mission on the space station could last one to four months, NASA says.
After growing up in St. Ann, Behnken earned bachelor's degrees in physics and mechanical engineering from Washington University and a master's and doctorate in mechanical engineering from California Institute of Technology. He was a flight test engineer with the Air Force before joining NASA.
Hurley is a New York native who also joined NASA in 2000 and has been on two space shuttle missions, including the final space shuttle mission on Atlantis, STS-135 in July 2011. He attended Tulane University and the U.S. Naval Test Pilot School in Maryland and was a fighter pilot and test pilot in the U.S. Marine Corps.