By Bill Milligan
Editor
Originally published June 3, 1993
Congressman Richard Gephardt, D-MO., met with residents of flooded regions of the Meramec River Friday to discuss relief options and survey damages caused by recent floods.
Gephardt met with residents along the Meramec between Lemay Ferry and Telegraph roads from the back yard of Jerry Sanders.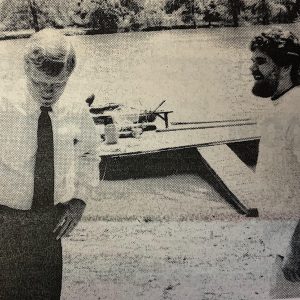 "It rained for 40 days, beginning April 15," Sanders told Gephardt. "We wanted to build an arc, but all the wood floated away."
Accompanying Gephardt were Warren Pugh, federal coordinator for disaster relief, and Jerry Uhlmann, director of Missouri Emergency Management Association.
Both men outlined programs and assistance residents of flood damaged regions have available to them as a result of President Bill Clinton's designation of St. Louis County as a disaster area.
More than 300 families in the county have already been helped by the programs by calling 1-800-462-9029.
"We've issued more than 500 checks totaling $275,000 in relief and aid," Pugh said. "We'll continue to do so until people can get back into their homes and make them livable."