Forand excited for 'honor' of representing South County
By Gloria Lloyd
News Editor
glorialloyd@callnewspapers.com
Members of the St. Louis County Council are pushing back against County Executive Sam Page's nine selections for the city-county Board of Freeholders because, among other reasons, only one is from South County and only one is from unincorporated St. Louis County.
The Board of Freeholders will debate changing the structure of local government in St. Louis County and the city of St. Louis and may identify potential areas in which the city and county could collaborate, with options ranging from a full city-county merger to doing nothing. Any proposal that emerges from the board that changes the status quo will require the approval of voters in both the county and the city, rather than the statewide vote that was the hallmark of this year's failed Better Together merger effort.
The Municipal League of Metro St. Louis gathered thousands of signatures in the city and county to force the freeholders' appointment, which the organization of county municipalities saw as a favorable alternative to city-county merger efforts like Better Together, which died — for now — in the wake of former County Executive Steve Stenger's guilty plea on federal corruption charges.
Page had hinted that the freeholders process would be more inclusive than Better Together.
"We will have a Board of Freeholders that is diverse demographically, represents St. Louis County and represents different points of view," Page promised at the Sept. 24 County Council meeting.
The county executive also said that he was aware of the unique governance aspects of unincorporated South County. The day after making his appointments, he told the Oakville Democrats, "We know that the unincorporated areas in our county, especially South County, have needs that are much different than residents who are in municipalities. We try to be sensitive to that, especially on zoning issues."
Of Page's nine freeholders, only one is from South County, former Gravois Township Republican Committeewoman Katy Forand of Sunset Hills, and eight of the nine live in cities instead of unincorporated areas. Although South County has a population of more than 150,000, two appointees are from Ladue (population 8,612), and two are from Richmond Heights (population 8,369).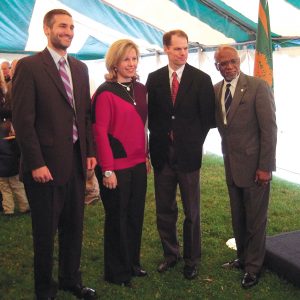 Forand said she is "excited" about the "honor" of serving and hopes it is a more thorough, researched process than Better Together, which started out as what organizers said was a neutral research effort but then turned into a venue for a merger that Forand called "extreme" and "not a good idea." She knows Page through her father, Joseph Forand, who is also an anesthesiologist, but she said she's not close to Page.
But Forand said she recognizes that she holds a special position as the "lone South County person" on the panel. She has lived in South County her whole life and considers herself a self-proclaimed "South Countian" even though she's mostly lived in cities in South County like Sunset Hills and Grantwood Village.
"I just want to make sure that South County doesn't get the short end of the stick, because they rely so much on the county. Since the majority is unincorporated, in South County it's not always fair," Forand said. "As far as re-entry or mergers, that has the potential to dilute South County's voice, and I certainly don't want that. So I feel like I want to protect South County — it's my home. I know there's a lot of  strong and passionate voices from South County, especially the 6th (County Council District), so I'm going to do my best and I want to listen, and I am very sensitive to how the residents of South County feel."
To council Presiding Officer Ernie Trakas, R-Oakville, however, it's unacceptable that Page didn't appoint anyone from unincorporated South County, which largely corresponds with his 6th District.
Trakas said he submitted suggestions of five or six residents he saw as "exceptionally qualified," who leaned Republican or moderate, including an African American woman. By state law Page, a Democrat, had to choose four appointees who were not a Democrat like him.
On excluding South County, Trakas said, "That to me was a conscious and intentional decision, you don't get there any other way… To not have one from District 6 is an affront, frankly, to the largest unincorporated area in the county  — how are we represented?" He noted that the 6th District has 160,000 residents —  more than half of the city of St. Louis — that are 95 percent unincorporated and represent one-seventh of the county, but didn't get a single seat on the 19-member board.
He also saw the appointments as political, possibly related to Page's possible election campaign next year: "Help me understand the reason Mark Mantovani needs to be on that list and no one from District 6."
And he thinks not all the appointees will make it through the council, which plans to hold hearings and question the prospective freeholders as soon as next week on their vision and views. Unlike the city applications, the county application did not ask why freeholders wanted to serve.
"I'm already hearing all kinds of disapproval" from the Republican council members and residents from South County calling and emailing that feel unrepresented in the appointments, Trakas said: "Why do we need two people from Ladue on there? It raised some eyebrows."
Page's appointees are (full bios here):
• Forand is president of the Board of Directors of the Lemay Child and Family Center and is a real-estate agent. Republican.
She founded the Grantwood Village Preservation Society and co-wrote the book on Grantwood Village's history.
• Cheryl Milton Roberts, of Bellerive, works for the Missouri Department of Transportation.  Democrat.
• John Nations, who lives in Chesterfield, is a lawyer for Evans and Dixon, L.L.C. Nations served as mayor of Chesterfield and as Bi-State president and CEO. GOP.
• Dee Joyner, of Richmond Heights, served as a county liaison to the last Board of Freeholders that convened in 1991. Independent.
• Mark Mantovani of Ladue was the CEO of Ansira. He narrowly lost election as county executive last year. Democrat.
• Carol Stroker is a member of the Hazelwood City Council. Democrat.
• Jason Wilson of Richmond Heights is the CEO of Northwest Coffee Roasting Company and on the Clayton Board of Education. Democrat.
• Fred Searcy of unincorporated North County is a trustee of Mt. Herald Missionary Baptist Church and director of minority recruitment of Plumbers & Pipefitters Local 562. Searcy is a member of the St. Louis County Workforce Development Board, president of the North County Legislative Labor Club and a member of the St. Louis Construction Consumers Council's Diversity Board. He is a Democrat.
• Alex Garza of Ladue is chief medical officer at SSM Health. Garza, an independent, is a popular choice of Page for various commissions. He served as head of the County Council's opioid task force and is on the newly reconstituted county Justice Services Advisory Board.
Crestwood Ward 4 Alderman Ismaine Ayouaz said he applied and was disappointed "the usual suspects" were appointed to the board instead.
He felt that as a naturalized U.S. citizen who was born in France, he could have represented the diversity of immigrants to the county along with South County itself.
"I don't criticize them as far as the individuals, but you cannot claim, as they say, that you want a diverse group of people who are going to think differently," Ayouaz said. "It doesn't seem that diverse to me as a group. It's people who have a high position in the society. I think it could have had a couple of other people who maybe were not lawyers."
"As we face the future, every part of our community must be heard. This talented group will bring different perspectives, life experiences, and professional expertise to the table,"  Page said in a news release. "I am confident they are committed to a fair process that empowers the board to think creatively, to listen carefully, and to identify solutions we can all get behind."
Under the state Constitution, the County Council must confirm appointments to the board within 30 days after the petitions to form a freeholder board were certified. The petitions were certified Sept. 23, so the deadline for the council to confirm appointments is Oct. 23.
The Muni League hopes that the city of St. Louis rejoins the county as a municipality instead of staying as its own separate county, but Page said he won't tell his appointees what to decide going into the Freeholder process.
The procedure to establish a Board of Freeholders was created by the Missouri Constitution. The U.S. Supreme Court found the term "freeholder," which limited the board to land owners,  unconstitutional.
Many in the community now call it the Board of Electors for this reason, although with the  latest process the term "freeholder" has become commonly used again.
Of the appointees to the Board of Freeholders, Forand and Roberts are not listed as property owners in a St. Louis County database.