Page names Board of Freeholders; only one from South County, only one from unincorporated
St. Louis County Executive Sam Page announced his appointments to the Board of Freeholders Tuesday, and of the nine freeholders, only one is from South County and only one is from unincorporated St. Louis County.
The Board of Freeholders will consider changing the structure of local government in St. Louis County and the city of St. Louis and may identify potential areas in which the city and county could collaborate. Any proposal requiring a change in government structure that emerges from the board will require the approval of voters in both the county and the city.
The Municipal League of Metro St. Louis gathered thousands of signatures in the city and county to force the appointment of a Board of Freeholders, which the organization of county municipalities saw as a favorable alternative to city-county merger efforts like Better Together. That movement died in the wake of former County Executive Steve Stenger's guilty plea on federal corruption charges.
The League hopes that the city of St. Louis rejoins the county as a municipality instead of staying as its own separate county, but Page said he won't tell his appointees what to decide going into the Freeholder process.
Only one freeholder is from South County, former Gravois Township Republican Committeewoman Katy Forand of Sunset Hills. And only one freeholder is from unincorporated St. Louis County, Fred Searcy from unincorporated North County. Three of the nine appointees are from North County, three are from West County, including two from Ladue, and two are from Central County. Eight of the nine live in cities in the county.
"We will have a Board of Freeholders that is diverse demographically, represents St. Louis County and represents different points of view," Page promised at the Sept. 24 County Council meeting. 
Page's appointees are: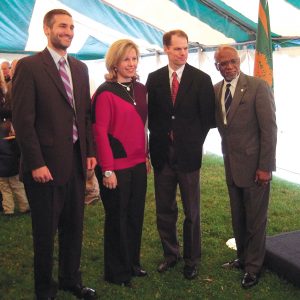 • Katy Forand of Sunset Hills is president of the Board of Directors of the Lemay Child and Family Center and works for Berkshire Hathaway Home Services Advantage Realtors. Forand is the former Gravois Township Republican committeewoman, and she previously served as director of outreach for former Gov. Matt Blunt and as president of St. Louis Young Republicans.
She founded the Grantwood Village Preservation Society and wrote the book on Grantwood Village's history. She is a graduate of Fontbonne University and received a graduate degree in legal studies from Washington University School of Law. She is a Republican.
• Cheryl Milton Roberts, of Bellerive, is the senior equal opportunity and diversity practitioner at the Missouri Department of Transportation. Roberts previously served in organizational development and training roles at Energizer Holdings Inc., American Water, and the May Department Stores Company. She serves on the Board of Trustees of John Burroughs School and the advisory board of We Stories. She is a Democrat.
• John Nations, who lives in Chesterfield, is a member and chair of the business services group at Evans and Dixon, L.L.C. John served three terms as mayor of Chesterfield and served as president and chief executive officer of Bi-State Development for eight years. He is a graduate of the University of Missouri–St. Louis and received a law degree from St. Louis University. He is a Republican.
• Dee Joyner, of Richmond Heights, served on the last edition of the Board of Freeholders that convened in 1991. She is the director of resilient communities at the Adrian Dominican Sisters and previously was senior vice president of Commerce Bank.
Joyner also previously served as chief of staff to former St. Louis County Executive H.C. Milford, the Economic Council's executive director, the county's planning director, and the county's liaison to a previous Board of Freeholders. She is a graduate of Southern Illinois University Edwardsville and received an MBA from St. Louis University. She is an independent.
• Mark Mantovani of Ladue was the chairman, president and chief executive officer of Ansira, a marketing company. Mantovani narrowly lost election as county executive last year to then-incumbent Steve Stenger in the Demoratic primary. Before that, he was a fellow in the Advanced Leadership Initiative at Harvard University, and he is a graduate of Quincy University and received an MBA from the University of Pittsburgh and a law degree from University of Missouri–Columbia. He is a Democrat.
• Carol Stroker of Hazelwood is a member of the Hazelwood City Council. Stroker previously served in the Missouri House of Representatives, as legislative liaison program coordinator for the Missouri Department of Mental Health, and on the Hazelwood school board. She attended St. Louis Community College–Florissant Valley. She is a Democrat.
• Jason Wilson of Clayton is the chief executive officer of Northwest Coffee Roasting Company and a member of the Clayton Board of Education. Wilson is a graduate of Texas Southern University and received an MBA from Washington University in St. Louis. He is a Democrat.
• Fred Searcy of unincorporated North County is a trustee of Mt. Herald Missionary Baptist Church and director of minority recruitment of Plumbers & Pipefitters Local 562. Searcy is a member of the St. Louis County Workforce Development Board, president of the North County Legislative Labor Club and a member of the St. Louis Construction Consumers Council's Diversity Board. He is a Democrat.
• Alex Garza of Ladue is chief medical officer at SSM Health. Garza previously served as associate dean and professor at St. Louis University College of Public Health and Social Justice, as assistant secretary and chief medical officer of the United States Department of Homeland Security, and as a colonel in the U.S. Army Reserves.
A veteran of Operation Iraqi Freedom, he received the Bronze Star and the Combat Action Badge. He is a graduate of University of Missouri–Kansas City, has a graduate degree in public health from St. Louis University, and a medical degree from University of Missouri–Columbia. He is an independent.
Garza is a popular choice of Page for various commissions. He served as head of the County Council's opioid task force, and Page also appointed Garza to the newly reconstituted county Justice Services Advisory Board.
"As we face the future, every part of our community must be heard. This talented group will bring different perspectives, life experiences, and professional expertise to the table,"  Page said in a news release. "I am confident they are committed to a fair process that empowers the board to think creatively, to listen carefully, and to identify solutions we can all get behind."
Under the state Constitution, the County Council must confirm appointments to the board within 30 days after the petitions to form a freeholder board were certified. The petitions were certified Sept. 23, so the deadline for the council to confirm appointments is Oct. 23.
The procedure to establish a Board of Freeholders was created by the Missouri Constitution. The U.S. Supreme Court of Missouri found the term "freeholder," which limited the board to land owners, to be unconstitutional.
Many in the community now call it the Board of Electors for this reason, although with the  latest process the term "freeholder" has become commonly used again.
Of the appointees to the Board of Freeholders, Forand and Roberts are not listed as property owners in a St. Louis County database.