Donate used bikes at event this weekend
A local Scout is organizing a bicycle donation event this weekend in South County for St. Louis BWorks, which collects used bicycles and rehabs them to give to children through the Earn-A-Bike program. The teen is organizing the event as a project to become an Eagle Scout.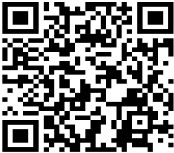 The event is slated for 9 a.m. to 4 p.m. Saturday, May 8, in the Lindbergh High parking lot, 5000 S. Lindbergh Blvd.
BWorks, formerly known as St. Louis Bicycle Works, is currently struggling after the collapse of a warehouse in the city of St. Louis where it kept its donated bikes. The organization focuses on helping children and teenagers develop skills that will benefit them throughout their lives.
Your bike can be picked up from your doorstep by scanning the QR code above or going directly to https://www.signupgenius.com/go/30e0a45a5a92ea2ff2-bike, or you can bring it directly to LHS.
Contact the Scout, Luke Siewing, with any questions about pickup or drop-off of donated bicycles at Lcsiewing@gmail.com.