Crestwood Mayor Gregg Roby resigns
By Gloria Lloyd
News Editor
glorialloyd@callnewspapers.com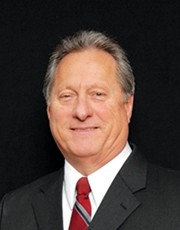 Crestwood Mayor Gregg Roby announced Tuesday that he will resign effective Friday, June 8, after four years in office.
Roby was first elected in 2014 for a three-year term, then re-elected unopposed in 2017. His current term wouldn't have ended until 2020.
The mayor said he is stepping down to focus on his health and spend more time with his family.
"I hated to leave because when I start something I like to finish it," Roby told the Call.
But he felt it was necessary to focus on his health. And he believes he's leaving the city in good hands.
Ward 4 Alderman Tony Kennedy, who has served as the president of the Board of Aldermen for a little more than a month, will take over as acting mayor Friday until a special election is likely held Tuesday, Nov. 6, for the mayoral seat.
"Tony'll do a fantastic job," Roby said. "He's such an easygoing, even-keeled guy and he understands the process. I have full faith in Tony. I have faith in everybody on the board."
The Charter requires that when the mayor forfeits the post, the president of the board automatically becomes mayor, City Administrator Kris Simpson said. But the city may swear Kennedy in just to be safe.
Kennedy will still be an alderman and take votes as an alderman, but he will sit in the mayor's seat and run the meetings too, Simpson said.
The board previously had an acting mayor when Ward 1 Alderman Richard Breeding served in the post more than a decade ago.
Roby said in his resignation letter to the Board of Aldermen:
"Due to recent changes in my health, I will be resigning as mayor of the city of Crestwood effective Friday, June 8, 2018 at 4:30 p.m. I regret having to take this action but must concentrate on my health and family moving forward.
"It has been my honor to serve with each of you and will remember all the great strides we have made as a board. I wish each of you great success in your continued efforts to make Crestwood a community we can all be proud of. I am confident that Crestwood will flourish over the coming years under your leadership. I am proud to call you all friends and thank you for your support over the last four years."