St. Louis County Library will reopen next month for curbside books
After a two-month total shutdown, the St. Louis County Library will begin offering limited book-lending services starting next month.
Book drops at all 20 St. Louis County Library locations will reopen to the public Tuesday, May 26, the library announced. Patrons may return books, music and movies to the book drops. Patrons should continue to keep items at home that can only be returned inside a branch. This includes musical instruments, puzzles, telescopes, Sci-finders kits, binoculars and other items that will not fit through book drop slots. Due dates on materials checked out prior to closure have been extended through June 30.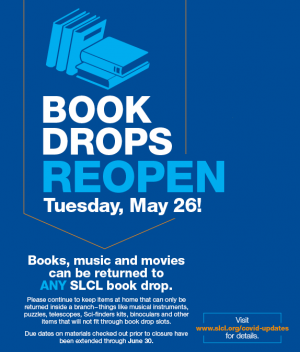 Curbside service will begin at all branches on Wednesday, June 3. This contact-free service allows patrons to reserve and pick up books, movies and more while practicing social distancing. Patrons will also be able to request and pick up printouts.  All SLCL branches continue to offer password-free wifi that can be accessed from the parking lots.
St. Louis County Library has been working in conjunction with the leadership teams at St. Charles City-County Library and the Municipal Library Consortium to make coordinated decisions they believe are in the best interests of the public. All 11 library districts have the same reopening dates.
Curbside hours will be Monday through Thursday from 1 p.m. to 6 p.m., and Friday and Saturday from 1 p.m. to 5 p.m.
To place a hold, visit www.slcl.org, call  the branch or use the SLCL mobile app. Patrons will be notified by email with instructions on how to pick up their holds using curbside service.
Library Director Kristen Sorth said in a news release, "The employees at St. Louis County Library have been working hard to provide access to resources during this unprecedented time. We are  thrilled to begin offering limited services such as reopening the book drops and curbside service so our patrons can check out  library materials. We have missed our patrons!"
The library asks that patrons looking for the latest information visit the SLCL website and social media channels for ongoing updates.
During the stay-at-home order, SLCL has been providing drive-thru meals, emergency diapers and period products at select branches. Digital resources have also been expanded during the COVID-19 pandemic and are available through the Library's Virtual Branch: www.slcl.org/virtual-branch.
The library asks patrons to visit www.slcl.org for additional details about book drops and curbside service.