South County Foster Closet to host their first Back-to-School Clothing and Backpack Drive Saturday
[From left to right]: Laura Storm, Daphne Greiwe, Beth Porter, Leslie Westbrook and Mandy Meilinger, pictured above, are the organizers of the St. Louis County Foster Closet.
By Jessica Belle Kramer
For the Call
The newly formed South County Foster Closet will host the organization's first ever Back-to-School Clothing and Backpack Drive Saturday, July 21, at the shopping center at 6060 Telegraph Road. The event is co-sponsored by the Stephenson Agency, a Farmer's Insurance office.
Welker Dental will be providing the toothbrush kits and there will be a raffle for a basket of items from Pet Supplies Plus.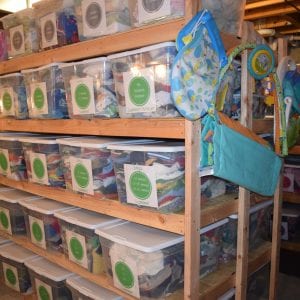 The goal of the South County Foster Closet is to help families who are fostering children by providing them with clothes, shoes, baby gear and furniture that has been donated to the Closet. Foster families can request items on the Closet's Facebook page, South County Foster Closet, where the team does most of their communication with the families they help.
Though the Closet officially began in March, planning began in January after founder Laura Storm had an insightful experience while visiting her husband's aunt and cousin.
"My husband's family has foster kids, and that experience is how the foster closet idea began," Storm said. "I have four young kids of my own … (The foster children) were just like my kids, and that's why I felt like I needed to do something to help."
Storm called up her friends from the Life group at Faith Lutheran Church in Oakville and told them about the idea. The girls in the group agreed to help, and planning began.
Now Beth Porter, Leslie Westbrook, Mandy Meilinger, Daphne Greiwe and Storm, who have 15 children of their own between them, run the Closet together. They collect donations, make deliveries and organize events like the Back-to-School Drive happening this week. The team hopes to make this an annual event.