Police union endorses Mark Mantovani in county executive race
The St. Louis County Police Association is endorsing Mark Mantovani for county executive in the upcoming Democratic primary.
The election will be held Tuesday, Aug. 4, with Mantovani and county Assessor Jake Zimmerman challenging County Executive Sam Page for the Democratic nod.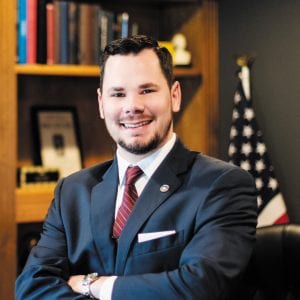 "As a civic and business leader, and not a career politician, Mark Mantovani has what it takes to address violent crime, support economic viability, and restore St. Louis County's reputation as the economic engine of the State of Missouri," said Police Association Executive Director Joe Patterson in the announcement. "Mark is a proven leader who possesses the skills and discipline to lead St. Louis County into the future."
The St. Louis County Police Association represents 1,300 St. Louis County Police Department employees, making up nearly one third of St. Louis County government's workforce.
"I am honored to have the support of the working men and women of the St. Louis County Police Association," Mantovani said in a release. "Crime is the top concern for county residents. As county executive, I will work in partnership with law enforcement to develop innovative initiatives to reduce violent crime."
The police union has in the past announced endorsements alongside the firefighters' union, the International Association of Fire Fighters. The firefighters have endorsed Page, along with the St. Louis Labor Council and the Building and Trades Construction Council.
In Page's year as county executive, the police union came to agreement with the County Council on a long-awaited collective bargaining agreement. Page also replaced most of the county Board of Police Commissioners, followed by Chief Jon Belmar announcing his retirement effective April 30 after six years in office.