Oakville High journalism teacher earns award
Pictured: Oakville High journalism teacher Jeff Kuchno, right, holds the camera while OHS student Hannah Hoffmeister, middle, interviews local lawyer Mark Haefner after Haefner's speech in support of Mehlville School District's Proposition R at a Sept. 8, 2015 rally. Photo by Gloria Lloyd.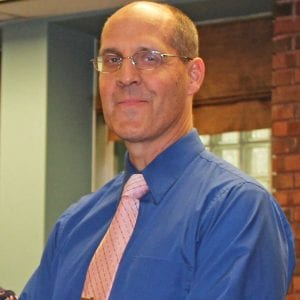 Oakville High School journalism teacher Jeff Kuchno has been selected by the Journalism Education Association to receive a Special Recognition Broadcast Adviser honor as part of the National High School Broadcast Adviser of the Year program.
Kuchno will receive his award in November at the National High School Journalism Convention in Dallas.
The award honors educators for their excellence and dedication to high school journalism.
Kuchno began advising the broadcasting club at Oakville High in 2009, and the next year it was turned into a class.
The OHS journalism program has received numerous national honors and awards thanks to Kuchno's efforts, according to district officials.