Lindbergh High science teacher Dan Dougherty is named Lindbergh Teacher of the Year
Lindbergh High School science teacher Dan Dougherty has been named Lindbergh Schools 2021 Teacher of the Year for 2021. District and school administrators surprised Dougherty Tuesday, April 13, to share the exciting news.
Dougherty began his teaching career at LHS in 2014 and currently teaches AP/IB (International Baccalaureate) Chemistry 1 and honors physical science. In 2019, Dougherty was selected as one of five finalists for the prestigious 2019 Carol B. and Jerome T. Loeb Prize for Excellence in Teaching Science and Mathematics, an award given in partnership with the St. Louis Science Center.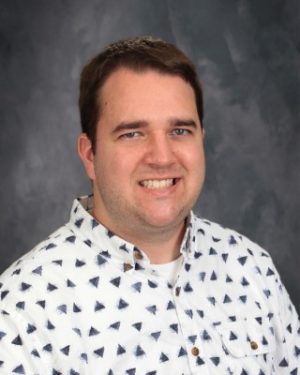 As Lindbergh's Teacher of the Year, Dougherty will now be in the running for the Missouri Department of Elementary and Secondary Education Regional Teacher of the Year award. Lindbergh's 2020 Teacher of the Year, Crestwood Elementary physical-education teacher Darrion Cockrell, was named Missouri Teacher of the Year in October.
"His instruction and rapport with his students exemplify his ability to build positive relationships for a great learning experience," the district said of why Dougherty earned the top teacher honor this year.
When the pandemic began, Dougherty created an "excellent" learning environment for his students, the district said: He assisted other teachers as a Canvas trainer, or "Canvassador." Canvas is the online learning platform that Lindbergh rolled out on a wider scale for students and teachers to access their virtual learning classrooms, and Dougherty's work helped improve access and instruction for hundreds of students and teachers.
The science teacher regularly uses a variety of instructional technology applications to engage students in learning, provides opportunities for extra practice and creates project-based learning assessments in which students implement content knowledge to design original prototypes. Dougherty has also served as an academic networking director, Science Olympiad sponsor and assists with Environmental Club float trips and fundraising events.
"Mr. Dougherty is the definition of a teacher who continuously grows in his practice," said LHS Principal Eric Cochran in a news release. "He takes a challenging subject like chemistry and makes it engaging and fun to help each student understand the material. On a regular basis, he will explicitly tell his students, 'It's time for me to remind you that I care about you!' Each of his students sees and feels this support from him. I have never seen a teacher as beloved by his students due to his rare combination of content expertise, teaching skills and personal relatability. He is truly admired and respected by every staff member at Lindbergh High School."
Dougherty's colleagues share that his positive attitude and cheerful personality create a degree of comfort for everyone. He inspires them to be better educators and better people in order to improve the quality of life for students.
Dougherty is currently pursuing a Master of Science in chemistry from the University of Missouri-St. Louis, and he earned his Bachelor of Science in chemistry education at Missouri State University.