Lindbergh grad pursuing his baseball dream in Phillies' system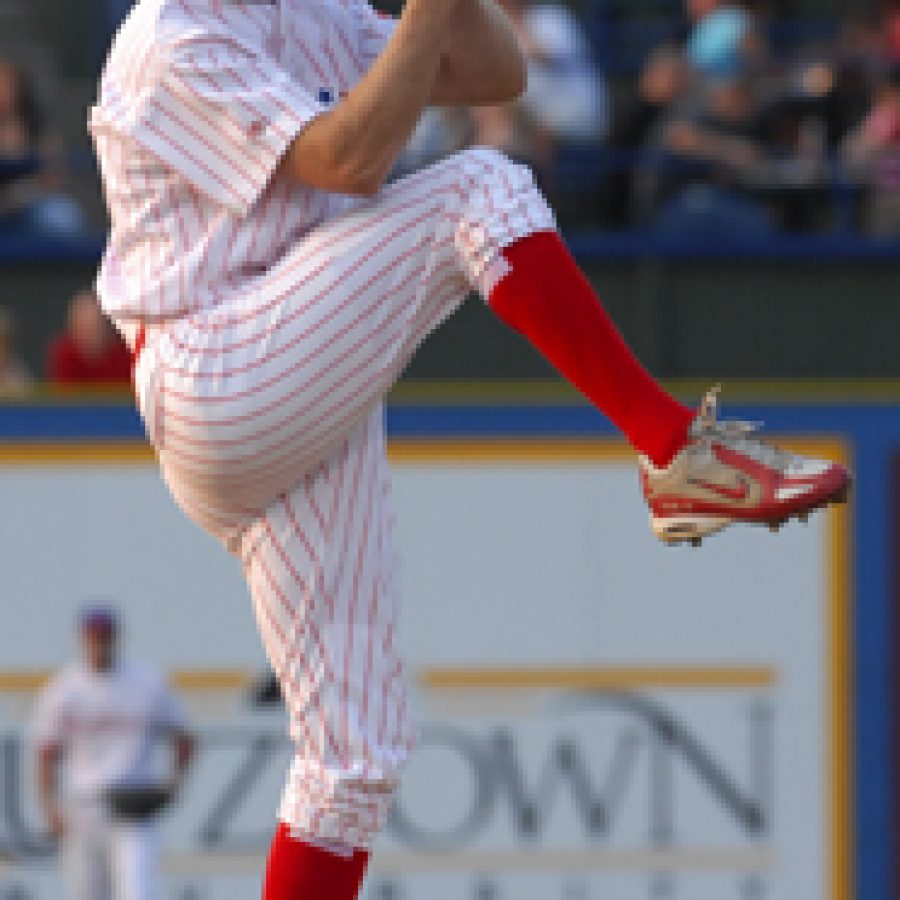 Like many minor-league baseball players, Josh Outman is trying to take advantage of a once-in-a-lifetime opportunity.
The 2002 Lindbergh High School graduate played this season for the Reading (Pa.) Phillies, a Double-A member of the Eastern League. Outman recently was rated the sixth-best prospect in the Phillies minor-league system by the publication Baseball America.
Outman believes that with some hard work and keeping his pitches in the strike zone, he can take his game to the Triple-A level and possibly the major leagues.
"I think that it's going to take me commanding my fastball for strikes on both sides of the plate," Outman told the Call. "By throwing strikes, I'm allowing myself to be successful."
A 10th-round pick by the Phillies in the June 2005 draft, Outman graduated from Lindbergh and spent his first two years at St. Louis Community College-Forest Park.
That's where he met his wife, Ashley, and the two were married Jan. 27.
Outman left Forest Park and joined the University of Central Missouri in 2005, where he racked up a 10-2 record with a 3.03 earned-run average. It was there that he made the life-altering decision to go to the professional ranks.
"I wouldn't call it a decision as much as I would an opportunity," Outman said. "Once I decided to play professional ball, I just didn't have the heart to go to school anymore."
After making his professional debut in 2005, Outman spent a year with the Lakewood BlueClaws.
He was named the Phillies' Minor League Pitcher of the Week three times and was Player of the Month in August 2006.
Earlier this season, Outman ripped through the Florida State League (A) with the Clearwater Threshers as he boasted a 10-4 record and a 2.45 earned-run average.
But Outman has struggled at times with the Reading Phillies, where he had a 2-3 record and a 4.50 earned-run average.
Although playing at Reading is more of a challenge, the former Lindbergh Flyer believes that once he settles in and throws his style of game, success will eventually follow.
"I wouldn't say it's the transition so much," Outman said about moving from Clearwater to Reading. "I was a little nervous in the first game, but I've shown a lot of signs that I can pitch at this level as well as I did in the previous level. I've just got to stop beating myself."
Outman gave the Phillies a taste of what he's capable of on Aug. 20 when he pitched eight scoreless innings against the Altoona Curve. Ten days later, he gave up just two runs on six hits in seven pitched against the Altoona Curve. Outman also struck out five batters and walked just two in his second win of the season with Reading.
"I did a lot of what I'm supposed to do, which is throwing strikes," Outman said. "I know I can compete and excel at this level."