Lindbergh focuses less on test scores and more on entire educational experience
By Gloria Lloyd
News Editor
glorialloyd@callnewspapers.com
As Lindbergh Schools is entering the second half of its first year under new Superintendent Tony Lake, the district is changing its outlook from one that has been focused on test-taking to looking more at the well-being of the "whole child."
That was the message heard over and over at the Lindbergh Board of Education meeting Feb. 12, where Lake presented a report summing up the 82 stops on his "Listening and Learning Tour" last fall and presented the district's new five-year strategic plan to guide what its future will look like.
And in both of those endeavors, the community's desire to focus less on test scores and more on the entire educational experience was something that "came out loud and clear in every group," Lake said.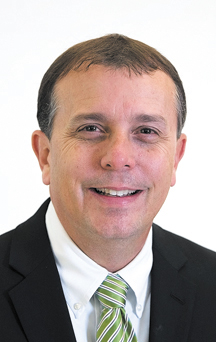 He blames it on a mindset left over from what he calls the "No Child Left Behind era," when measurement in academics revolved solely around how well students did on standardized tests.
"You don't throw the baby out with the bath water, but how do we begin to make those pivots into a true, authentic educational experience rather than a one size fits all?" Lake said. "How do we take the standards that our state gives us and develop real, authentic experiences for our kids?"
Through surveys for the Listening and Learning Tour, most groups — parents, teachers, students, administrators and support staff — ranked what they believed should be most important to their school district. Of those, only students ranked testing on the scale at all.
The 12 options to choose from were ACT scores, student mastery of the "four C's" — collaboration, communication, critical thinking and creativity; attendance; state test scores; personalized learning; student satisfaction; parent satisfaction; high-quality teachers; graduation rate; college entrance rate; employment rate; and social and emotional well-being of students and staff.
None of the groups ranked testing as one of their top five measurements, but students said testing was their top concern. The student survey respondents, most of whom attend Lindbergh High School, ranked ACT scores above any other measure of success.
"We've raised a generation of standardized test takers, and they see that as the way to go into college, to get a better life — that's what we've told them over and over," Lake said. "This generation is a product of No Child Left Behind, where the focus was on a test score instead of a well rounded experience. The test scores are just one piece of the pie, but they don't know that, because all they've been told for the last 12 years of their educational experience is you've got to get this score."
As part of both the Listening and Learning Tour and the strategic plan, the district surveyed residents about what they want to see in their school district, and to Lake, the results validated his own belief that rather than focusing on test-taking, the district should focus on all areas of a child's well-being.
To that end, unlike some other districts that gave elaborate presentations on their statewide test scores that were released publicly this month, Lindbergh has not yet taken a deep dive into its testing data for this year, Lake said. That will happen in the coming months.
The district topped the state average in every category, he noted.
A yearly ritual in Lindbergh under the tenure of Lake's predecessor, Superintendent Jim Simpson, the Lindbergh Learning Report that happened every fall, was a chance for principals to showcase their school's test scores to the board.
The principals detailed their scores across all grades and subjects, highlighting their "glows," or aspects of the scores they were proudest of, along with their "grows," or areas where they could improve.
Using what the district called a "placemat" of testing data, principals got involved in the education of individual students to assist them in getting higher test scores.
It's a system that worked well for many years, as Lindbergh spent five years as the top school district in the state score-wise. Each school made several appearances in the top 10 statewide at each level.
And those test scores are still important, but so are other things like the social and emotional well-being of children, Lake said.
When building principals come before the board this year, it won't be for "glows and grows," but to present about every aspect of their school, which could touch on test scores but will not revolve around them, he said.
The event will happen at the same time the principals and the district present the yearly goals for next year that they'll develop from the strategic plan each year.
"We really want those meetings between principals and the Board of Education to be about the whole child, not just about test scores," Lake said. "That's just one piece of the puzzle. And we want to talk about everything that's going on in that school and celebrate those different measures as well."