Jefferson Barracks gets its first memorial for Vietnam veterans in a 2019 milestone
In a milestone for Jefferson Barracks, the first memorial to those who fought and died in the Vietnam War was dedicated in 2019.
The St. Louis County Council held a dedication ceremony Oct. 3 at Jefferson Barracks Park for a Vietnam War memorial stone, bench and surrounding landscaping that were donated by the 173rd Airborne Brigade Association.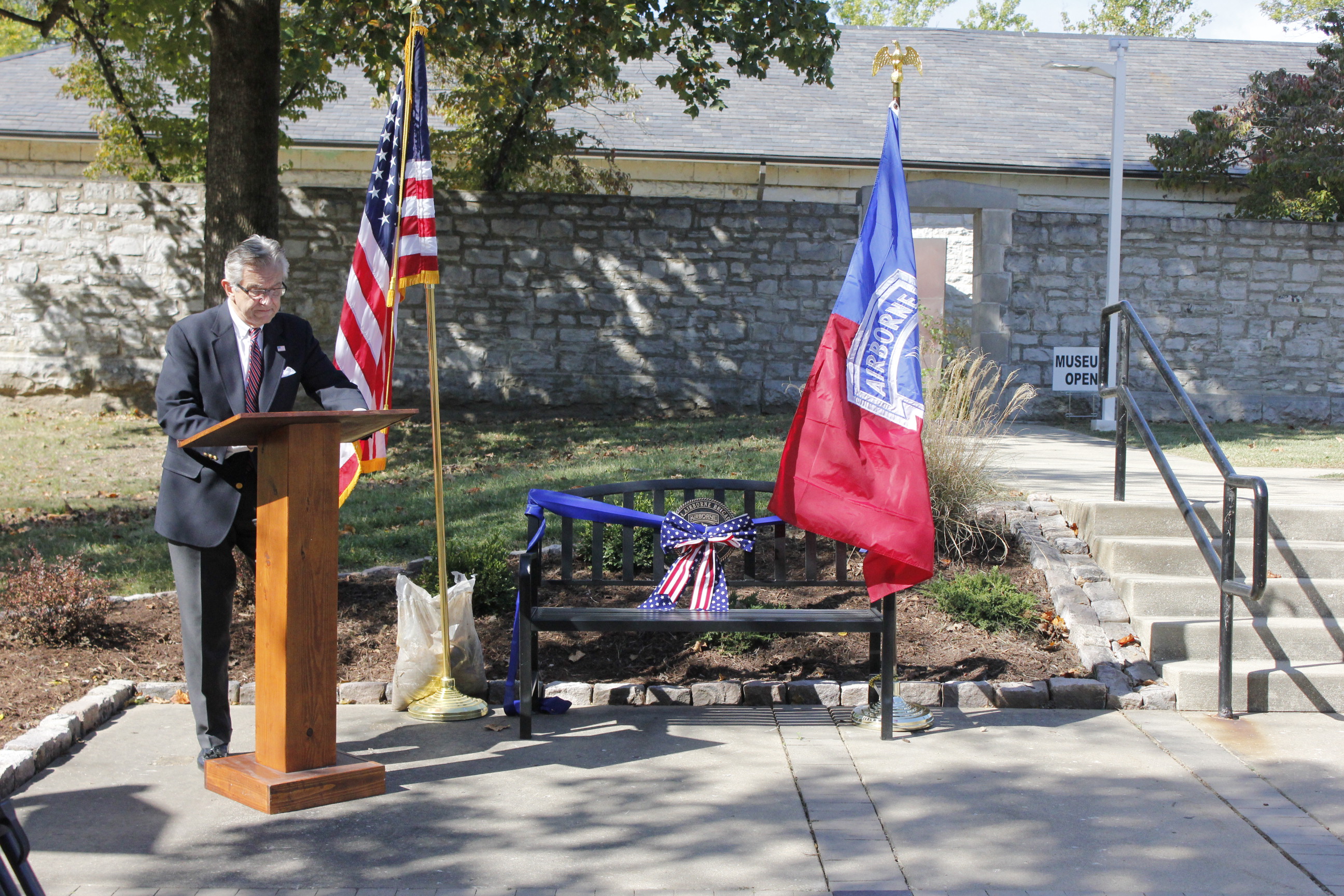 In recognition of the donation, the County Council passed a resolution and presented it during the ceremony at the Old Ordnance Room at Jefferson Barracks Historic Site, 345 North Road. Council Presiding Officer Ernie Trakas, R-Oakville, was in attendance along with County Executive Sam Page.
"This is a really great opportunity for me to be here and recognize the importance of these monuments that really say something about who we are as a nation. We recognize those who serve. We recognize those who don't make it home," Page said at the dedication ceremony. "These monuments give us a moment, and it's a moment to reflect for the folks who served to protect us and for the folks who don't make it home."
The first Vietnam Memorial placed in Jefferson Barracks Park will honor the long history of service demonstrated by the brigade, which is a nonprofit service organization that provides support for "Sky Soldiers."
"I'm honored to be here today, to be part of this ceremony… This is the first Vietnam Memorial in this park. That makes today doubly special for me. Simon Jenkins wrote that every generation has its war, and for my generation it was Vietnam," said Trakas. "I've always considered JB (Jefferson Barracks) hallowed ground, second to none. The oldest military installation west of the Mississippi. This place has seen the service of some of our greatest soldiers. No less than three presidents. It is the final station for some of our country's greatest warriors."
The 173rd Infantry Brigade was activated in 1963 in Okinawa, Japan, where the unit earned the nickname "Sky Soldiers." In 1965, the brigade was the first major unit of the United States Army to serve in Vietnam and conducted the only combat parachute jump of the war in February 1967.
In 1967, the brigade earned a Presidential United Citation for action at Dak To. During more than six years of ongoing combat, the brigade earned 14 campaign streamers and four unit citations. Sky Soldiers serving in Vietnam earned 13 Medals of Honor, and a total of 16 Congressional Medals of Honor have been awarded to members of the 173rd brigade, some posthumously.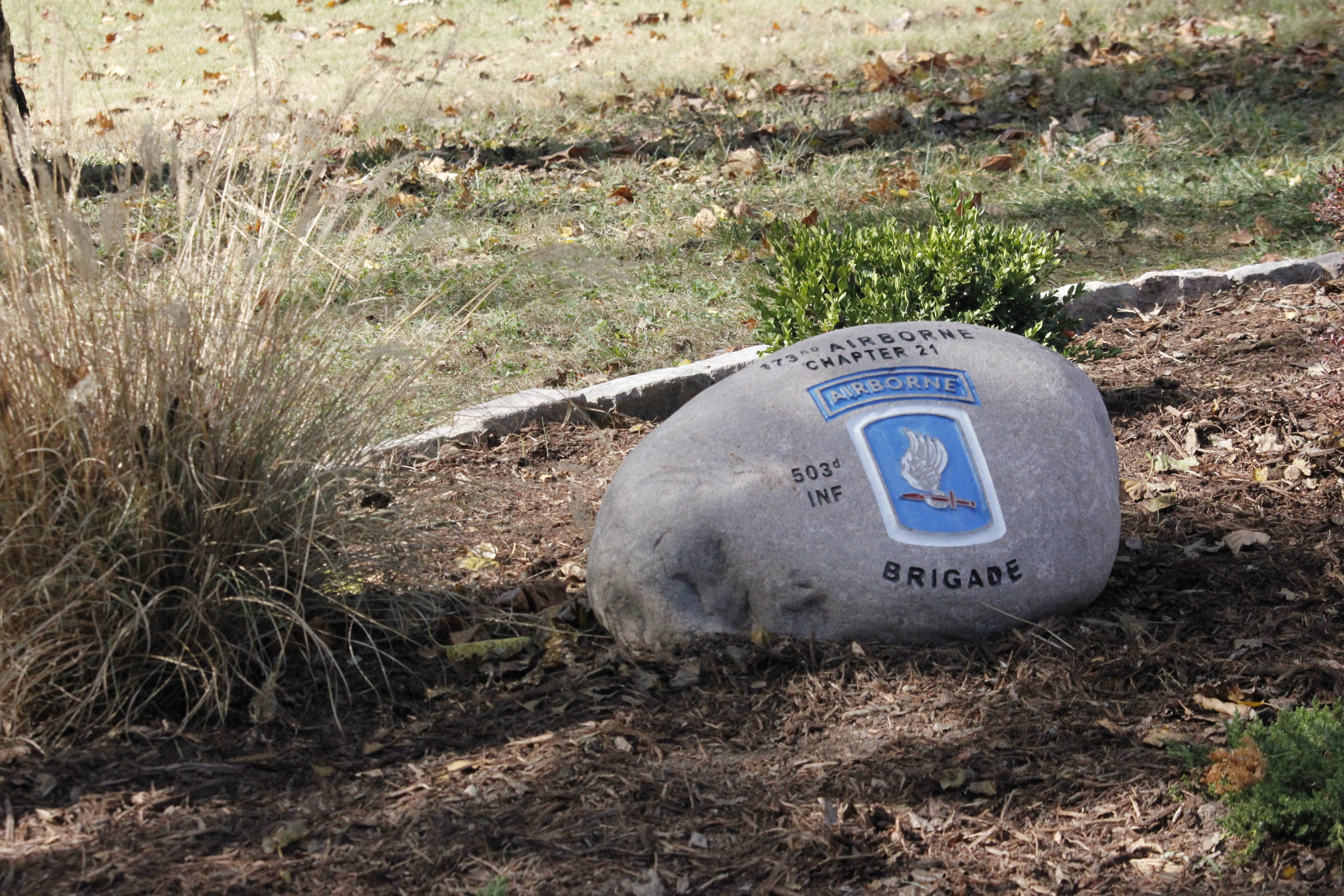 The bench and commemorative stone feature the 173rd Airborne Brigade crest. The memorial is located near the entrance of the Old Ordnance Room.
"In remembering our fallen we believe they shall not grow old as we that are left grow old, nor shall age not weary them. Nor the years condemn. At the going down of the sun and in the morning, we shall remember them," said Terry Aubrey, president of the 173rd Airborne Brigade Association. "Our national association has picked up with a vengeance this bench project and we've planted these benches in VA (Veterans Affairs) hospitals, national cemeteries, and now it is so fitting that this is the first occasion at this beautiful site because we were the first. We were first in and, I forgot to mention, we were the last army combat unit to leave Vietnam. Hopefully in many years to come this will be the last bench to be carried out of here."