Here's what to know about the MSD propositions on the April 6 ballot
The Metropolitan St. Louis Sewer District has a $500 million bond issue, Proposition Y, on the ballot April 6, along with five proposals that would make changes to the charter under which MSD operates
MSD Proposition Y
Prop Y will fund five years of upgrades for MSD's "Project Clear" consent decree with the federal government, which in turn will cost a minimum of $4.7 billion over two decades to fix sewage overflows and other sewer system improvements. Funding Project Clear through bond issues could add several billion dollars of interest to the final tab.
Proposition Y was originally intended to go to voters in April 2020, but the vote was postponed after the onset of COVID-19 restrictions and stay-at-home orders in the weeks leading up to that election, which was ultimately postponed until June.
In addition to Proposition Y, voters will also be presented with several potential changes to MSD Project Clear's Charter. The work to be funded during this period, which is necessary to improve water quality in the region as part of an agreement between MSD, the U.S. Environmental Protection Agency and the Missouri Coalition for the Environment, includes nearly 300 projects designed to:
• Eliminate wastewater overflows,
• Reduce wastewater building backups,
• Repair and rehabilitate the wastewater sewer system,
• Upgrades at Bissell Point and Lemay Wastewater Treatment Plants, and
• Retire the Fenton Wastewater Treatment Plant.
A "yes" vote gives MSD the ability to issue $500 million in bonds to fund some of the $4.7 billion in required work and repay this debt over a 20- to 30-year period. MSD says that  borrowing this amount through bonds will keep rates lower, although the cost will be greater in the long term since interest will be paid on the amount borrowed.
A "no" vote means MSD will pay for the work as it's done, exclusively through rate increases; this will mean higher rates in the short-term, but lower costs overall since no interest will be paid.
Both options will impact wastewater rates in MSD Project Clear's service area. Proposition Y's impact on monthly wastewater rates is for demonstration purposes and is based on typical monthly usage for a single-family residence.
MSD has a calculator so you can see what your projected bill would be with or without Proposition Y.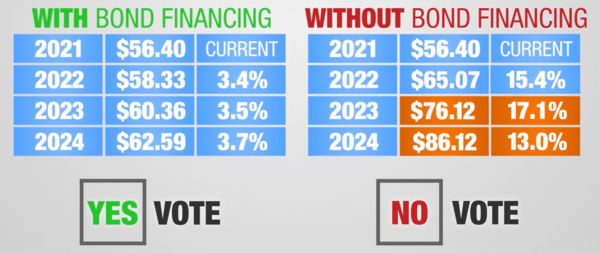 University City resident Tom Sullivan, who has watched MSD for decades, noted in an op-ed for the St. Louis Post-Dispatch that there is "little choice but to vote for the bond issue," due to the rates rising so much without it.
But Sullivan writes that MSD and its customers are in this position now because the sewer district declined to use available federal funding for upgrades decades ago, and current ratepayers have to pay for those delays after the sewer district signed a consent decree with the federal government.
What are editorial boards saying about it? The Call urged a "yes" vote, while the Post-Dispatch also asked its readers to vote "yes" on the proposition.
Propositions 1 through 5: MSD charter changes
MSD is also proposing a slate of 16 changes to its charter through five separate propositions, Propositions 1 through 5.
Several of these proposals are minor, but Sullivan objects to several of the charter changes for potentially making the sewer district less accountable to voters. He plans to vote against all five propositions.
Proposition 1
⦁ Removes obsolete provisions, modernizes certain provisions, references and languages. It also only requires the sewer district to provide notice of proposed rate changes on its website or digital media, rather than in a newspaper as is currently the practice, presenting annually to the city and county only upon request and stating that members of the Board of Trustees cannot be a member of the same party rather than "affiliated with," the current language; and changing the charter so that Civil Service Commission hearings are not public hearings.
Several of the items in Prop 1 are housekeeping items like changing a reference to the jail in the city of St. Louis as the "city workhouse," when the city now has two jails.
The Call is endorsing a "no" vote on Proposition 1, writing, "In our opinion, publishing public notices — otherwise known as notices that the public needs to see — in a newspaper of record is one of the things MSD does right, and we see no reason to stop doing it other than to shut the door on public scrutiny of the utility."
The St. Louis Post-Dispatch editorial board is recommending a "no" vote on Proposition 1 because eliminating the requirement for public notices to be posted in a newspaper, only to post the notice on MSD's website instead, would result in "less transparency and accountability" and is "not in the public's best interest."
Proposition 2
⦁ Current Charter requires yes votes from a minimum of 2 Board Members from each appointing authority, the City and County, to pass any ordinance, rule, etc.
a. New rule: If 5 present and with unanimous consent, any 4 yes votes will suffice for passage
⦁ Ordinances shall take effect immediately
MSD is overseen by a six-member Board of Trustees that is divided between governance from St. Louis County residents and city of St. Louis residents, with the St. Louis County executive and the St. Louis mayor each appointing half the board, or three members. Currently under the MSD charter, two of the three county and two of the three city board members have to be present in order to vote on bills.
The revamp of the charter would end that requirement, allowing the Board of Trustees to make decisions if at least five board members of any combination are present, rather than certain numbers of city or county board members.
MSD CEO Brian Hoelscher told St. Louis Public Radio that the decision to change this requirement comes from a problem trustees have faced in getting non-controversial legislation passed if trustees feel they have a conflict of interest.
"Our board has proven to be so serious about conflict of interest, we have actually held up legislation," Hoelscher said. "The most common ones are green infrastructure grants. If you've got two city trustees who have a conflict of interest because they feel they are somehow connected or familiar with one of the entities, we can't pass that legislation even though all six trustees want to move forward."
But Sullivan said changing the city-county requirement means that ordinances would not have to gain majority support from either St. Louis County or the city, thwarting a safeguard that has existed since the beginning of MSD so that the interests of one jurisdiction don't outweigh the other.
The Call editorialized against Proposition 2, writing, "We see the provision that any legislation has to have the majority of county trustees and the majority of city trustees as a basic safeguard of the public trust, and probably one of the reasons voters might have agreed to approve MSD in the first place."
The Post-Dispatch editorial board agreed that this change was "not in the public's best interest."
Proposition 3
⦁ Clarifies Rate Commission voting delegates and timeline, and a Rate Commission report is accepted by the Board of Trustees if the board has not taken action on the report within a certain period of time. As the charter currently stands, the board has to vote to accept the report.
⦁ Requires consideration of financial impact on all classes of ratepayers to determine a fair and reasonable burden.
The Call said readers should vote "no" on Proposition 3: "We don't see this as a win for taxpayers. If the MSD board isn't voting to accept a report from the Rate Commission, there's probably a good reason."
The Post-Dispatch said readers should vote "yes" on Prop 3.
Proposition 4
⦁ Changes compensation for Trustees and members of Civil Service Commission to $25 for all public meetings.
⦁ Average annual Board compensation changes from $300/year to $600/year
Compensation for the Board of Trustees has been set at $300 a year since 1954, Hoelscher said.
The Call said to vote "no" on this proposal: "And although members of the board do spend time in meetings and, we would hope, researching the legislation they are looking into, we don't see a reason to hike their pay right now, when customers' rates will be hiked for bad decisions made by past boards."
The Post-Dispatch said to vote "yes" on this proposition.
Proposition 5
⦁ Permits the District to engage the same independent auditing firm in excess of five consecutive years.
⦁ Only if District holds competitive bid for auditing services and the lead audit partner/concurring partner is changed.
Proposition 5 would allow the sewer district to use the same auditing firm for more than five years without going out to bid, as is currently enshrined in the charter.
Hoelscher said the charter requirement that MSD switch auditors every five years means that sometimes the utility has to hire an auditing firm even if it's not the lowest bidder.
But Sullivan sees the bidding process as a built-in safeguard for financial practices.
"That would remove a best practices requirement," Sullivan said.
The Call said to vote "no" on this proposition, while the Post-Dispatch said to vote "yes."