Governor signs bill naming Lindbergh 'Rep. Cloria Brown Memorial Highway'
Gov. Mike Parson signed a bill renaming a South County highway after the late Rep. Cloria Brown last month in a ceremony that brought together Brown's family with dozens of her colleagues in the Missouri House and Senate.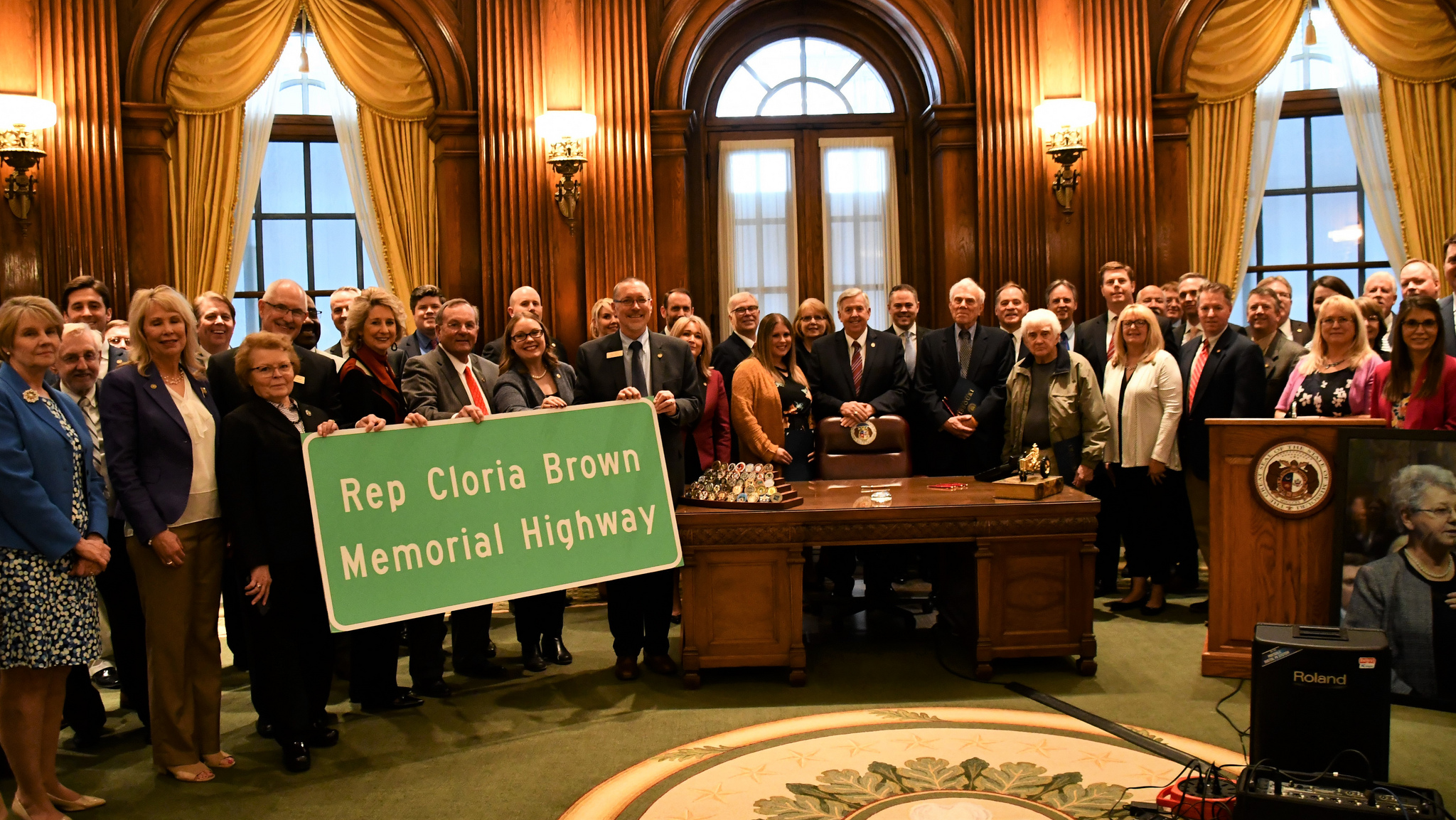 Parson held the signing ceremony in his office March 25. The legislation will designate part of South Lindbergh Boulevard in front of Brown's gravesite as "Rep. Cloria Brown Memorial Highway."
"Rep. Brown was a dedicated, compassionate public servant who always had the best interest of her constituents at heart," Parson said in a news release. "It was an honor to sign today's bill that will help ensure Rep. Brown's legacy lives on with St. Louis County residents and all Missourians for generations to come."
Brown served three terms in the Missouri House before she died last March after battling cancer. The March 25 ceremony was attended by many of her former colleagues and other members of the General Assembly wishing to honor her legacy.
Speaker of the House Rep. Elijah Haahr, R-Springfield, said, "I had the distinct honor of serving with Cloria Brown in both the House and on the Missouri Human Trafficking Task Force, where I saw her passion of fighting for the victims of human trafficking. She was a special person whose care for the most vulnerable and exploited has had an enormous impact in my life and in Missouri."
"Cloria was a beloved servant of the citizens of the 94th District and worked tirelessly to stand up for those who did not have a voice," bill sponsor Rep. Jim Murphy, R-Oakville, said. "Honoring her in this way will be a reminder of the legacy she leaves of not sitting idly by but to work with grit and grace to make a difference."
The bill was sponsored in the Senate by Brown's colleague from across the aisle Sen. Scott Sifton, D-Affton, who often attended local events alongside her.
"We are grateful for Cloria Brown's service to the state of Missouri. She worked hard to make a difference for constituents and to the state," Sifton said.
The Missouri Department of Transportation will be placing the signs for the new highway designation when the legislation becomes effective on Aug. 28.
The governor is expected to attend a highway naming ceremony in South County at that time.
Private donations will pay for the signs.