When Aaron Hilmer was first elected to the Mehlville Fire Protection District Board of Directors almost 20 years ago, the first few years were "contentious." Now, as he enters his fourth term, the director is looking froward to "not having a lot to do" thanks to the employees and current state of the fire district.
Oakville resident Hilmer was reelected to his fourth six-year term on the board April 4, beating a challenge from former firefighter Fred Baumgarth. Hilmer first ran for the board in 2005 alongside Director Bonnie Stegman, campaigning as reform candidates looking to eliminate fiscal waste and roll back a 33-cent tax rate increase approved in November 2004. Their efforts were successful and voters seemed to agree – reelecting Hilmer in 2011 and 2017.
"I don't feel there's a lot for me to do (now) and that's what why I love going around South County … talking about what the employees are doing," he said in an interview with The Call. "We came in and did our best to create a realistic, level foundation and then the employees of Mehlville took it to where it is today. I can't take any credit for that part."
Hilmer said he ran again to help keep the continuity going at Mehlville but what he wasn't necessarily expecting was having to campaign against an opponent, although in the long run he's thankful he did.
"There's a tremendous amount of people working at Mehlville taking it to a great place and I felt that I needed to be there to keep it going," Hilmer said. "Part of me hoped that there wasn't an election, that no one would run against me but it turned out that it was a great thing because it forced me to get out in the public and tell them this great story of what's going on at Mehlville."
The next six years will have a bigger focus on social media and telling the public more about what the district is doing.
"I really do think we want to tell the story more," Hilmer said. "Certainly we don't want to spend a gazillion dollars on some kind of PR, but because the residents are the shareholders that own the district, it's good to give them some annual and biannual reports and tell them 'Hey, this is what we're doing.'"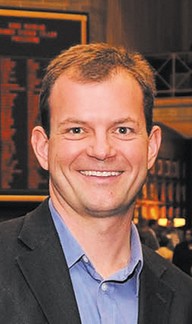 Other things upcoming in his next term are the renovation of Engine House No. 6, funded by Proposition 1, a 20-cent tax rate increase approved by voters in 2022. The tax rate increase will generate an additional $6.2 million in revenue and will also be used for renovations to Engine House No. 7 and other facility improvements around the fire district.
"We're going to be doing the construction of House 6 … we would love to be able to put that out to bid in spring 2024 … but that is the next major thing we're doing is that," Hilmer said. "We're also going to be doing quite a bit of investment in House 5. That's where the board meetings are. It was built in 1999 and it really never has really been upgraded or face-lifted since then … I believe that will be taking place in 2024 also, the renovation and updating of House 5."
Hilmer is particularly proud that the district has the lowest blended tax rate of all the fire districts in St. Louis County and used it as a main tenet of his campaign.
"My main campaign line that we told the public is pretty powerful: the highest 911 services in the state at the lowest tax rate. So we have accomplished things that no one else has done before while paying debt down," Hilmer said. "In the next six years, it's really where the administration and the employees are really the ones pushing it forward now … It is really exciting what they're doing."
"The hard work, at least in my opinion in my time on the board, the hard work really ended after 2017. It seemed the district really kind of calmed down and the district started all pushing forward together," he added.
Hilmer is also satisfied with the relationship between the fire board and employees as well as the union, International Association of Fire Fighters Local 2665, and feels there is a good balance between satisfying employee requests while also maintaining services to residents. Hilmer pointed out a decision by the board last summer not to approve 48-hour/96-hour shifts as an example of that balance, although it was something wanted by some employees.
"Like in any employee/employer relationship there's going to be some things they ask for where in our positions we feel it's not in the best interest of the district, but there's been other things that the bargaining unit has brought forward that have helped the district … but we don't always say yes," Hilmer said. "We're the only fire district slash department that does not do a 48/96 work schedule and … that's something the union asked for and we felt it was not in the best interest of the district. It's an anti-resident policy and the district has continued to move forward without doing it."