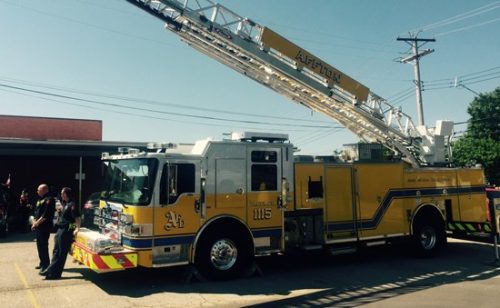 The four-year legal battle to determine whether Crestwood has to continue paying the Affton Fire Protection District for fire service for annexed residents is over after the Missouri Supreme Court ruled for Affton.
The Supreme Court took a year and a half to issue a ruling in the case after hearing oral arguments in late 2019, but an April 20 ruling from the entire court written by Justice Patricia Breckenridge sided with Affton on every legal argument, just as a Cole County circuit judge originally did in the case.
Since Crestwood lost its bid in court, the city will continue to pay more than $500,000 a year to the AFPD, out of a roughly $13 million budget. And the payments will never stop: In the words spoken to the Supreme Court by Crestwood's own attorney, former Missouri Chief Justice Ray Price of Armstrong Teasdale, the city will be "saddled for the rest of time" with those payments.
"This little city's been paying this for 20 years — they have to pay it forever?" Price asked the Supreme Court. "That has never been upheld."
But the court did uphold two state statutes that Crestwood challenged as unconstitutional special laws that only targeted St. Louis County — including one law that, ironically, Crestwood officials went to Jefferson City to pass into law in 1997 and then later fought to overturn. The justification behind singling out St. Louis County annexations is the thinking that fire districts in unincorporated St. Louis County are vulnerable to having their wealthiest sections annexed, which could make the fire district financially unsustainable.
"I'm glad that's over — that is a big burden off our district and our residents. I'm just glad we won," said Affton Fire Chief Nick Fahs. "It was incredibly stressful — we had to do our budgeting, both short- and long-term, two sets, one with Crestwood and one without a Crestwood."
The city objected to the constitutionality of payments it agreed to pay Affton when it annexed an area of the 63123 ZIP code in 1997. Residents in that area initially rejected the city's offer of annexation, possibly because they preferred Affton's fire services. The city worked to change state annexation law for St. Louis County.
Now, only in St. Louis County can cities annex residents who are in an existing fire district and, instead of the residents switching to the city's fire department, those residents can stay in their fire district but have what they would have paid in fire district taxes paid by the city instead.
The escalating payments under that agreement have reached $565,000 annually and climb each time Affton voters approve a tax-rate increase. The entire Crestwood Fire Department's budget is roughly $3 million for 12,000 residents, so about 20 percent of that covers the 1,200 residents who live in the annexed area.
Crestwood said it could no longer afford the payments and sued in 2017, with former Mayor Gregg Roby eventually joining the lawsuit as a citizen plaintiff since, as a Crestwood resident not in the annexed area, he has to pay for Affton fire service.
Special laws directed at St. Louis County were declared unconstitutional in the Ferguson era in a ruling that was not made retroactive and didn't apply to past laws. But the Supreme Court retroactively applied a key 2019 ruling to Crestwood's case, even though Crestwood had already submitted its legal case. The newer ruling upheld special laws targeting only St. Louis County if they had a "rational basis." The court found that the fire annexation law in St. Louis County was rational.
Both sides brought in high-powered outside attorneys for their arguments, but Affon started and ended the case with only one: James Layton, a former Missouri solicitor general who has successfully argued cases at the U.S. Supreme Court.
Crestwood started the case with its city firm Lashly & Baer, but after the circuit court loss, the city hired a four-member legal team. Affton also received legal assistance from the Missouri attorney general's office, which sided with Affton that the law was constitutional.
Crestwood's total legal fees mounted to $180,081 between 2017 and 2019, and stopped once the case had been argued at the Supreme Court. Affton spent between $70,000 and $80,000 on legal fees.
Fahs said when Crestwood added attorneys to its legal team, he asked Affton's attorneys whether the fire district should do the same. But the answer from Layton was that whether the district had one lawyer or 10, the legal arguments were all that mattered, and those were on Affton's side.
"We trusted our attorneys from the outset and they never steered us wrong, and at the end they were right," Fahs said.
The legal precedents the state was operating under at the time Crestwood filed the case in 2017 were different than they are today, but City Administrator Kris Simpson said knowing what city officials knew then, they had to pursue the case "to try and do right by our community." Attorneys said the city had a compelling case considering the Ferguson-era rulings, and the payoff would have been so great that it was worth a try.
"We're sorry that we spent the money and we're sorry that they spent the money, but we have no hard feelings and we just want to move forward in a positive light," Fahs said.
The Supreme Court might have set a record for longest time to rule with the case. That led to frantic calls from Fahs each month to attorneys, who would assure him that the delay didn't mean anything.
On the other side though, the fact that the justices took nearly 19 months to rule despite precedents that could have led to quicker rulings makes Simpson believe the case wasn't as cut and dry as the final ruling makes it seem: "I feel like we made the best argument we could. It's not a reflection on Affton, they're a great fire department — everybody witnessed that firsthand with the recent chemical fire. This is nothing about the level of service they provide to our residents, this is about a law that we feel is unfair — that you can say you're in St. Louis County and the law is different for you than if you're in any other county in the state of Missouri. We don't feel that's a wise way to govern, but … we're not right, or at least the Supreme Court doesn't feel that we were right. It's a reality we're going to have to live with and a decision we're going to respect."
Fahs is relieved that the legal battle never led to tension between the fire departments, who often have to assist each other.
Affton once invited the Crestwood Fire Department and its chiefs to have lunch at Affton's No. 2 Engine House that serves the annexed area in an effort to make sure there would be no hard feelings.
During the Manor chemical fire April 29, Crestwood firefighters were "instrumental," Fahs said, with Crestwood Fire Chief Lou Hecht stepping up for a command role alongside Fahs without hesitation.
"We told them this lawsuit is never going to affect when the tones go off and we are dragging hoses, and it never did," Fahs said. "Our departments never stopped working together."