Celebrate St. Patrick's Day with Irish soccer victory-inspired 'Donegal Chicken'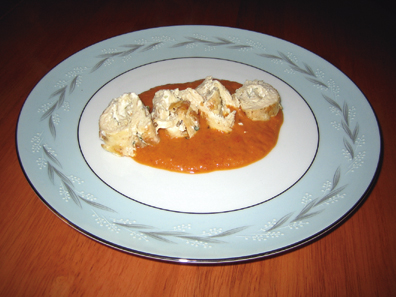 When I was growing up my family was so Irish that my grandfather even spoke with a Northern Irish brogue.
Consequently, I learned about Ireland, Irish customs and Irish recipes from the tales he would tell in the evening.
I remember him trying to describe this meal to my mother and how hard she worked to make it for him.
This chicken was a treat and it came with a story about a soccer match his team won against Donegal. Apparently this was a meal they had in celebration of the win.
Donegal Chicken
2 red bell peppers
1⁄4 cup whipping cream
1⁄4 cup chicken broth
Salt to taste
Pepper to taste
4 ounces cream cheese,
room temperature
1 tablespoon tarragon, chopped
1 chicken breast per person
1 tablespoon olive oil
1⁄2 cup dry white wine
Char bell peppers in broiler until blackened on all sides. Place in a paper bag and close it up for 10 minutes. Peel wax skin from outside of peppers. Puree in food processor until smooth.
Transfer puree to heavy saucepan. Add cream and chicken broth and bring to boil for four minutes or until liquid is reduced to one cup.
Season to taste with salt and pepper. This sauce can be made a day ahead if you cool, cover and refrigerate it.
Preheat the oven to 350° F.
Mix cream cheese and tarragon in a small bowl to blend. Season to taste with salt and pepper.
Pound chicken with a meat mallet to 1⁄4-inch thickness. Spread cheese mixture over each breast leaving 1⁄2-inch margins on all sides.
Starting at short end, roll up each breast.
Secure seam with toothpicks. Season rolls with salt and pepper to taste.
Heat olive oil in heavy, oven-proof skillet over medium-high heat. Cook chicken four minutes or until brown on all sides. Add white wine and transfer chicken to oven for 10 minutes or until chicken is cooked through.
Transfer chicken to work surface and remove toothpicks. Bring sauce to a simmer. Cut chicken into inch-thick wheels.
Spoon sauce into plates and then arrange chicken on top of sauce. Serve.