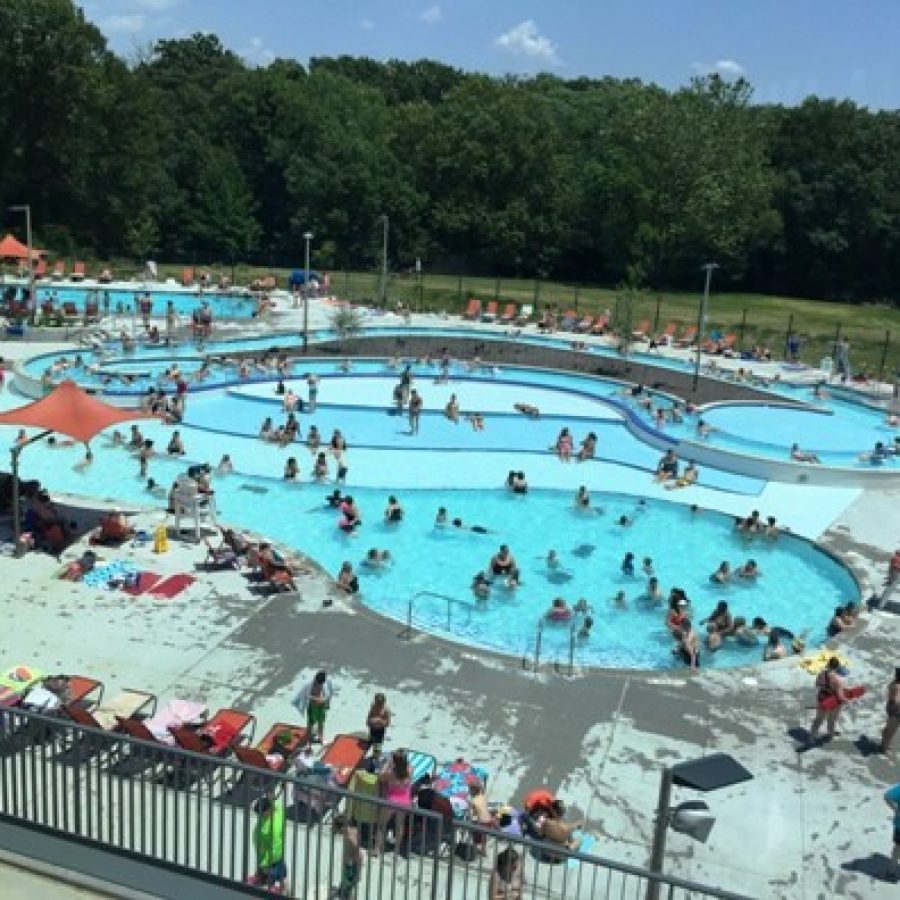 The Pavilion at Lemay pool reopened last week for the season, following a number of social distancing restrictions for COVID-19 just as the building indoors has been since June 15.
The outdoor pool at the Lemay aquatic center will be open through Aug. 23, along with Labor Day weekend Sept. 5, 6 and 7. This summer marks the five-year anniversary of The Pavilion's opening.
Following the county's restrictions on pools that debuted in cities like Crestwood earlier in the month, cloth masks are required for anyone going to the pool, except while in the water.
The pool will operate at a reduced capacity of 142 for each open swim session, and reservations can be made online at https://reservestlouis.usedirect.com/StLouisWeb/. The first swim session is noon to 3 p.m. and the second is 4-7 p.m.
No one is allowed to visit the facility who is having any COVID-19 symptoms or has been exposed to a person with COVID-19 in the last 14 days.
Attendees will have to bring their own chairs. Concessions will not be available, and no outside food is allowed, but bottled water is permitted.
All patrons must stay 6 feet apart unless they are members of the same household.
The kiddie structure, water slide and rock wall will not be open. No tubes will be allowed in the lazy river.
Pool-only memberships are available for $40 for children ages 4-12 and seniors age 64 and older for $40. Adults are $50, and a family pass is $115. Children 3 and under are free.
Daily admission fees are free for those 3 and under, $4 for children 4-12, $5 for ages 13-64 and $4 for seniors 65 and older.
Indoor building reopens
The indoor portion of The Pavilion at Lemay reopened June 15, after being closed for months due to the coronavirus pandemic.
But the restrictions put in place for COVID-19 will be a "little different than you are used to," the county posted on Facebook. "While we understand that these rules are very restricting please know this is for everyone's safety and wellbeing. If you cannot agree to follow these rules set forth, please visit another facility of your choice."
All members who were current with memberships as of March 1 were given an automatic 120-day extension to make up for the 90 days the facility was closed.
No one will be admitted into the facility if they are sick or if any of the following signs or symptoms were present with in the past 72 hours:
• Temperature is or greater than 100.4 degrees Fahrenheit or 38 Celsius.
• Coughing or shortness of breath or difficulty breathing
• Chills/Muscle pain
• Headache/Sore throat
• New loss of taste or smell
• Close contact with persons with any of the above symptoms or known COVID-19 in the last 14 days.
Members and guests will have their temperature taken by a staff member before using the facility.
Cloth face masks are required at all times except while exercising.
Please come dressed for your activity. Use restrooms on the main floor – showers are not available. Bring your own water bottle.
Everyone is required to wipe down all equipment used in the fitness area with the provided disinfecting wipes.
Everyone must practice social distancing of at least 6 feet at all times when in the building. Follow the marked designated Entry/Exit and walkway directions to ensure social distancing.
Tot Care is not available at this time. Open play basketball, line dance and Mah Jong are not available at this time.
Pickleball will be available by reservation only and with restrictions including number of players.
Some fitness classes will be held but with restrictions. Speak to the instructor regarding restrictions.
There will be no lost and found.