Lemay aquatic center officially open
Newly opened community and aquatic center already making some waves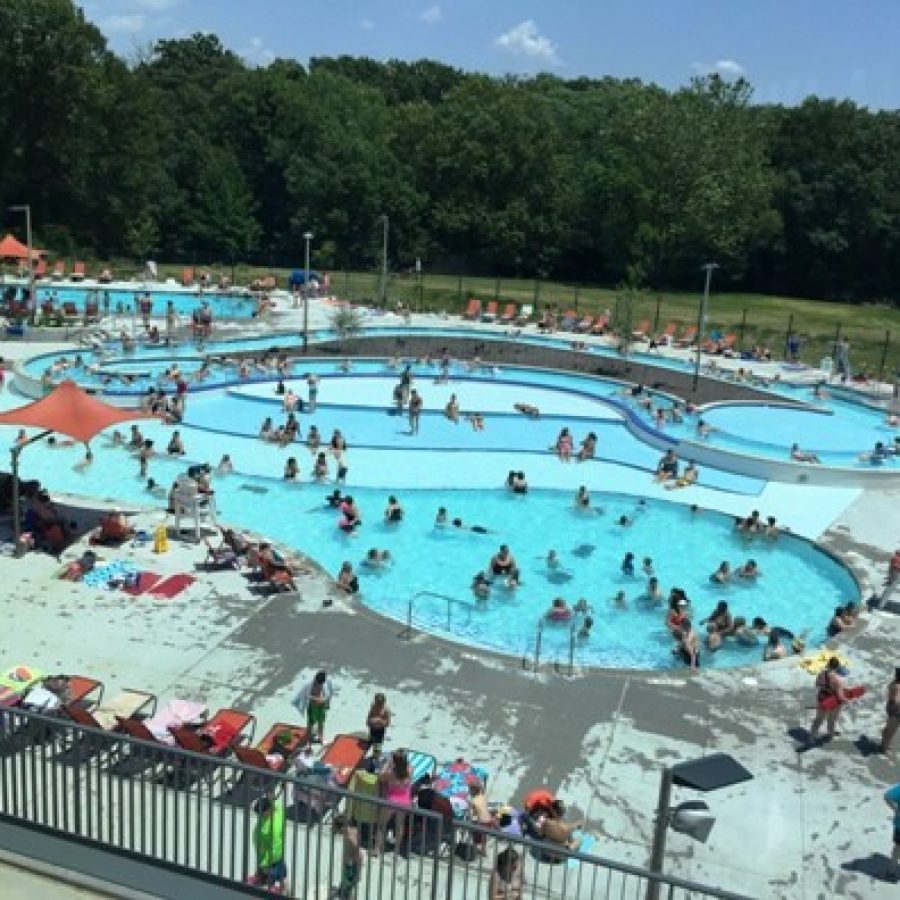 A decade after Lemay residents first told county officials they wanted to spend casino money on a community center and aquatic center, they now have one so state-of-the-art that county officials call it the crown jewel of the county parks system.
The St. Louis Economic Development Partnership was scheduled to hold the official grand opening for The Pavilion at Lemay community and aquatic center Tuesday — after the Call went to press. But capacity crowds have already been busy trying out the outdoor pools and indoor fitness center since the $18 million, 42,000-square-foot facility's soft opening on Memorial Day weekend.
"The opening of the Pavilion is extremely exciting because for the first time in as long as I can remember, there's going to be a place in south county where people can meet, where they can bring their families, where people can get together," County Executive Steve Stenger said. "And it's just really exciting."
The Pavilion — which gets its name, colors and design from its inspiration as a "pavilion in the park" — is at 305 Gregg Road in Jefferson Barracks Park. The centerpiece of the state-of-the-art facility is the outdoor aquatic center with four pools, including a deep pool with a water slide, rock wall and diving boards, a pool with 25-yard lap lanes, a lazy river with inner tubes available, and a leisure pool with a zero-entry play area for kids and a fort for toddlers.
The center is open to residents and nonresidents. Day passes that cover both the pool and fitness center cost $5 for adults, $3 for senior citizens and children ages 4 to 12, with 3 and younger admitted free.
Annual memberships cost $300 for adults or $175 for senior citizens or children ages 4 to 12, and family memberships for up to four people are $500. Membership payments can be split in half for no cost, and day care is available for members or for a $2 fee for day-pass holders.
The County Council approved a 10-percent charter member discount for Lemay residents until June 30 on annual memberships, renewable for as long as the resident stays a member.
Pool-only memberships cost $75 for adults, $60 for senior citizens and children ages 4 to 12 and $175 for families of up to four. The discount for Lemay residents does not apply to those memberships.
Inside the Pavilion is a fitness center, a gym that can be converted for playing basketball, volleyball and soccer and meeting rooms that can be rented to host baby showers, birthday parties, graduation parties and business meetings. The gym can be converted to hold large events like the World War II Canteen Dance held by the Friends of Jefferson Barracks, and some wedding receptions are already booked for the fall.
The county Port Authority is paying for the community center primarily through rent payments paid by River City Casino owner Pinnacle Entertainment since the Lemay casino opened on the former National Lead site in 2010. River City contributed $5 million in seed capital for a community center, but conversations with Lemay residents showed that they wanted a community gathering place that went beyond what $5 million could pay for, so the Port Authority stepped in to bond the extra money.
Most of the process happened under the administration of former County Executive Charlie Dooley, but during that time Stenger — who at one time lived in Lemay — was elected to the County Council to represent the 6th District, which includes Lemay, and then defeated Dooley for the Democratic nomination for county executive last year.
"I live in the area still, and as I drive through the area and see all of the exciting things that are going on, I'm very happy for the community in which I live," Stenger said. "And I got involved in public service for exactly this, to make my community a better place — and when I see it happening right before my eyes, it is truly exciting and truly heartfelt."
Although some veterans were initially upset about an aquatic center in the middle of a park a few miles from Jefferson Barracks National Cemetery, Beth Letscher, assistant vice president of the Economic Development Partnership, said the county reached out to cemetery officials to make sure the aquatic center does not affect the operations of the cemetery in any way.
The aquatic center also connects with the history of Jefferson Barracks because the adjoining military base once had four or five pools open at the same time for the soldiers who have lived there for 150 years, Economic Development Partnership spokeswoman Corrie Hendrix said.
For the most part, however, residents are proud to see something so spectacular open in Lemay, said the facility's manager, Michael Biedenstein.
"We hear that a lot: 'Lemay needed this,'" he said.