Superintendent is retiring after 20 years with Bayless, over 30 years in education
Career highs include bond measures, community trust
Bayless School District Superintendent Ronald Tucker is retiring at the end of the 2021-2022 school year after 22 years with the school district. 
Tucker's official last day is June 30.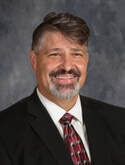 Tucker joined the school district in 2000 and became superintendent in 2012 after working as assistant superintendent from 2010 to 2012. Prior, Tucker was the principal of Bayless Middle School and Bayless High School, as well as assistant principal and athletic director at Bayless High. 
His career in education began 31 years ago with his first teaching job in the St. Clair School District in Franklin County. After St. Clair, he began working in the Affton School District at the high school as an English and journalism teacher, as well as a football coach for four years. He then became assistant principal of Rogers Elementary in Affton, a role he served in for two years before coming to Bayless. 
"The reason why I went into education largely was because I had a great high school experience myself. I really enjoyed school. I had some great teachers and I wanted to create great memories for students," Tucker said. 
Rising the ranks to the superintendent was never originally on his radar. When he came to Bayless from Affton in 2000, he worked as the high school's assistant principal and athletic director before becoming principal. After that, Tucker was the principal of the middle school before becoming assistant superintendent in 2010. In 2012, Tucker was selected as superintendent. 
"I never assumed that I'd be the superintendent. Honestly, I thought I'd be a lifelong English teacher, journalism teacher, but there were opportunities that presented themselves and I guess I was in the right place at the right time," Tucker said. "I took advantage of the opportunities." 
Some of the highlights during his time as superintendent include the passage of four ballot measures, including two tax levy increases and two bonds for facilities, the most recent being Proposition 1 in April 2019 to expand the district's middle school. The district was able to build Bayless Field, where the high school football team and other athletic teams play, as well as Bayless Ballpark for the high school softball and baseball teams. 
"During my time at Bayless, we were able to do some pretty incredible things. We passed a series of bond issues and tax increases … so we really did a lot to improve the facilities and grounds of the Bayless School District," Tucker said. "Our campus has really been transformed. It's a beautiful campus." 
Beyond the physical facilities improvements made during his tenure as superintendent, Tucker said the district has also made strides in student academic achievement and student opportunities. The district began offering Project Lead the Way courses to students during the 2014-2015 school year; the nationwide nonprofit organization that provides STEM education programs and curriculum. High school students are also able to participate in College Now, a dual credit program that lets students earn college credit while simultaneously getting their high school diplomas. Tucker estimates that this year's graduating class earned at least a combined 500 hours of college credit in their senior year alone. 
"I would say the thing we really were able to do is create greater opportunities for our kids at Bayless. We've made Bayless a comprehensive school district. Our kids are afforded all the same opportunities that other children in St. Louis County area. That wasn't always the case," Tucker said. "The thing that I really love about Bayless is how diverse our student population is and how we can provide all of our kids with the tools they need to be successful." 
His tenure as superintendent did not come without challenges, most recently navigating education during the COVID-19 pandemic. Tucker said the strategy was to "keep calm and carry on" and to continue focusing on making sure to provide quality education to students. 
"We paid very close attention to our data. We were looking at the number of faculty, staff and students contracting COVID and we would make decisions based upon that data," Tucker said. "I'm very, very proud of the decisions that we made at Bayless. This pandemic, school closing, the alternative forms of instruction that we pursued, it was definitely trying and troubling but overall I was very, very proud of how our students, staff and families stepped up and responded." 
He is proud of the trust that has been developed between families in the district and the district, pointing out that distance learning during the pandemic helped foster some of that trust. 
"The way that they now trust the district and the way that they now financially support our district – we've made great strides in that area over the last 10 years … We really helped our students value a Bayless education," Tucker said. "Our parents realized we deeply and greatly care for our children … In an odd way, when we were locked down during COVID, our parents saw firsthand distance learning occurring on the computer screen at home. … I think they developed a great appreciation for the concern our teachers have for the children and the real quality education that our students are receiving." 
The district has been able to avoid some of the "political strife" that has affected other districts recently, such as the protests against certain library books as well as COVID-19 mitigation measures. Tucker chalks it up to that trust families have in the district. 
"I think it's part of that trust parents have with us. … I think the important thing is being able to work with our parents, listen to our parents and try to do the best thing for all involved," Tucker said. "These issues are hot button issues and I think because of the trust we have with our community members, they knew we were doing the best we could." 
For Tucker, his retirement comes full circle from the start of his career – he will be teaching part-time communication classes at Valle Catholic High School in Ste. Genevieve where he lives with his family and where two of his sons attend school.
"I love education, I'm looking forward to returning to the classrooms and interacting with students," Tucker said. "I think the future of (Bayless) is in very, very good hands and I'm very, very confident that we're going to see great things. 
Amy Ruzicka, who has been with Bayless for 14 years as a teacher, instructional coordinator and assistant superintendent, will succeed Tucker July 1 as superintendent.