Oakville resident preserves course's structures in case Tower Tee returns
Ed Jackson plays with grandchildren Luke, 4, and twins Emma and Lil, 3, during the Tower Tee farewell concert. Photo by Jessica Belle Kramer. 
By Gloria Lloyd
News Editor
glorialloyd@callnewspapers.com
If the "Save Tower Tee" group gets its way, the golf course will be preserved for future generations to enjoy just as Affton residents have for the past 50 years.
If an idea to keep Tower Tee a golf course or park can be seen through to completion, the group owns or has promises to buy back many of the structures and statues that Tower Tee-goers were used to seeing at the beloved Affton institution, which would ensure that a new Tower Tee could resemble the old one with a golf course, driving range, mini-golf course and batting cages.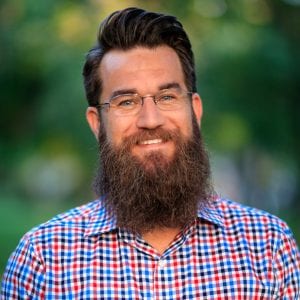 Affton resident Michael Burton has taken the lead in organizing opposition to a possible rezoning of Tower Tee, which closed in July, proposed by McBride Berra last year for 158 houses on Tower Tee's 27 acres.
McBride proposed the idea of the subdivision last year but withdrew the plan amid a backlash. Tower Tee, which leased its land from KSDK Channel 5 owner Tegna, secured an extension on its lease but closed in July.
The developer hasn't come forward with a public plan for a subdivision since.
But Burton said McBride CEO John Eilermann promised that he wouldn't submit a new plan until after Jan. 1, when new 5th District Councilwoman Lisa Clancy takes office.
With that decision, Burton feels it's easier to both block any eventual subdivision and to actually "save Tower Tee" in a new form, either as a county park or run by a nonprofit that he is in the early planning stages of forming.
He feels that both the legislators who would represent Affton at the time of a rezoning, Clancy and 6th District Councilman Ernie Trakas, R-Oakville, would vote against the plan.
"I believe both of them are going to vote to keep Tower Tee a green space," Burton said.
Clancy, a Democrat from Maplewood, said she has talked with many Affton residents throughout her campaign and at Tower Tee's farewell concert and stands behind them completely.
"My commitment is working with the people of Affton to making that property what they want, which is a green space," she said.
As the home legislator for any zoning plan, Clancy would control the legislation and by council tradition dictate whether it gets approved.
"That will probably stop the rezoning," Burton said. "So then the question becomes: What's the best thing for the space?"
He would like the county to buy the land and make it a county park so that Affton keeps its green space. A series of residents who have gone to council meetings, ranging from children to residents in their 90s, have pleaded for the same thing.
They would have preferred to keep Tower Tee as it was. But since they can't, this is the next best thing.
But the county parks system just finished its master plan, which doesn't call for adding any more green space. Instead, the plan is to fix up the current parks.
Money is always a factor in county government too. Some council members contend the parks department is flush with cash, but Parks Director Gary Bess said the master plan process identified a long list of $90 million in unfunded maintenance needs.
Burton likes the idea of a 50-50 public-private partner-ship, and Bess has experience with that idea from when he served as parks director for St. Louis city.
But Bess rules out the idea of the county buying the land for a new park. The master plan said the county should focus on fixing its $90 million in unaddressed maintenance rather than park expansion, and money from the sale of Sylvan Springs is to improve parks rather than buy more.
"If the land would be presented to us as a donation, it's something we might consider," Bess said.
But he cautioned that he would have to look into the economics of the driving range.
Trakas said he would also have to assess the cost of any plan before signing on to a new county park in Affton.
When Tower Tee closed in July, owner Steve Lotz auctioned off the pavilion, statues and pretty much everything that he could.
The day before the Tower Tee farewell concert July 9, Oakville resident and real-estate broker Robert Luepker was catching up on old issues of the Call and picked up a May issue with an article in which Lotz said that his golf course would definitely close in July and "there's no saving Tower Tee."
Luepker had never been to Tower Tee and doesn't live in Affton, but he was touched by his fellow south county residents' desire to save the property and stayed up all night reading old articles about Tower Tee.
"I had never even been in Tower Tee, so none of this has got to do with going when I was a little kid there or something," Luepker said. "I was just tired of these big companies coming in and taking things from the public just for greed and profit."
He went to the farewell concert, talked to Lotz and offered that night to buy everything that was going up for sale at the auction. But Lotz said the auction couldn't be stopped.
"I told him I'd buy the stuff right there, just name a price, and I guess he thought I was kidding," Luepker said.
Luepker went to the auction and bought the 40-foot pavilion and other key parts of the Tower Tee infrastructure. Burton bought many of the accessories from the mini-golf course, and he went around and secured names, phone numbers and promises from many of the people who bought the 15 animal statues and other portable items that if the group could bring Tower Tee back, the people would sell the items back.
One of the buyers was Joe Edwards, the Delmar Loop developer, who bought the rhinoceros but promised to sell it back if Tower Tee returns.
Luepker is keeping the pavilion at the site and says Tegna can't move it because he owns it.
"Tower Tee isn't gone," he said. "Pretty much all of it is saved."
If the Save Tower Tee nonprofit can raise enough money to keep the land a park, Burton has a plan to make it a gathering place for Affton besides just a business. He would convert it to a nine-hole golf course instead of keeping 18 holes, and he would use that extra space as a park or gathering area with a playground and an area for community events.