Oakville boy pedals his way to national BMX success
Six-year-old Jake Scronce captures national title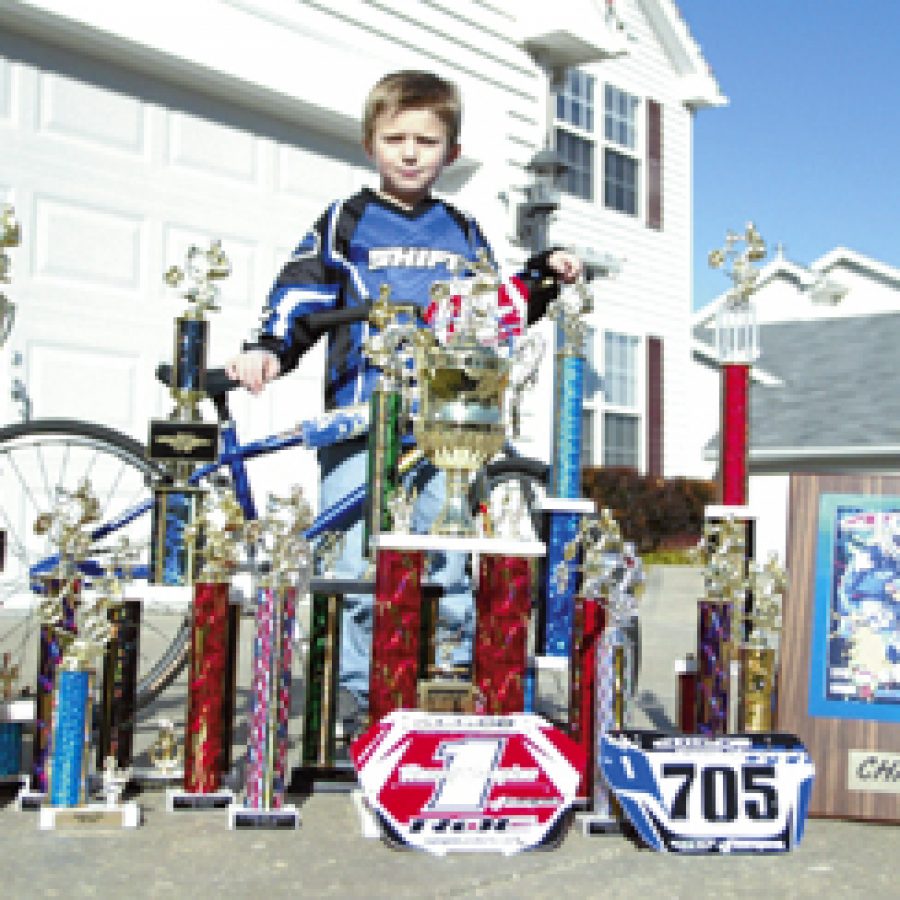 As soon as he graduated from training wheels, Jake Scronce's parents felt he had a talent for bicycle racing as they watched him pedal up and down the hill on Bellemeade Trail Court in Oakville.
"I took him out to St. Peters where there is a BMX track to see how he would like it.," said his father, Robert. "He had a heavy old bike that he still tears around the neighborhood on."
That was last April. Over Thanksgiving weekend, Jake won the BMX Race of Champions in Tulsa, Okla.
"My dad got me into it," Jake said. "I wanted to ride motocross motorcycles and my dad got me into riding bikes."
"When I was a kid, I raced BMX bikes," Robert recalled. "I was never as good as Jake. He fell in love with it right away."
BMX, or bicycle motocross, is a bicycle race on hilly, serpentine dirt motorcycle tracks complete with jumps. It was an Olympic sport this year. But it has very few rules.
"You have to have pads," Robert said. "You can't have kick stands, chain guards, pegs that kids use trick riding — anything that could gouge a rider. (You) have to ride straight ahead for 30 yards before the first turn."
Bicycle racers compete in age groups with eight racers taking the track at one time. They compete in motos, or heats, to determine the final competitors.
The recent national event featured 36 state champions. To be invited to Tulsa, racers had to race in a state championship.
"When we started this last April, we never thought we would be traveling all over Missouri, let alone to the Race of Champions in Tulsa," said his mother, Kellie, a graduate of Oakville Senior High School.
"I just wanted him to have fun," Robert said.
As their 6-year-old son advanced in the nationwide competition, the equipment became more specialized.
Most of the riders had custom-made bikes that were lightweight, specially geared and ranging in cost from $1,200 to $1,500. Jake's bike was much heavier and cost $75.
Jake didn't win every heat he raced in this year. But as his win streak progressed, race officials began placing him in 7-year-old heats.
Jake finished second in his first heat at Tulsa. The top two finishers advanced.
Jake would race the fellow who beat him in the finals.
"I beat him," Jake said. "I wanted to get the biggest trophy, and I did it."
He also received a number plate proclaiming him the No. 1 rider in his age group nationwide and a championship plaque.
"He's made friends all over the country," Kellie said. "Still, it was hard to explain to my parents why we weren't going to make it to Thanksgiving dinner."