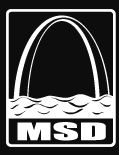 The Rate Commission of the Metropolitan St. Louis Sewer District is reviewing MSD's latest proposal for wastewater rate changes.
The public hearings are designed to get input from residents within the district on wastewater rates for fiscal year 2021 through fiscal year 2024. MSD proposes to spend approximately $1.58 billion on construction and related work. The proposed increase would apply to all MSD customers. 
The work will reduce overflows into area waterways, alleviate basement backups, and improve water quality in the area's rivers and streams. The independent Rate Commission will be deciding how to best pay for these improvements. Public hearings will be held throughout the metro area to provide customers the opportunity to learn more about the proposed rate and to provide feedback to the commission.
The commission is holding public hearings this summer to present information to the public on the proposal, starting in South County next week.
Appearing at the hearings will be MSD Executive Director and CEO Brian Hoelscher and, MSD Rate Commissioner Paul Brockmann.
• 6 p.m. Tuesday, May 14 – Grant's View Library, 9700 Musick Road.
• 6 p.m. Wednesday, May 22 – Manchester Parks Recreation & Arts Center. 359 Old Meramec Station Road.
• 6 p.m. Tuesday, June 4 – The Heights. 8001 Dale Ave.
• 6 p.m. Thursday, June 27 –Maryland Heights Community Center. 2300 McKelvey Road.
• 6 p.m. Wednesday, July 10 –University of Missouri – St. Louis (UMSL) Wellness & Recreation Center. 1 University Blvd.
• 9 a.m. Wednesday, July 24 –Metropolitan St. Louis Sewer District. 2350 Market Street.
For more information on the Wastewater Rate Proposal and the MSD Rate Commission, visit www.stlmsd.com/ratecommission.