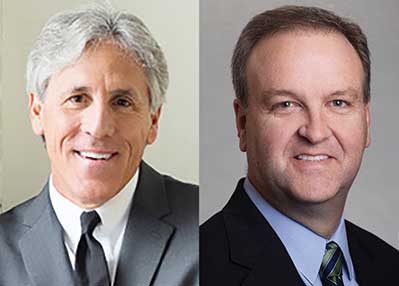 The race for St. Louis County Executive Nov. 8 features incumbent Sam Page, seeking his second elected term, businessman Mark Mantovani, a recent Democrat-turned-Republican, and Green Party candidate Randall Holmes.
Just a little over a month ago, it was a mystery who exactly would be the Republican candidate for county executive after the surprise winner of the Republican primary, South County resident Katherine Pinner, dropped out of the race at the beginning of September after facing criticism for some of her beliefs around masks and COVID vaccines. Pinner defeated state Rep. Shamed Dogan of Ballwin in the August primary.
Mantovani was subsequently tapped to be the Republican nominee just a couple weeks later, and while he has not held public office before, county residents will recognize Mantovani's name after he unsuccessfully challenged Steve Stenger and Sam Page in the Democratic primaries for county executive in 2018 and 2020, respectively.
Mantovani lives in Ladue and works as an attorney, entrepreneur and businessman. He is the former CEO of the marketing agency Ansira. He attended  St. Louis University High School, received his undergraduate degree from Quincy University, his law degree from the University of Missouri and his master's degree from the University of Pittsburgh. He was also a fellow in residence at Harvard University from 2016-2015, studying state and local governance.
While he has not held elected office in the past, he was appointed to the stalled-out Board of Freeholders by Page in 2019 before resigning from the board in 2020.
Mantovani did not return The Call's candidate questionnaire by the deadline.
Page lives in Creve Coeur and is the current county executive and former 2nd District County Council member. He took over the seat of executive from Stenger, who resigned in April 2019 in the wake of federal corruption charges. He won election to the executive's seat in 2020. He is also a former Creve Coeur councilman (1999 to 2002) and state representative (2003 to 2009).
Page attended the University of Missouri-Kansas City for both his undergraduate studies and medical school. He has been a doctor for 28 years, studying anesthesiology.
When asked why he is seeking relection, Page said, "I went to medical school to help people. I ran for office for the same reason … I know what this job takes … This is no time for on-the-job learning. This is a time for taking action. My experience as a medical doctor, and my experience as county executive during a tumultuous time in our history, make me more suited than my opponents to remain county executive as we move forward."
The candidate gave the following responses to The Call's questionnaire:
(Editor's note: The following questions and answers appeared in the Oct. 20 and Oct. 27 print editions of The Call. They have been edited to fit in print.)
What issue do you consider the single most important issue in this race and why?
Page: "As with any election, the most important issue is who will be the best leader. It's about who can share their vision for the county, and who can build the diverse coalition we need to make that vision a reality. It's about who has the experience and the knowledge to keep you and your family safe. It's about who will work in good faith on your behalf."
What is your position on incorporation?
Page: "I see no reason for incorporation and several compelling reasons against incorporation at this time. South County is the largest unincorporated area in the county. Unincorporated areas receive police, road and other 'municipal' services from St. Louis County. … We are proud of the service St. Louis County provides and our relationship with the community."
Should the county executive attend County Council meetings?
Page: "Yes. I attend the County Council meetings almost every week, although the county executive is mainly an observer at the meetings, casts no votes and does not preside over the chamber. During those meetings, I provide a detailed report of the work of my administration over the past week, as well as set policy agendas and discuss the county's reaction to current events. I know that neither the county executive nor County Council can be effective without the other."
What suggestions do you have to improve public trust after recent investigations into local government corruption?
Page: "As a leader, the way I can improve trust is to act swiftly whenever corruption happens, while also putting in safeguards that protect public assets against these sorts of acts. One county employee allegedly attempted to take advantage of the Small Business Relief CARES funds. Audits show his attempts were unsuccessful due to the safeguards we had put in place, and as soon as I learned of this alleged attempt, I fired him. An employee in my office behaved badly, and as soon as I learned of it, he resigned. We cannot pretend that there will not be bad actors in any situation, but that's why we put safeguards in place and act swiftly and decisively if there is the victim's permission."
Should the county tax rate be raised?
Page: "That is 100 percent up to voters, who will likely find the question on their ballots in the next five years. Since the largest increases in the county budget are attributable to expenses associated with public safety and police department salaries, training and facilities, I expect the debate will center on that. I am against cutting public safety."
What would you propose to improve public safety and reduce crime?
Page: "Here's the plan: Field the region's best-trained, best-equipped police department – while funding programs that address the root causes of crime. We are implementing the suggestions of the Teneo report. Crime doesn't just come from one source, and so there are many pieces to address It means lowering recidivism rates by providing services to those who are in our jails so they don't want to come back and have resources to keep them out, it means addressing the opioid crisis, it means providing humanitarian services, it means workforce development."
How will you ensure transparency?
Page: "When Steve Stenger resigned and went to prison, we had to rebuild trust … We immediately requested an audit of the county government by State Auditor Nicole Galloway … We incorporated a whistleblower policy, making it easier for people to raise the red flag if they needed to. We … revisited deals made by Stenger's administration, and ended 'no work' political appointments. We created a Financial Transparency report to make it easier to understand the budget and the ARPA funding … We hosted several town halls … to get resident input on how ARPA dollars should be spent … That input informed my priorities for ARPA spending. Government has a bad habit of sometimes forgetting that its work has to be done in public and that public input is a necessary component, rather than an afterthought … We are livestreaming meetings. We have a live press briefing at least once a week at 8:30 a.m., and every week our team sends out an email about what has happened the week before."