JB Bridge gas station will get vote Monday
A new gas station may be built directly along the banks of the Mississippi River in the shadow of the Jefferson Barracks Bridge after a July public hearing for a proposed Moto Mart along Interstate 255.
The St. Louis County Planning Commission is set to vote on the gas station at a videoconferenced meeting at 4 p.m. Monday, Aug. 31.
Moto Mart, which has 79 locations across the Midwest according to its website, is requesting a change of zoning for nearly 11 acres of flood plain-designated land at 3800 and 3850 Koch Road, directly next to the JB Bridge that connects South County to Illinois. The land is currently vacant and is zoned M1 industrial district, FP flood plain and NU non-urban; Moto Mart is requesting a change to M1 industrial district and FPM-1 and FPM-3 flood plain planned industrial district.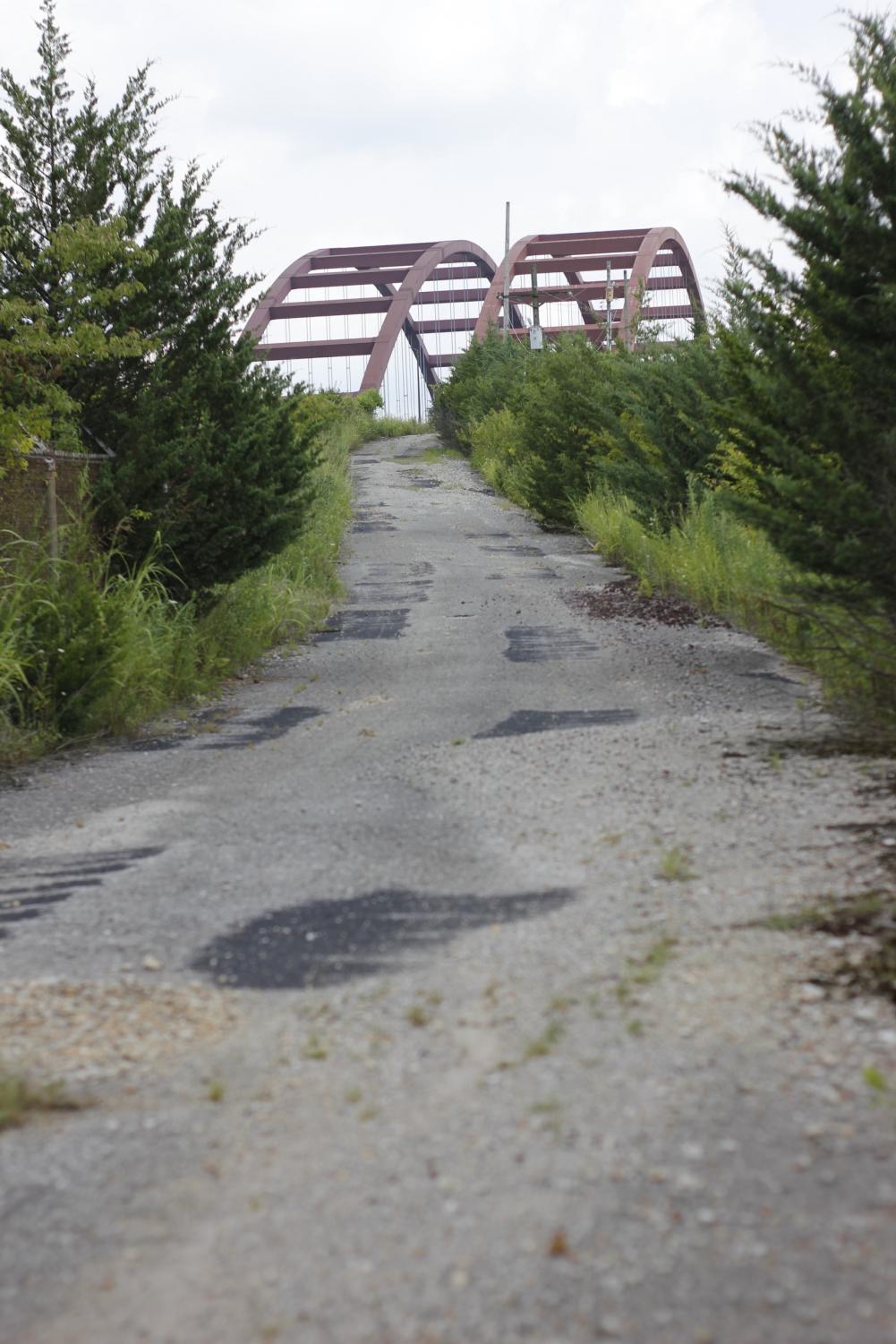 "I think it's important for the commission to understand that M1 permits, among other things, manufacturing, fabrication, assembly, processing and or/packing of commodities, recycling centers, medical marijuana cultivation and testing, storage yards," said Vince Keady, a property and zoning lawyer with real-estate law firm Stinson, representing Moto Mart. " … And traditionally has included uses such as sewage treatment facilities, waste processing facilities … and filling stations and restaurants."
The gas station south of Interstate 255 would capitalize on the phenomenon of Illinois drivers coming into Missouri to purchase gas because of Missouri's lower gas tax.
The current closest gas stations from the JB Bridge crossing into Missouri are on Telegraph Road in Oakville, an exit down from the proposed Moto Mart site.
The zoning plan calls for a convenience store with gas pumps, including truck fueling and parking, a fast-food restaurant with a drive-thru and two advertising signs.
The proposed station would be 19,226 square feet, with 131,894 square feet paved for parking lots and 324,990 square feet of green area. The lot's current green area is 218,680 square feet with an existing pavement area of 257,680 feet.
The gas station can be accessed heading east on I-255 by taking Exit 3 just before the Mississippi River onto Koch Road, which does not have a stoplight from the exit ramp onto the road. Drivers coming westbound from Illinois on I-255 will exit onto Koch Road and turn left under the interstate to access the gas station.
"We want to make it clear … this is not an overnight truck stop. We're not competing with the Love's truck stop that's up the road … in Illinois," said Keady. "We're not going to be providing any showers, no storage facilities, overnight parking will not be allowed. … So we're not in competition with Love's in that regard."
The proposed site is near the Veterans Affairs hospital as well as two Mehlville School District schools, Beasley Elementary and the John Cary Early Childhood Education Center. A quarry operated by Bussen Quarries is directly south of the proposed gas station.
"(Bussen Quarries) are not opposed to this project. The only concern is we want to make sure that there is no plan for a stoplight or roundabout to obstruct the flow of traffic," said Bussen Vice President of Sales Craig Bussen during the hearing. "One of the biggest selling points for our operations is that it is straight from the highway."
Other members of the public who spoke on the petition expressed their concerns with the gas station's proximity to a school, hospital and state line.
"It's way too close to the Illinois highway entry and exit for people with bad intent. It's right near a school, right near a hospital. … I'm not sure what the need is. I'm sure Moto Mart wants to make more money, but there's … gas stations and quick shops … less than half a mile from where we're at right at Telegraph and 255," said John Bauman of Oakville. "I'm not sure what the need is here except for people not doing good things and jumping across the highway with either kids from the school or disabled people from the hospital."
Keady responded that Moto Mart had researched how to avoid "that type of attraction" to their facilities, referring to sex work and sex trafficking. Those behaviors are more attracted to overnight truck stops than gas stations, he said, "which is exactly why none of that is being offered."
"Our research indicates that (vehicle) traffic is not going to increase dramatically by the addition of a Moto Mart, and that just makes sense logically because Moto Mart is going to be adhering to two different customers: either people that are already in the area using those roads … or people that are going to exit off the highway with the intent of going to the Moto Mart," added Keady. "Which means they're only going to be coming off an exit ramp and going directly to the Moto Mart, not going into any of the residential subdivisions or coming off the exit going east and dumping right into the Moto Mart and not going into any of the residential subdivisions either. … We don't think it's going to impact the school bus route, any bus stops or children because none of that is going to be in range of the anticipated traffic."
No members of the commission had questions for Keady other than Keith Taylor, who asked if local labor would be used to construct the travel stop. Keady said he believed that was the case but that he would have to check. Taylor, of Chesterfield, is a business representative for the Carpenters' District Council of Greater St. Louis and Vicinity.