Gaines: Bond issues are a better way of financing for Mehlville facilities
Bond issue has to be used for what voters have OK'd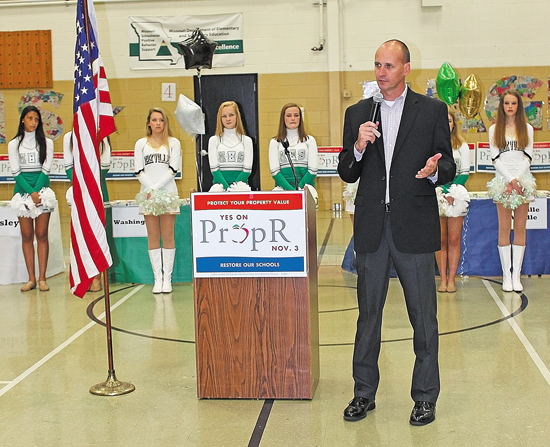 Mehlville School District voters will weigh in on the district's first bond issue in nearly 30 years April 6.
Voters will decide whether to approve Proposition S for "Safe Schools, Safe Kids," a 12-cent no-tax-rate-increase bond issue that would fund $35 million in safety upgrades and maintenance on existing facilities. If passed, the district will voluntarily roll back 12 cents of the 45-cent operational tax-rate increase for facilities, 2000's Proposition P, which funds bond-like certificates of participation or COPs set to be paid off in 2022.
District residents may be unfamiliar with bond issues since they haven't passed one since 1992, so Superintendent Chris Gaines held public meetings over the last several years with financial advisers and the Board of Education to outline the pros and cons of going for a bond issue, which is not permanent but requires a higher threshold of 57-percent voter approval, or going for an operational tax-rate increase, which only requires 50 percent plus one but in most cases is permanent.
The district can finance capital facility needs in two ways: general-obligation or GO bonds supported by a dedicated debt service levy or issuing COPs from the general operating levy.
At a 2017 board meeting, financial adviser L.J. Hart and Company outlined the financing options: With COPs, as assessed valuation goes up or down, there can be excess revenue or shortfall. Money has to come from operations  to cover the shortfall if assessed valuation goes down.
Gaines believes that a bond issue is a better way to fund facilities due to lower interest rates; stricter controls on how the money can be used; and because the district would have all the money at once to work on projects instead of piecemealing a few projects each year.
The 2011 decision to refinance the Prop P leases allowed the district to fund the first districtwide auditorium, which extended that lease to 2029. During Gaines' five years at the helm, he has made it a priority to pay off leases ahead of time, and the district has paid enough debt that the leases are scheduled to end close to the original timeline.
"I like bonds better, they're much, much cleaner. You can't really play any shenanigans with them. Now, by shenanigans, you could have never built the auditorium under a bond," said Gaines. "That was built from refinancing a lease and essentially entering into, or extending, the lease. With a bond, if you refinance a bond, you just save that interest."
Under leases, the money is kept by trustees rather than the district.
"From an inventory standpoint, they have a lien on your property until you pay that lease off," said L.J. Hart President and Chief Financial Officer Tom Pisarkiewicz. "With the additional risk to the investor, (COPs have) higher interest rates, higher cost of issuance."
With a bond issue, however, payments are made directly out of the district's debt service levy, meaning there will never be excess revenue or shortfall because the debt service levy is adjusted each year.
"Potentially you could roll back the debt service levy over time if your assessed valuation continues to grow," said Pisarkiewicz. "Because of the ability to levy a sufficient amount in the debt service fund, you're going to see lower interest rates and lower cost of issuance than a lease."
Bonds also cannot exceed the set amount.
"We're essentially asking the voters to approve a set amount of bonds that you want to issue. On a lease, again, we're asking them for the operating levy increase, not the dollar amount," said Pisarkiewicz. "Bonds, we give them a dollar amount."