Food truck plaza 9 Mile Garden reopens Wednesday with indoor bar closed, more masks and expanded hours
Missouri's first food truck garden 9 Mile Garden will reopen Wednesday after shutting down July 30 as, spurred by rising cases of COVID-19, St. Louis County imposed new business restrictions on late-night bars.
The food track garden said it chose to close and reopen and has been "working closely" with the St. Louis County Health Department on a county-approved plan to reopen for business.
Under the new plans, more masks and social distancing will be encouraged among visitors to the food truck plaza at Gravois Road and Tobey Avenue in Affton, 9375 Gravois Road. It had its grand opening July 3 and was open for 28 days before closing July 30.
The garden will now be open seven days a week instead of six, but the indoor part of The Canteen bar will be completely shut down. When the garden first opened, there was no Monday dinner service, but now food trucks will be available every day for lunch and dinner.
County Executive Sam Page attended 9 Mile Garden's ribbon-cutting ceremony July 9, along with 6th District County Councilman Ernie Trakas.
Page later told The Call that the food truck plaza's developers had uncanny timing with the opening. Affton Plaza's developers began construction on the site last year. 
"It's pretty cool," Page said, and joked,"What foresight to put that in the pipeline for development six months before a pandemic and social distancing — that was pretty thoughtful of those guys."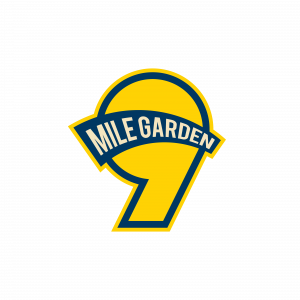 But just as the garden opened in July, cases in South County were doubling and tripling over a matter of weeks to reach numbers not seen since earlier in the pandemic. The same trend, especially among young people, was seen countywide. Page added more restrictions that went into effect July 30, including closing late-night bars at 10 p.m. and cutting capacity inside businesses to 25 percent from 50 percent. Within days, 9 Mile Garden announced that it would temporarily cease operations. Since then, the primary school districts in Affton, Affton School District and Bayless Schools, have said they will start the school year all-virtual due to the community spread of COVID-19.
"We made the decision to temporarily close on July 31 because we wanted to be proactive and  make sure we could operate safely and  responsibly for our visitors, staff, partners, and  community," 9 Mile Garden Managing Partner Brian Hardesty said in a news release. "Over the past week  we have had  extensive conversations with the St. Louis County Health Department and  have agreed on procedures that allow us to safely operate within the health and  safety guidelines put forth by St. Louis County."
The safety guidelines for 9 Mile Garden are  now as follows:
COVID-19 hours of operation are  11 a.m.-10 p.m. every day.
During the current County restrictions, the outdoor garden area will be limited to seated guests — except for those standing in line at food trucks. No standing room allowed.
The Canteen will be closed indoors. But people can order drinks in The Canteen, and  then  take  them  to the outdoor area to enjoy them.
Social distancing lines will be painted 6 feet apart on the ground in front of each truck.
All food will be served in to-go containers, and  food and  beverage wares are  single use.
Tables in the garden will be sanitized by staff between uses.
Only one  group is allowed per table or designated seating area.
Operators said they will use spray chalk to mark and  indicate 10-foot seating circles which will be numbered as well, and  staff will allow people to designate their own seating area (up to six people in each area). These seating circles will be 10 feet apart from one  another.
Every employee will be required to wear  a mask, inside or out. Temperature checks and symptom screening questions will be asked of every  staff member. Staff with temperatures above 100.4 degrees Fahrenheit will not be permitted on the premises.
All standing guests are required to wear masks. The garden will offer masks to all guests. The garden had previously said that masks were required, but not everyone complied. 
Social-distancing signs will be hung throughout the garden.
Verbal cues will be given to guests, reminding them  of remaining 6 feet apart and/or wearing a mask.
The number of  people who use the restrooms at one  time will be monitored by staff, and masks will be required in the restroom.
Signs will list symptom questions and/or the garden will conduct direct screening of customers regarding COVID-19 symptoms.
In addition to these updated health and safety measures, when  9 Mile Garden reopens Wednesday, it will also introduce some operating changes based on feedback the venue received during its first month in service.
In addition to expanding to operate all seven days, 9 Mile Garden has gone from providing events and entertainment on the weekends to offering daily events on the garden grounds and  on The Canteen's outdoor patio area.
The expanded hours will kick off with 9 Mile Garden's first brunch service Sunday, Aug. 16, from 10 a.m.-2 p.m. Monday evening dinner service will be added beginning Aug. 17. The Canteen, which was previously closed on Sundays, will now be open seven days a week.
"During our first month open, we had  a lot of requests that we open the garden on Sundays to add an extra  day of fun,"  Hardesty said in the release. "Having an open, outdoor space and  the 26-foot screen gives us so many opportunities to provide a socially responsible gathering place for St. Louisans to go. We really ramped up our events calendar, and now we're offering something to do here at 9 Mile Garden every  day of the week."
The venue will host weekly "Beer  Bingo" with live music on Monday nights, a comedy showcase every Tuesday night, and  weekly trivia nights on Thursday nights. Select Cardinals and  Blues games will be shown on the outdoor big screen, in addition to its regular Saturday night movies. All outdoor screenings are free to attend.
The 9 Mile Garden is a family-focused entertainment district where you'll find a feast of local food and drinks, outdoor movies, live music and  performances, community events and  more. Seven days a week, the garden features a rotation of St. Louis' best and  most–loved food trucks open for lunch and  dinner services. A jumbo screen shows outdoor movies and  live stream sporting events, and a permanent stage hosts local and  national entertainers sharing live music and performances.
See a gallery below of 9 Mile Garden's official opening and first weeks in operation: